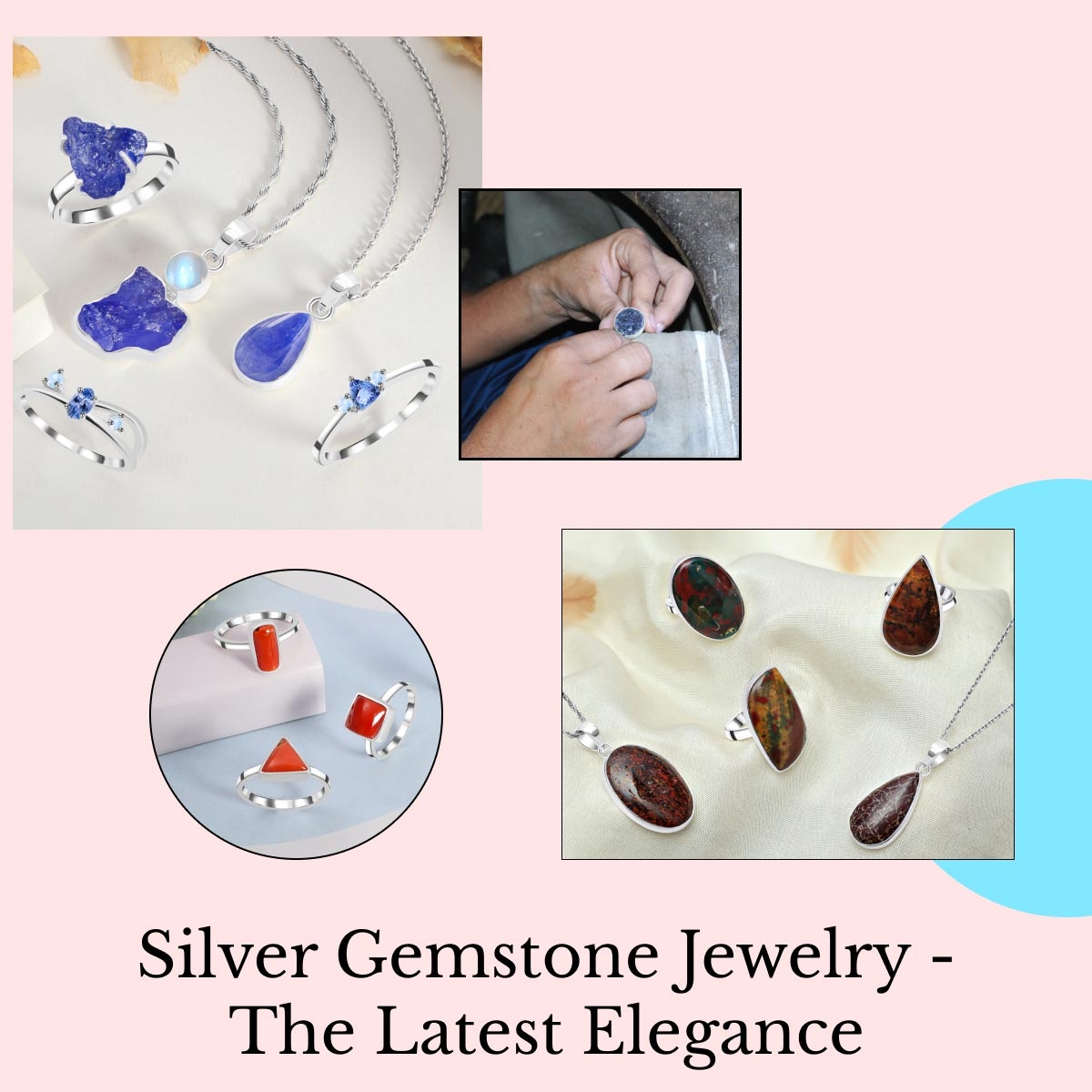 Overview
For many years, silver has been used in jewelry and other items. It is well known that silver has several health advantages. Wearing silver jewelry, also known as 925 Sterling Silver Jewelry, has antibacterial qualities that can help ward off infections and advance your general well-being. Because silver is a soft metal and can be challenging to deal with, sterling silver is recommended for creating jewelry. Astrologers claim that silver is a great metal to keep one's head in the right place when it comes to terms like "cool." Wear it by itself or in combination with other rings that have gemstones on them.
Silver has always been a wonderful choice. Silver has always been there to help you and to heal you with its soothing properties. Silver jewelry has always been in trend whether it be Sterling Silver Ring, Sterling Silver Bracelet, Sterling Silver Necklace, and Sterling Silver Earrings. Silver when paired with gemstone makes a gorgeous Gemstone Jewelry piece. Let's discuss some of the most trending silver jewelry pieces.
Silver Chain
An alluring Silver Chain necklace is among the most well-liked and classic styles for wearing silver jewelry. An item of special beauty or importance worn around your neck on a plain sterling silver chain can spice up any ensemble while still being functional for daily activities. For something a little bit different, use a rare gemstone at the end of your silver necklace instead of the traditional heart or charm. Gemstone also has magical properties that you could benefit from. Investing in a stylish Silver Chain is a wise choice as it would easily pair with most of the outfit with it be casual hangout or a formal meeting. They are reasonably priced enough to buy for yourself on a day when you deserve to be pampered, but they also make wonderful, meaningful gifts.
Silver and Gemstones
The combination of silver and Gemstone can't be competed by any other. When the vibrant Gemstones are set in silver it looks not only glamorous but also elegant and unique. Each Gemstone is unique in itself. There are colourful Gemstones that are captivating and appealing. Gemstones come in a diverse form. Were it a soothing Rose Quartz which would attract love into your life. The Tiger Eye which resembles the skin of a tiger and said to protect you and is a symbol of power. The Moonstone which again is a calming stone and is said to possess the potency of the moon. You could choose whichever stone appeals to you.
Silver Wedding Rings
Wedding rings are a unique purchase that you will cherish forever. When it comes to rings, gold has long been the conventional option for both men and women, while silver is typically more of a contemporary choice. The Silver Wedding Rings are a superior and cuter option because of their sophisticated and modern style. Even moderate pieces of gold cannot compare to the costs at which you can purchase the finest quality silver. Given the significant price differential between silver and gold, silver is unquestionably a better option. All skin tones, especially darker ones, can look great with the shining, clean metal, and its classic appeal guarantees that this style will never go out of style.
Silver Rings
Wearing the Silver Rings isn't a new fashion. It has been a trend followed by people for thousands of years. Silver is not only adorned by people for its never-dying beauty but also for the calming and relaxing effect it has on the wearer. Wearing a Silver Ring is also said to have astrological benefits. According to astrology silver is a cool metal which would help you heal your anger issues and provide you with a calm mind and help you in decision-making. That is to say, when it comes to rings, silver will always be in style. All complexion tones, but especially those with deeper undertones, seem vibrant and lively while wearing this silver jewellery, which is clean and glossy.
Pearl and Silver
Pearls also look stunning when paired with Sterling Silver Jewelry, much like the seductive gemstones. Numerous astrological benefits also apply to pearls. Astrologers advise wearing pearls on your pinky finger paired with silver. The wearer would heal in various ways from this, which offers several benefits. Together, these two fabrics provide a shimmering appearance that is both laid-back and classic. An ensemble can be instantly elevated with the sophisticated and elegant look that pearls and silver reflect off of one another. When pearl earrings were popular in the past, Silver Pearl Jewelry was there to transport you back in time. It will look stunning with everything, from a long, flowing maxi dress to a blouse and shorts. It's amazing how Silver Jewelry and pearls can take on so many different vibes and styles.
Silver Bracelet
Bracelets made of silver are renowned for their grace. Silver Bracelets can be small and delicate or large and heavy. They can be worn as a delicate accent or carved into exquisite shapes. They can be worn alone for a more understated style or stacked and layered with other bracelets. A bracelet made of silver has gemstones set into it. You would get the advantages of the gemstone and the silver metal by wearing it. Silver bracelets are distinctive because they are elegant, timeless, and simple, all while projecting a very refined air.
Silver Hoop Earrings
It's true that big Silver Hoops Earrings are in and out of trend, but the straightforward, timeless design endures. A tiny to medium-sized silver hoop can add gloss, refinement, and respectability to any ensemble, making it look complete. Earrings with silver hoops are a common choice for both social events and business wear. Simple in design, they convey a great deal about your sophisticated sense of style. If you want a piece of jewelry that you can wear to many different events and situations, invest in a set of Silver Hoops Earrings.
Lockets
Another method to wear Silver Jewelry is with lockets. Even if they're not as popular as they once were, lockets remain a very significant and sentimental piece of jewelry. Though you can buy them on your own to honor someone or something important, they are most commonly given as gifts to keep the memory of a love shared between two people alive. For example, it's common for a guy to present a woman with a locket as a token of his devotion to their union and his wish that she keep him near her heart.
Benefits of Silver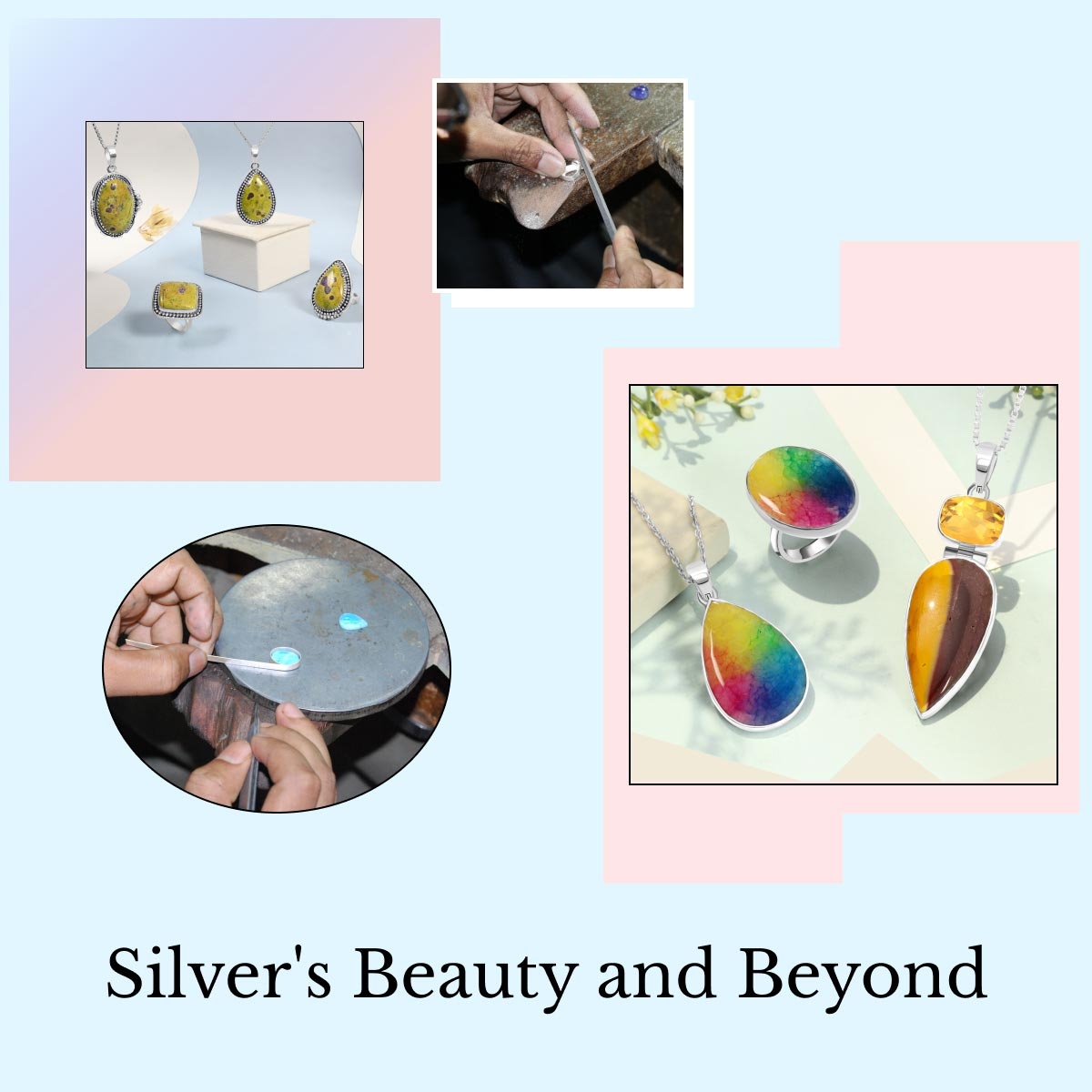 Studies show that silver possesses antibacterial and antimicrobial properties, meaning it can eradicate certain bacteria, fungi, and viruses. Ag+, or positively charged silver ions, are what give antibacterial properties. Silver ions use a range of techniques to fight bacteria. Cells have been shown to be destroyed by silver, albeit it is unclear how this happens. Silver has a long history of helping in the fight against infection, helping to heal wounds, preventing the common cold and flu, and even helping with cancer and arthritis, so goes the mythology. Due to its supposed ability to ward against infection, it is also found in lotions, wound dressings, and medical equipment.
Wearing silver aids in heat regulation and circulation throughout your body. Information suggests that wearing Silver Jewelry or other items can help you balance your moods and bring vitality. The intrinsic qualities of the metal are said to help with circulation, and homeostasis of body temperature, and cancel out electrical distribution in the surrounding environment. The element is also renowned for being one among the strongest and for assisting in shock protection.
White blood cells, antibodies, and other chemical and protein components collaborate to combat and eradicate pathogens including viruses, germs, and illnesses by identifying them as foreign entities that jeopardize the body's overall health. Silver is one of these chemicals that helps to maintain your health by fortifying your body's immune system. Silver reacts and changes color when it comes into contact with a number of other compounds that are known to be reactive, such as other metals.
For example, if you wear silver jewelry and it becomes blue after a while, this could be an indication that your body has a lot of salt. Your skin may react to Silver Jewelry if it has high acidity levels since sweat contains sulfides and amino acids. The jewelry may get stained by the acidic nature of your sweat. Therefore, wearing jewelry made of blue silver may serve as a constant reminder to yourself that you should consume less acidic food and drink due to your acidity.
Conclusion
Silver jewelry has it all that makes it worth buying. Wearing the Silver Jewelry or the Sterling Silver Jewelry has numerous benefits for your physical health, mental health, and for your emotional health. Silver is a healer that when paired with Gemstones becomes a tool. Silver Gemstone Jewelry is magical and you are alway free to choose which Gemstone you would like to pair your silver with. You can rely on the medicinal advantages of silver that have been proven historically and scientifically. Sterling Silver would never disappoint you. You could purchase some of the lovely Sterling Silver Jewelry at Rananjay Exports. One of the greatest and most reliable online jewellers and suppliers in the world is Rananjay Exports.