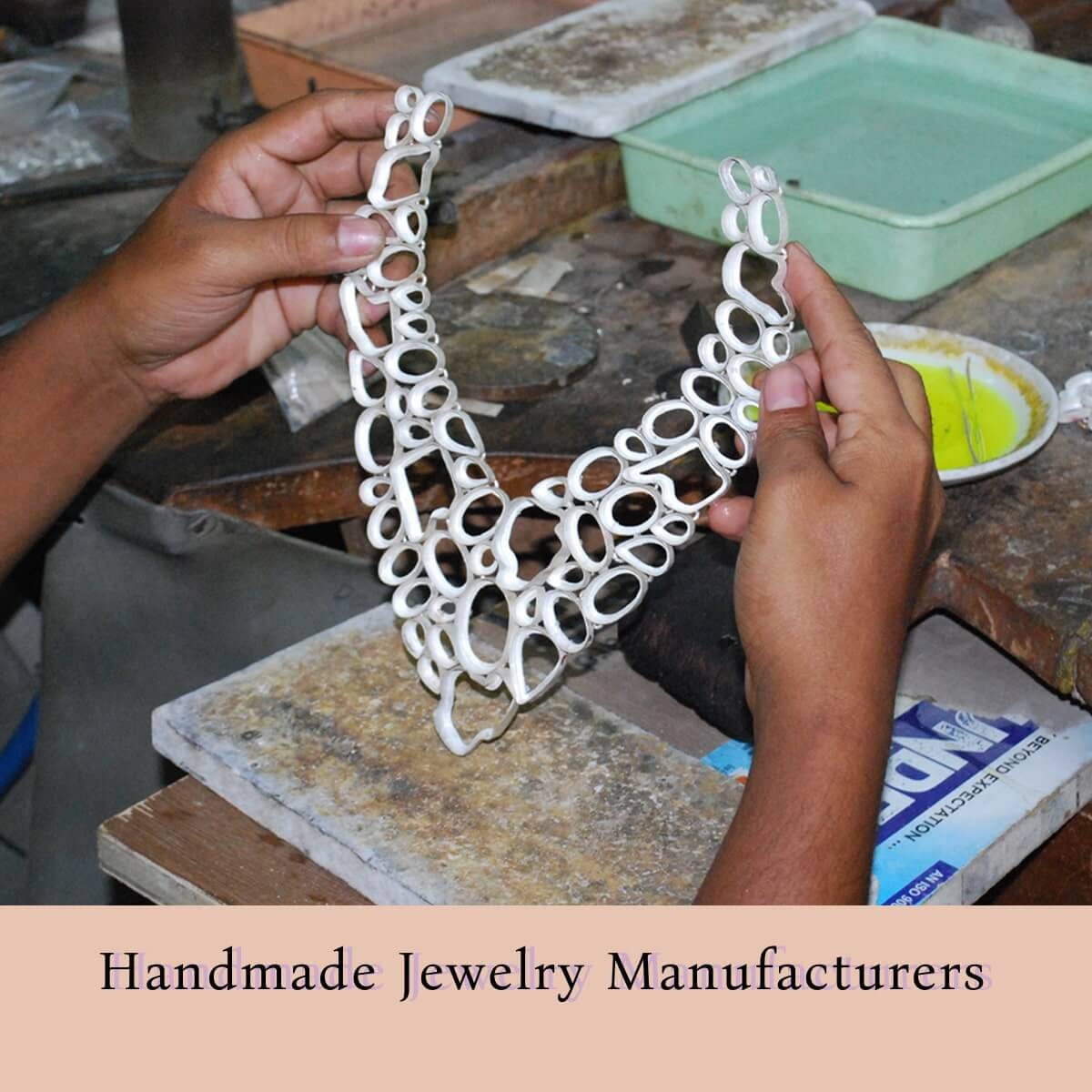 Overview
Gemstone jewelry has been adored for millennia because of its unmistakable beauty. Each gemstone has its own characteristics, and each one is aesthetically distinct. The tradition of passing down jewelry through the generations as a sign of love has long been deeply ingrained. The jewelry piece gets significantly more beautiful when these appealing gemstones are incorporated into the heavy metals. Handmade jewelry is always unique; there are never any identical items. Because each item is meticulously carved, buying your gemstone jewelry from a Handmade Jewelry Manufacturer is always the superior option. Because each item of handmade jewelry takes time and effort to make, it has a distinct personality.
Compared to jewelry manufactured by machines, handmade jewelry is more durable and lasts longer. Stable materials and methods are used in the creation of handmade jewelry. Handmade Jewelry is made as an eccentric work of art and is crafted with exceptional skill and care, but machine jewelry is easier to maintain because it is made using current manufacturing techniques. Although machine-made jewelry differs from handcrafted jewelry in several ways, it can still be low-cost to purchase.
The definition of jewelry is evolving daily. The bigger scale of mass manufacturing and the ease of finding goods at competitive prices with appealing appearances are both benefits of technology. However, as they cannot be duplicated by contemporary machines, the demand for handcrafted jewelry has recently increased as people understand that each peice is high quality.
High Quality Handmade Jewelry
Gemstones are priceless objects that have been encased in high purity gold, rose gold, or sterling silver and are endowed with power and beauty. You can be confident that every piece of jewelry you purchase from Rananjay Exports, a Wholesale Gemstone Jewelry Manufacturer, is carefully created from the highest-quality materials. Each gemstone is carefully made, and our employees use methods that guarantee the durability and sustainability of every finished good.
When a person decides to purchase a necklace made up of Sterling Silver with an enamel butterfly lying at the centre of the necklace, these handmade necklaces are much more durable than the machine jewelry and the colour of the necklace won't fade for a longer period of time. There is nothing greater than that when the workers' skills are matched with the accuracy of the machinery. Our company uses outstanding craftsmanship and extra care when making Handmade Jewelry. Compared to the identical things produced by machinery, each handcrafted piece of jewelry demands a considerable amount of time and labour. People who desire a distinctive, high-quality item that they can treasure forever tend to favour handmade goods.
These goods are created by artisans with a high level of competence. Make your own jewelry if you want something unique and priceless. Jewelry producers are committed to using materials from ethical sources. However, buying from a wholesaler or refiner that offers low prices generates far more profit than sourcing ethical resources. We never cut corners when it comes to the high number and accuracy of each piece and always choose to use materials of the highest quality.
Each Piece Is Unique
Items that are handmade are produced with great care and love. These jewelry pieces are made with careful consideration, are of the highest caliber, and are exquisitely crafted. Jewelry that is handmade is created with dedication by our excellent workers. These goods are created with love and good intentions so that you can receive a genuine good. The person who creates handmade jewelry puts their heart and soul into each piece, making it truly unique. Each gemstone has its own symbolism and potency, and Gemstone Jewelry encourages the sense of affection. Not only is this gorgeous jewelry made with accuracy and precision but with dedication and hard work.
Custom Jewelry
You can easily customise handmade goods to meet your unique needs if you purchase them. It takes time and effort for the artisans who create your jewelry to give you the best; a machine cannot accomplish this. When someone likes something and wants to build it, this cannot be done by a machine; instead, a craftsman uses all of his expertise and effort to make your concept a reality. They put their all towards matching your vision and making every effort to outperform your expectations. Amazing and beautiful things are always made by talented and expert artisans. They constantly work hard to go above and beyond what they can do and give you something truly exceptional and amazing. With the aid of craftsmen, you are able to customize jewelry anytime and however, you choose.
Longevity And Durability Of Handmade Jewelry
Compared to jewelry manufactured by machines, Handmade Jewelry is more durable. The finest materials and most exquisite patterns combine to create these magnificent pieces of jewelry. The process of making handcrafted jewelry is far more labor-intensive and time-consuming. Machine-made jewelry, on the other hand, frequently breaks since it is constructed of inferior materials and cheaper components. These gorgeous pieces of jewelry undoubtedly take a lot of work to create, but they maintain their luster for a longer time. These amazing items are made in minuscule quantities so that natural resources can recover before being harvested once more. Jewelry that is produced by hand is deemed to be more intricate and meaningful. Each handmade item of jewelry has a unique symbolism and meaning.
Excellent And Experienced Team
The quality of machine-produced goods is not as great as that of hand-crafted jewelry. Machine-made jewelry cannot replace the diverse abilities that artisans possess. Each craftsperson has years of experience and has been producing the highest caliber and most memorable creations. A Fascinating Backstory is included with each piece of Handcrafted Jewelry, making each piece special. Each item on our website has been carefully created by experts who strive to provide you the finest.
Before supplying the goods to you, our staff members, who take great pride in their work, make sure it is properly furnished. We offer you the highest-quality materials for the most affordable price. Compared to machine-made jewelry, handmade jewelry is more expensive but offers the rarest and most delicate product. Due to the beautiful and stunning qualities of the material used to create such jewelry, it can be extremely pricey, but this does not automatically translate to more expensive jewelry. Since these products are so sensitive, we work very hard to give you the best value.
Great Investment
Jewelry crafted by hand is a wonderful investment, and it is always preferable to jewelry made by machines. Purchasing Handmade Jewelry from Rananjay Exports is never extremely expensive; instead, we price each piece affordably. These items are long-lasting and beautiful. You can get rare, distinctive, and attractive things at Rananjay Exports. We at Rananjay Exports not only give you the highest quality at a fair price, but we also deliver it to your door in the shortest amount of time possible.
Reasonable Prices
Given the large quantity and the laborious process involved, each piece of handmade jewelry is fairly priced. We make sure that each of you may find an affordable piece. On our website, you can quickly find handmade gemstones that you can purchase with a single click. The most exquisite handmade jewelry with top-notch materials is offered by Rananjay Exports at considerably lesser prices. You should absolutely choose our online discounts if you want to purchase handmade jewelry.
Environmentally Friendly
An environmentally friendly possession is Handmade Jewelry. The jewelry produced by machines has a number of detrimental environmental implications. In this area, handmade jewelry has an advantage. As each item is handcrafted by workers, buying jewelry from a Handmade Jewelry Manufacturer is always a superior decision. And each piece is beautiful and unique in its own right. Buying handcrafted items supports a sector of the economy that, unlike most manufacturing sectors, does not affect the environment or its inhabitants.
Conclusion
Jewelry made of gemstones is beautiful. The captivating qualities and eye-catching look of gemstones are well known. When these gemstones are combined with fine glossy metals like Sterling Silver, amazing jewelry pieces result. These goods become more valuable and desirable when they are made by our team of workers. These attractive pieces are available from Rananjay Exports, a Wholesale Gemstone Jewelry Manufacturer and Supplier, at affordable costs.