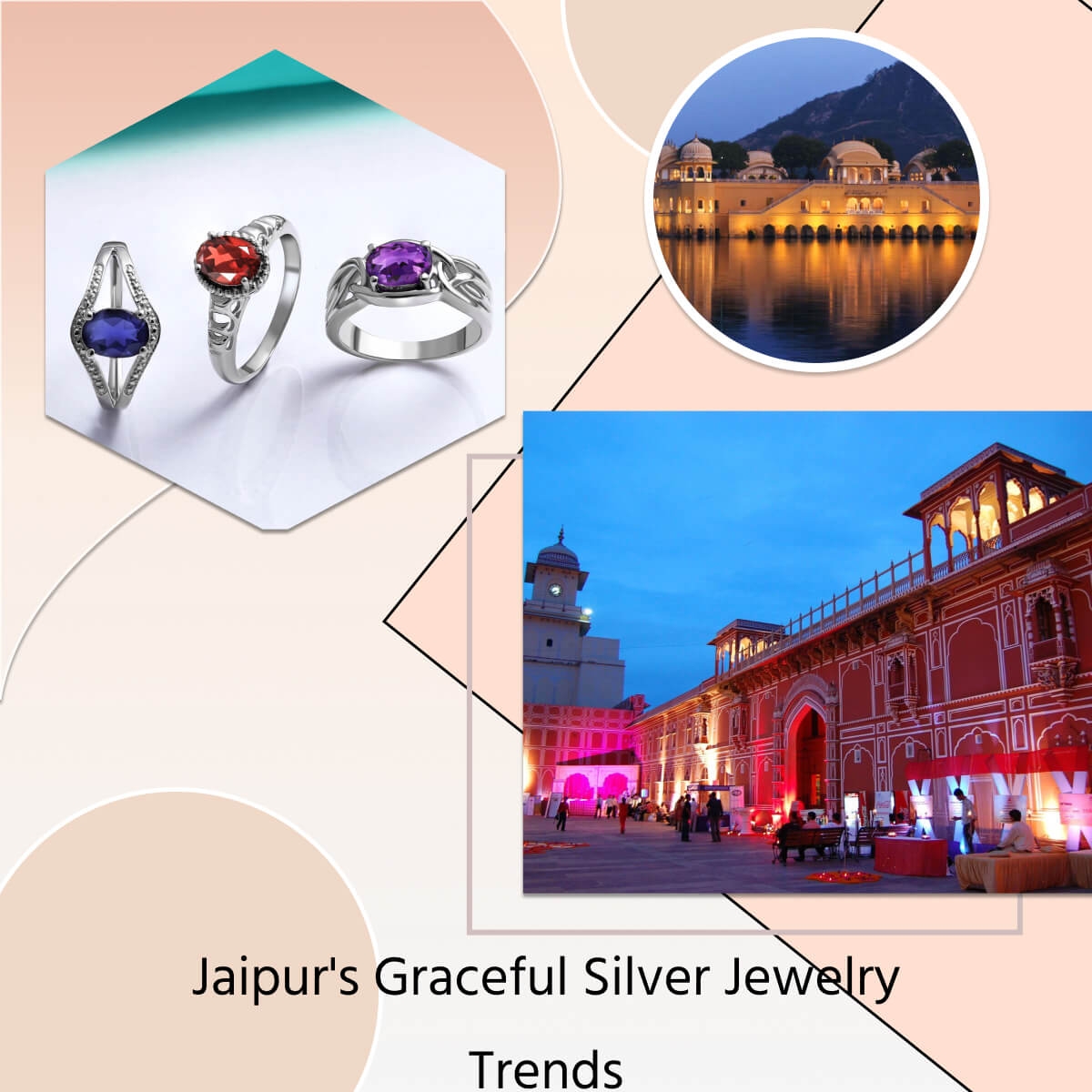 Comfortable home dressing has replaced everyday office wear and dressing up for weekend parties, but jewelry fanatics still hold onto their love for accessories. So, ladies and gentlemen, welcome to Jaipur - well-known for its royalty, architectural wonders, and craftsmanship. It has made Indian silver jewelry noted worldwide and relishes a substantial share of the global handmade silver jewelry market.
If you want classiness and magnanimousness to be redefined, consider silver jewelry from Jaipur. The city is known for its outstanding silver jewelry, intricate compositions, and impeccable craftsmanship. Not only does it add elegance to your attire, but it also offers incredible calming and healing effects that are much appreciated in these challenging times. All you need is a piece of jewelry that is both alluring and beneficial, and you won't be disappointed. Whether you want a statement piece or something more delicate, Jaipur offers something to everyone's taste. So, if you're going to add a touch of sophistication to your collection, look no further than Jaipur's silver jewelry.
History of Jaipur Silver and Gemstone Trade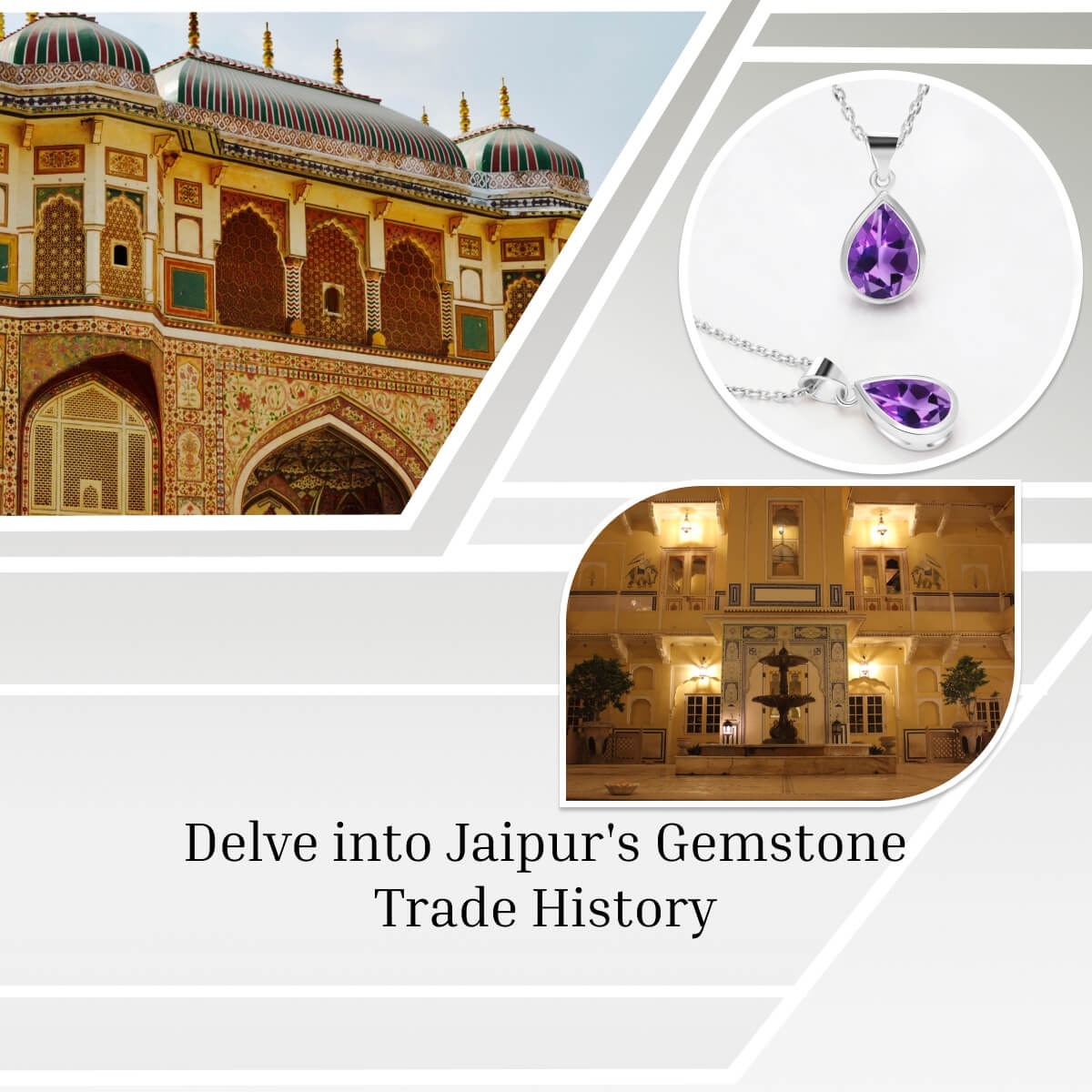 Jaipur has a strong tradition of crafting exquisite jewelry pieces from Silver and colored stones. The credit for this goes to the city's founder, Maharaja Sawai Jai Singh, who envisioned Jaipur as a city of artisans. Being a great patron of art, he invited the finest artisans from all over India to settle in Jaipur and share their knowledge with the local artisans of Rajasthan. As a result, a new art of jewelry making was born that combined various forms of art from different parts of the sub-continent.
Due to its vast history, Jaipur has become one of the top tourist destinations, and its famous Johari Bazaar, also known as "The Market Of Jewelers," is a busy street in the city. Meandering lanes such as the famous 'Gopalji ka Raasta' and 'Haldiyon ka Raasta' are home to the shops and offices of Jaipur's biggest retailers, wholesalers, and export houses. Visitors can find almost everything related to gemstones and jewelry here, from loose gemstones to silver jewelry, gold, and Kundan polka.
Why always Jaipur for Silver Jewelry?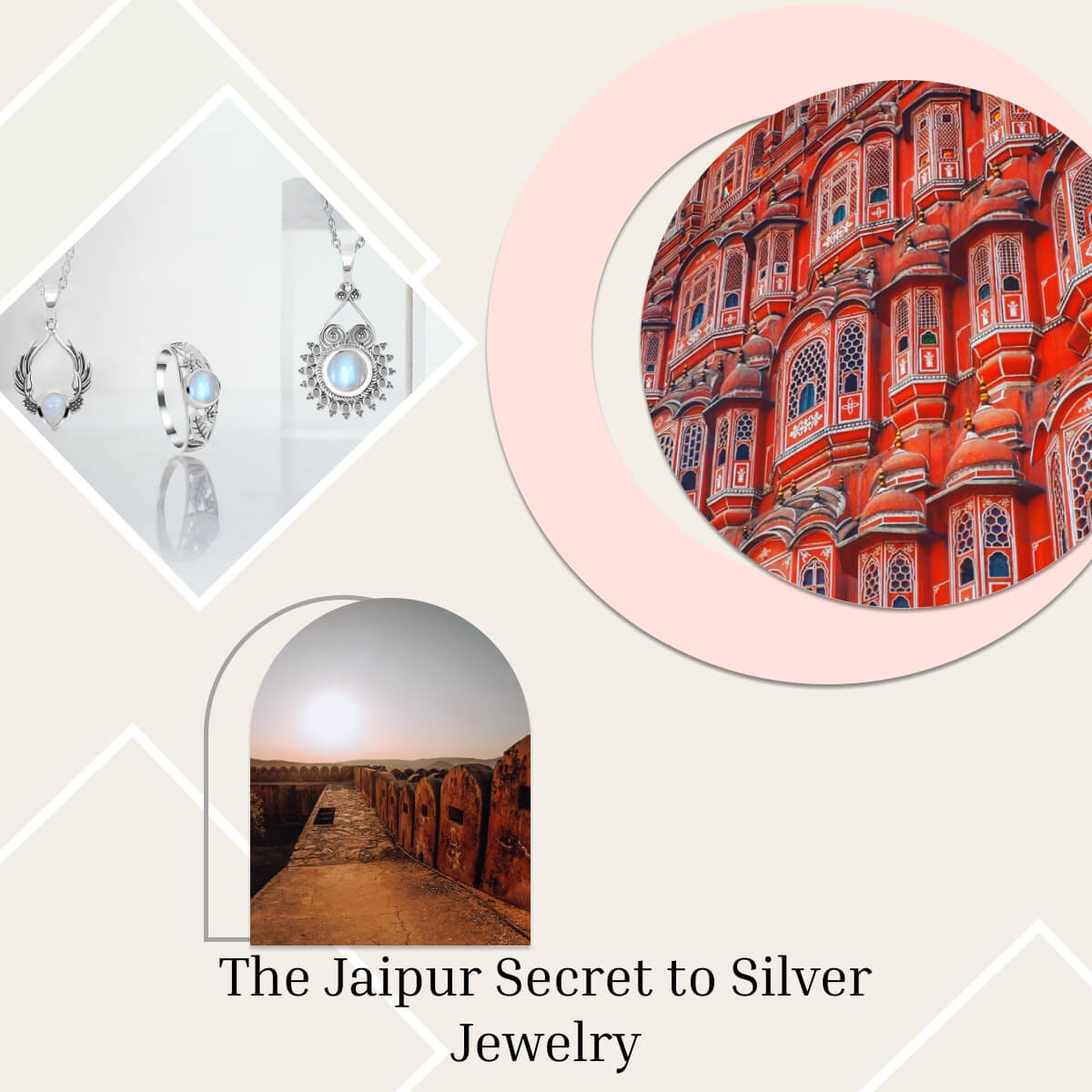 Jaipur is well-known for its stunning handmade jewelry, including Thewa, Kundan, Polki, Lac, Meenakari, Gemstone Jewelry, and its collection of gorgeous gemstones. Over the past decade, the trade figures demonstrate that ready-stock wholesale silver jewelry from Jaipur has been gleaming in the international market. Its demand has been consistently growing, and these exquisitely crafted jewelry pieces have earned a huge fan base among women and even men from all age groups. Most of this jewelry is produced in Jaipur, which accounts for nearly three-quarters of all the exported silver jewelry.
According to data from the GJEPC (Gem & Jewelry Export Promotion Council), which is subsidized by the Ministry of Commerce and Industry, the export of silver jewelry from India has witnessed a remarkable growth rate over the last decade. In 2003-04, exports of silver jewelry amounted to only $129 million, but by 2013-14, it had grown exponentially to $1.46 billion. And it is on the track of consistent growth till now.
Redefining Trends of Jaipur's Gemstone Jewelry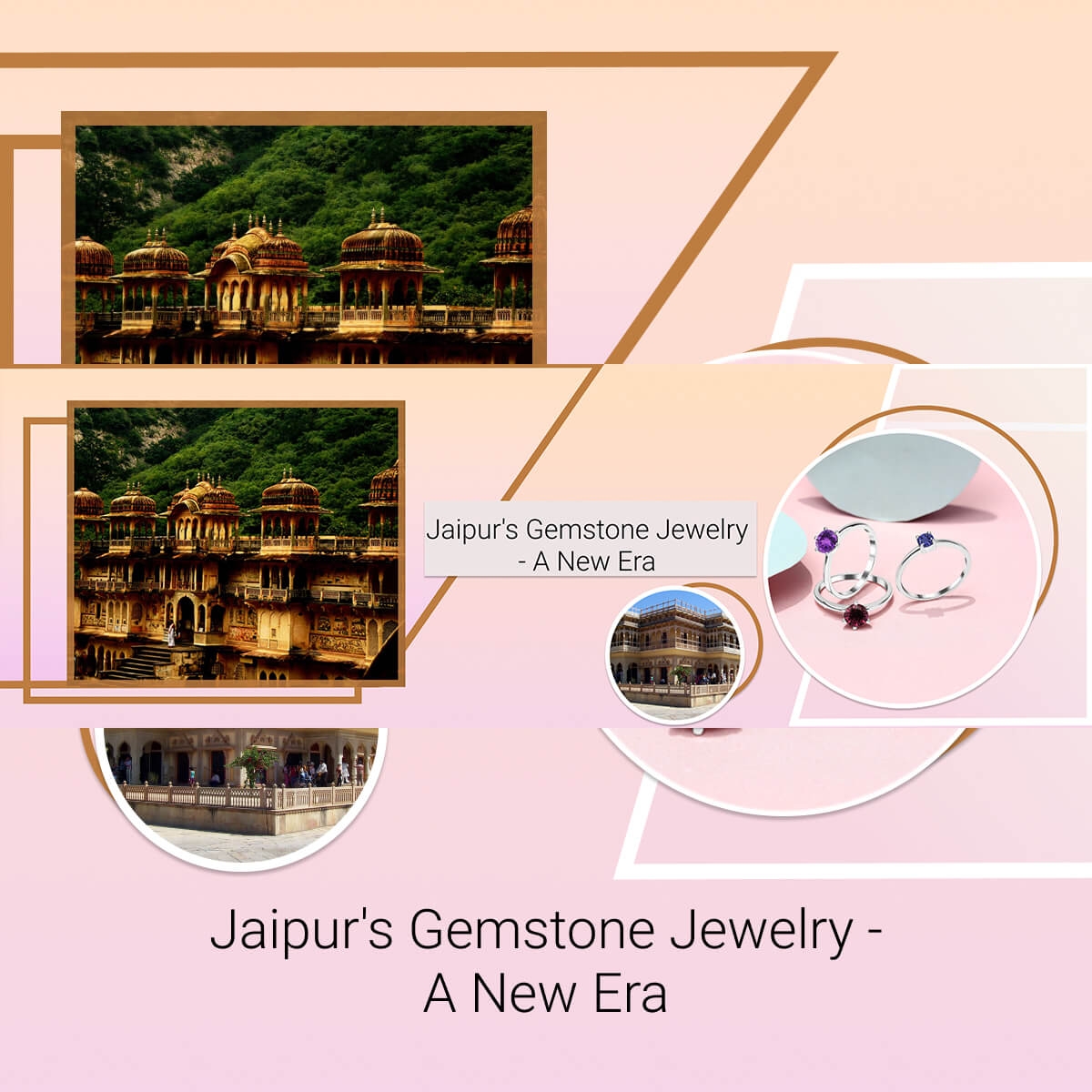 Silver jewelry has gained popularity in the segment of new age jewelry due to its metallic bright white feel, lustrous and shiny aura, and versatility. It can be used for different kinds of adornments, such as earrings, pendants, necklaces, bracelets, rings, and more. Designer silver jewelry has become increasingly popular among contemporary jewelry lovers worldwide. Gold expenses are increasing due to market oscillations, and many jewelry designers now prefer to design silver jewelry ornaments for different market segments. Consumers with a middling monthly income prefer to purchase silver jewelry beneath their budget.
And when it comes to gemstones, they have captivated people with their beauty for centuries and are now making a big splash in the fashion world. Jaipur's gemstone jewelry, featuring colored topaz and pearls, is one of the hottest trends. These gemstones are expertly curated in Silver to create pieces of tremendous jewelry that are sure to steal your heart away. The gemstone industry in Jaipur blends ethnic, contemporary, and Western designs to meet domestic and international demand. The Gemstone jewelry industry of Jaipur is redefining trends in numerous ways:
Engagement and Wedding Rings:-
When it comes to adherence, jewelry, engagement, and wedding rings are the most popular choices. When selecting gemstones, it's essential to consider factors beyond appearance, such as wearability, clarity, and optical performance. Gemstones, including citrine, amethyst, sapphire, aquamarine, opal, moonstone, ruby, emerald, tourmaline, garnet, etc., can be a better option than the expensive and cliche Diamonds. Break the stereotype of buying diamonds for your special days, and add these and other gemstones to your list. Jaipur City has an abundance of these gemstones curated in various metals such as gold, Silver, rose gold, etc., also in a variety of designs suited for you.
For Gifting Purposes:-
Exchanging sweets used to be a common way for people to celebrate important occasions. However, this tradition has become less popular with time. Gemstones have emerged as a preferred choice for gift-giving among relatives and family members during festivals, replacing the traditional practice of sweet gifting. Due to the growing interest of people in them, the market for colored gemstones and crystals has witnessed significant growth.
Giving a gift of gemstone jewelry for a birthday, anniversary, or just as a random act of kindness is an unforgettable gesture that will be cherished for a lifetime. Expressing love, appreciation, and admiration for someone special in a thoughtful way is a grand gesture.
Individual Preferences and Beliefs:-
Wearing gemstones in the form of jewelry, such as rings, pendants, bracelets, etc., is ultimately a personal choice. They offer long-lasting goodness that is timeless and outstanding, unique, and proficient usefulness. Gemstone jewelry is a fashion statement, delivering versatility and refinement with its resounding colors and intrinsic benefits. Fortunately, wearing gemstone jewelry offers more than just aesthetic magnetism. Each gemstone has a prosperous and fantastic history, with different metaphorical meanings and healing properties attributed to them. Moreover, the natural origin and wide variety of gemstones make them a versatile material for jewelry. Owning just a few beautiful pieces gives you the perfect accessory to make you feel great and look timelessly elegant.
Astrological Cosultation:-
Wearing gemstone jewelry after consulting with an experienced astrologer or gemstone expert is crucial to determining the most suitable gemstone for an individual based on their zodiac sign and birth month. Gemstones have long been believed to maintain transformative forces in astrology. These precious minerals are thought to influence and enhance various aspects of life, from personal well-being to career success. Additionally, wearing gemstones can trigger distinct energies within the body, aligning them with the interconnected cosmic forces. Furthermore, these gemstones act as conduits, directing the cosmic vibrations that resonate with an individual's birth chart.
Mental, Physical, and Metaphysical Benefits:-
One can experience various benefits in terms of their mental, physical, and metaphysical health after wearing gemstone jewelry. Each gemstone has its individual properties that help a person in multiple ways. Gemstones have unique healing and mood-enhancing benefits that can be used intuitively and physically.
The impact of a jewel on your energy field can be felt immediately. Even a tiny gemstone can strengthen or weaken your energy field, which is the basis of healing with gems and energy medicine. You can positively affect your energy field by intentionally wearing a favorable gemstone on your body. In fact, gemstone healing therapy has become increasingly popular in recent years.
Over the last two decades, there has been a constant rise in demand for Jaipur's silver jewelry. Unsurprisingly, thousands of jewelry stores in Western countries derive the bulk of their sales from selling the magnificent pieces of silver jewelry crafted in the small emporiums that dot this fantastic city. As mentioned earlier, the above points indicate the excellent demand for gemstones.
Where to shop Gemstone Jewelry?
You can buy directly from Rananjay Exports.
Rananjay Exports has been providing its customers with quality services since 2013. As one of the most trusted wholesale gemstone jewelry manufacturers and suppliers, we offer only the best products. Every gemstone is handpicked by us, ensuring that you receive only the finest quality stones. With a level 7 hardness, these stones are suitable for making all kinds of jewelry. Our high-quality stones undergo a strict and advanced production process to enhance their surface brightness. They are finely polished, an essential quality that customers look for while purchasing gemstone jewelry.
We create stunning jewelry using gemstones, chakra, zodiac signs, birthstones, and 925 sterling silver. Our handmade jewelry is renowned for its impeccable finishing and unique designs. We offer an extensive range of gemstone jewelry, including beautiful, eye-catching silver articles that fulfill shoppers' needs. Rananjay Exports is a prominent company in the wholesale gemstone jewelry market, and we take pride in providing our customers with only the best quality products.