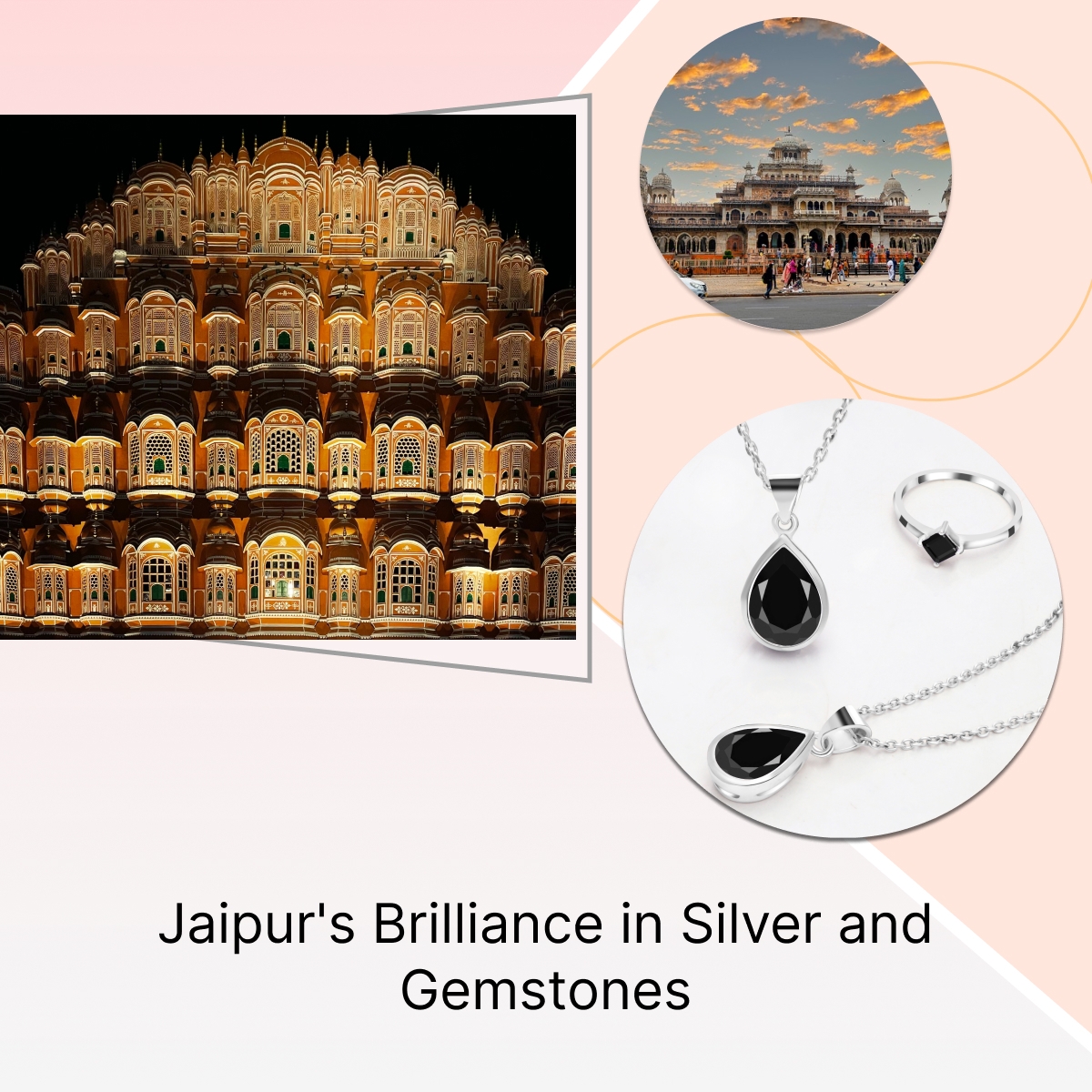 For everyday jewelry, buying silver pieces from Jaipur can be a great option. Silver jewelry is more affordable and requires less maintenance than gold and other jewelry types, making it a practical choice for regular wear. So, if you want to add sparkle to your everyday look without breaking the bank, consider silver jewelry from Jaipur. The exporters, wholesalers, suppliers, and manufacturers of silver jewelry prioritize using high-quality silver and gemstones before bringing their products to market.
Pink City: A Brief
Jaipur City, also known as the "Pink City," is situated in the Indian state of Rajasthan. It was named the Island of Glory by C.V. Raman. Its buildings are primarily pink, so it earned the nickname "Pink City." Jaipur was founded in AD 1727 by Maharaja Sawai Jai Singh II. Jaipur is known for being the first city planned by Vidhyadhar Bhattacharya. In 1876, Maharaja Ram Singh of Jaipur painted the entire city pink to show the definitive color of hospitality when the Prince of Wales and Queen Victoria visited India.
Additionally, in 2019, Jaipur, famously known as the Pink City of India, was declared a World Heritage Site by the UNESCO World Heritage Committee. Flecked with magnificent legacy memorials and structures, rich in customs, and many options for handicrafts and ethical apparel to emphasize your ambiance, this splendid city has something to deliver to everyone.
The Gemstone Capital: Jaipur
The Jaipur town has a long record of delivering high-quality gemstones dating back centuries. The city is widely recognized as the world's gemstone capital. Centuries ago, Sawai Jai Singh introduced the gemstone endeavor to Jaipur with the help of a few craftspeople. Over time, the city became an international epicenter for jewelry and gemstones, as some of the world's finest artisans were requested to settle there. These artisans passed on their jewelry-making expertise to their children, and the practice persisted through the ages.
Today, Jaipur is celebrated for making beautiful and delicate jewelry pieces, which is a testament to the city's rich history and the mastery of its artisans. The demand for Jaipur's silver and gem jewelry remains high worldwide among jewelry and gem enthusiasts. The Indian gem and jewelry enterprise is illustrated by the Gems and Jewellery Export and Promotions Council (GJEPC), established in Jaipur by the Ministry of Commerce in 1966. GJEPC elevates the claims of around 6,000 exporters. In its inaugural year, the association encouraged exports of gemstones and jewelry worth US$28 million from India.
Are you seeking a trustworthy jewelry provider that can fulfill all your requirements? Look no further than Rananjay Exports.
The Famous Jewelry Market in Jaipur: Johari Bazaar
Jaipur is well-known for its enchanting handcrafted jewelry, such as Thewa Jewelry, Kundan Jewelry, Polki Jewelry, Lac Jewelry, Meenakari Jewelry, and Gemstone Jewelry. The city is also known for its collection of captivating and exceptional gemstones. Johari Bazaar, a gemstone market in Jaipur, presents you with a voyage into Rajasthan's cultural inheritance, not just a shopping expedition. It is a historic jewelry market and one of Jaipur's most prominent shopping destinations for jewelry. The title of this market represents the "Market of Jewelers." In this market, you will see talented crafters who have handed down their mastery from era to era, assembling breathtaking jewelry and craftworks.
The Johari Bazaar is one of the ultimate markets for getting precious and semi-precious stones as well as jewelry. It has many authentic and old shops which sell gems and jewelry at wholesale prices. Johari Bazaar has a market lane with exports, and wholesale gemstone jewelry shops anointed Gopalji Ka Rasta. Another well-known street in this market is Haldiyon Ka Rasta, which trades in gemstone jewelry, silverware, and many other famous articles.
Hike In The Gemstone Market of Jaipur
India is one of the fastest-growing jewelry markets in the world, with a remarkable overflow in demand for jewelry products within and outside the country.
The blog is about the boost in the gemstone market of Jaipur. It aspires to deliver a clear insight into the recent surge in demand for gemstones in Jaipur and how it has affected the market. It also highlights the grounds for the increase in demand. So, the reasons for the hike in the gemstone market of Jaipur are defined below:
Obtaining Government Support:-
The Indian government has introduced supportive policies, leading to a significant increase in the market size of coloured gemstones. For example, the Free Trade Agreement (FTA) signed between India and the United Arab Emirates (UAE) is expected to impact India's exports positively.
The custom duty on cut and polished gemstones has also been reduced to promote trade. The Indian government has mandated hallmarking for all gold jewelry and artifacts. All gold items must be certified with a hallmark to ensure their purity and authenticity. The government has recently lowered import duties.
Utilizing Avast Tools and Technologies:-
The gemstone industry in Jaipur and India has embraced modern technologies for the cutting and polishing processes to ensure incomparable quality. But that is also with the traditional knowledge and skills of artisans. Many new technologies, such as laser, 3D printing, CAD, detection, and mapping technology, are enforced to enhance this endeavor. These latest tools and technology facilitate the effort of the crafters. India's jewelry market has seen a notable improvement post-pandemic due to unique technological implementations.
Customer Demand:-
In the past, it was customary for people to exchange sweets to celebrate significant occasions. However, this tradition has become less prevalent over time. Nowadays, gemstones are frequently used as gifts among relatives and family members during festivals, replacing traditional gift-giving customs. The market for colored gemstones and crystals has seen significant growth thanks to the increasing interest of people in them. As much as people seek high-end products, the demand for gemstones will continue to rise.
Purchasing Capacity:-
The gemstone market in Jaipur is expanding due to the increase in people's disposable income, resulting in a rise in purchasing power, which is a significant aspect presenting to the development of the global economy. Customers are highly conscious of the quality of the products and are willing to spend more if the product they purchase has the right quality. The increase in the purchasing power of customers is driving the growth of the gems and jewelry market due to the demand for branded jewelry products made with authentic luxury metals and gemstones.
Becoming a Trend:-
Youngsters in India and abroad are turning to colored gemstones as a trendy fashion accessory, positively impacting the gemstone market size in Jaipur. It is becoming a trend to buy colored gemstones for yourself and gifting purposes. Many stylish and trendy gemstones, such as Turquoise, Amethyst, Citrine, Ruby, Sapphire, and many more, are formed into jewelry. Rananjay Exports is the best wholesale gemstone jewelry manufacturer and supplier in Jaipur. They will put you up according to trend with their beautiful, colorful, and eye-catching jewelry, such as rings, earrings, bracelets, pendants, etc.
Devotion to the thoughts of the community:-
Gemstones are believed to have astrological benefits and are in high demand, particularly in Jaipur. Wearing jewels can reduce the negative impact of planets. Each planet is associated with a specific gem based on a person's horoscope. Also, these gemstones will provide you with sustainability, healing, and soothing effects. They also connect you with your soul. These gemstones have many metaphysical properties. Rananjay Exports, located in Jaipur, is a leading manufacturer and supplier of wholesale gemstone jewelry. The company supplies gemstone jewelry, zodiac sign jewelry, chakra jewelry, birthstone jewelry, and many more.
Know More About Rananjay Exports
Rananjay Exports is one of the best wholesale gemstone jewelry manufacturers and suppliers. It is important to note that Rananjay Exports does not engage in the retail supply of gemstones and jewelry. Their products become even more beautiful and elegant when birthstones are curated with the purest possible percentage of sterling silver. These birthstones' bright and vibrant colors make it very convenient to curate 925 sterling silver jewelry, which becomes more attractive when these stones are transformed into beautiful and eye-catching silver jewelry.
Rananjay Exports is a competitive and leading company specializing in manufacturing and supplying wholesale gemstone jewelry and fulfilling the market demand. They are famous for their handmade jewelry and are unbeatable wholesale gemstone manufacturers and suppliers. The variety of birthstone jewelry they offer is unmatched, and their finishing and variations also enlighten customer demand. Rananjay Exports is an example of the firm that helps Jaipur to be a Global Hub of Silver and Gemstone Jewelry.