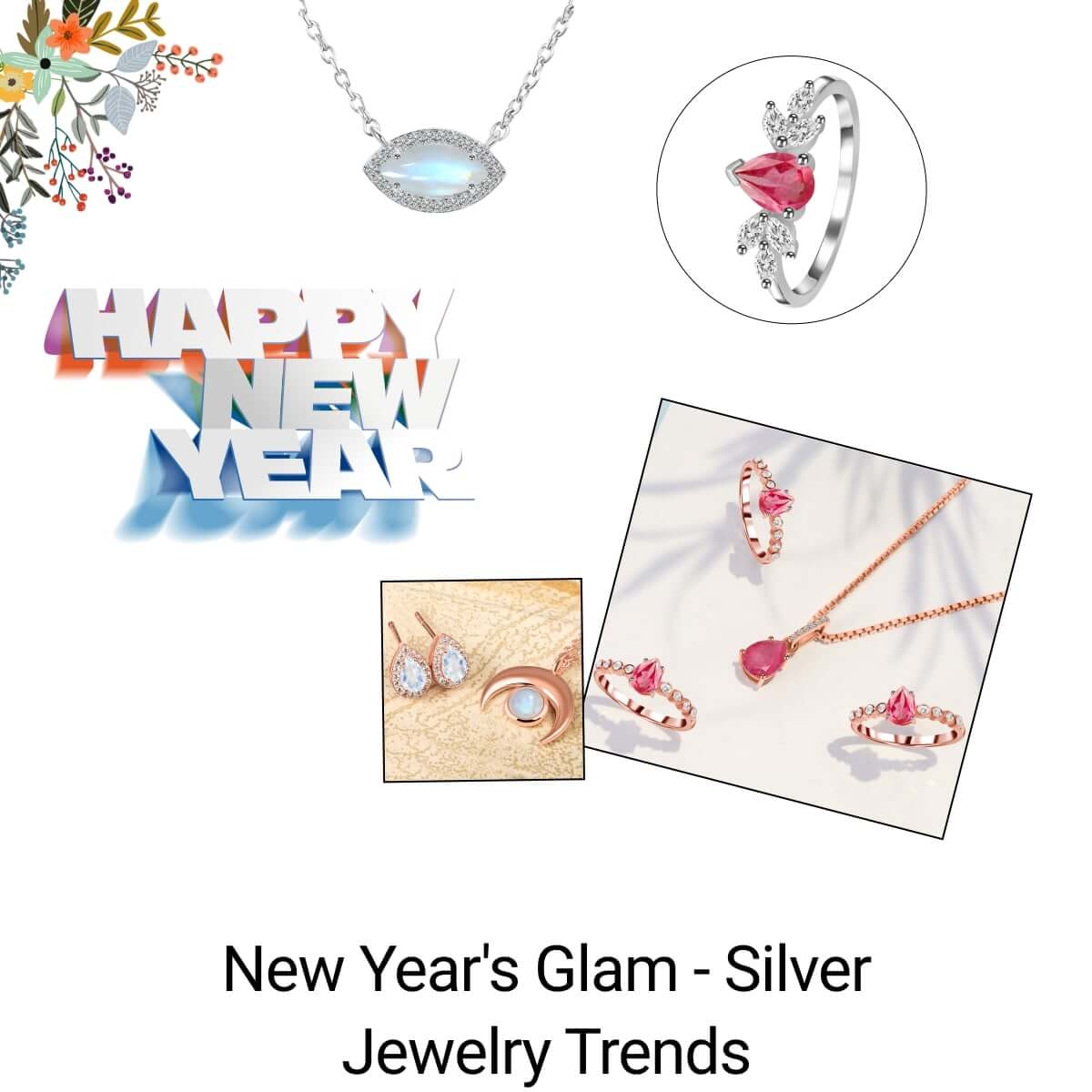 Introduction
Happy New Year 2024! As the eve of the new year is approaching really fast, it's time that you start thinking about the jewelry you need to get for yourself to celebrate this occasion. If you are planning to buy 925 sterling silver jewelry embedded with gemstones this new year, then you can rest assured that it will stand the test of time. In this blog post, first, we will go through the reason why sterling silver jewelry has been a popular choice throughout the centuries. Then, we will give you some cool ideas of what to wear on New Year's Eve. And then lastly, we will go through 3 resolutions that you need to take this new year as a jewelry enthusiast.
Why 925 Sterling Silver Jewelry?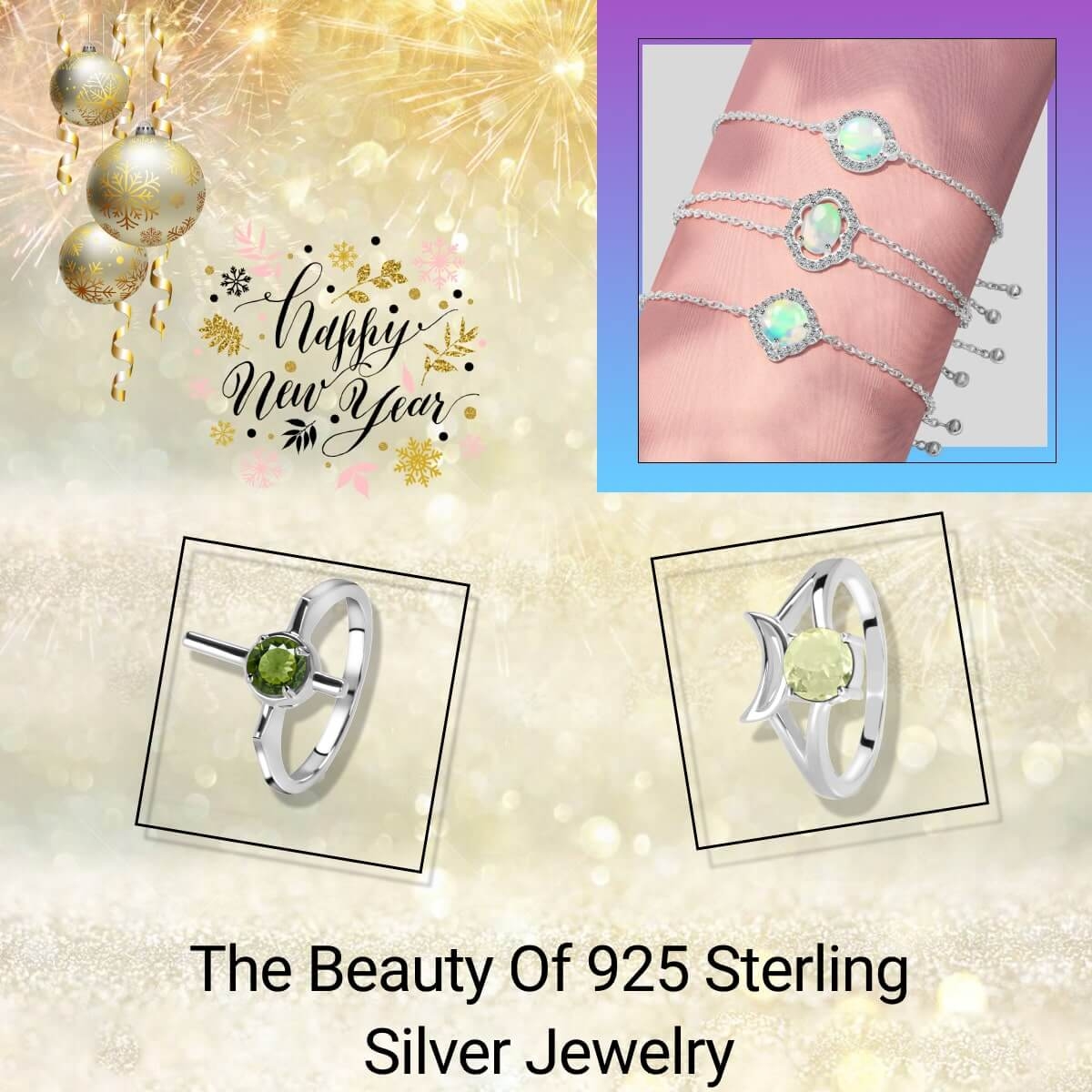 Throughout the centuries, sterling silver jewelry has been a popular choice among jewelry enthusiasts because of its beauty as well as its durability. Within various sterling silver ranges, 925 sterling silver is one of the most popular types. This particular type used in crafting sterling silver jewelry is an alloy having 92.5% silver and 7.5% other metals, which is usually copper. You must be thinking about why are these other metals added. Well, the reason is, that it helps in improving the strength and durability of silver, making it perfect for crafting jewelry for everyday use.
In many cultures all around the world, silver is associated with wealth and prosperity. It is said that silver brings good luck. If you plan to gift someone with sterling silver jewelry, then rest assured, they will like it, since silver jewelry connects tradition with fashion. There are a lot of different types of 925 sterling silver jewelry that you may choose from. For a classic and timeless look, you may opt for a simple silver necklace. For a more sophisticated look, you can choose gemstone jewelry made in sterling silver.
Within sterling silver, you have a plethora of gemstones to choose from. You can choose from a wide variety of gemstone jewelry, and in the market, you can easily find a lot of different designs of gemstone rings, gemstone bracelets, gemstone necklaces, and gemstone earrings. You can order jewelry having classic gemstones like emerald, ruby, or sapphire. You can also order trending gemstone jewelry made in turquoise, larimar, moonstone, opal, Libyan desert glass, or moldavite.
What To Wear At The New Year's Party?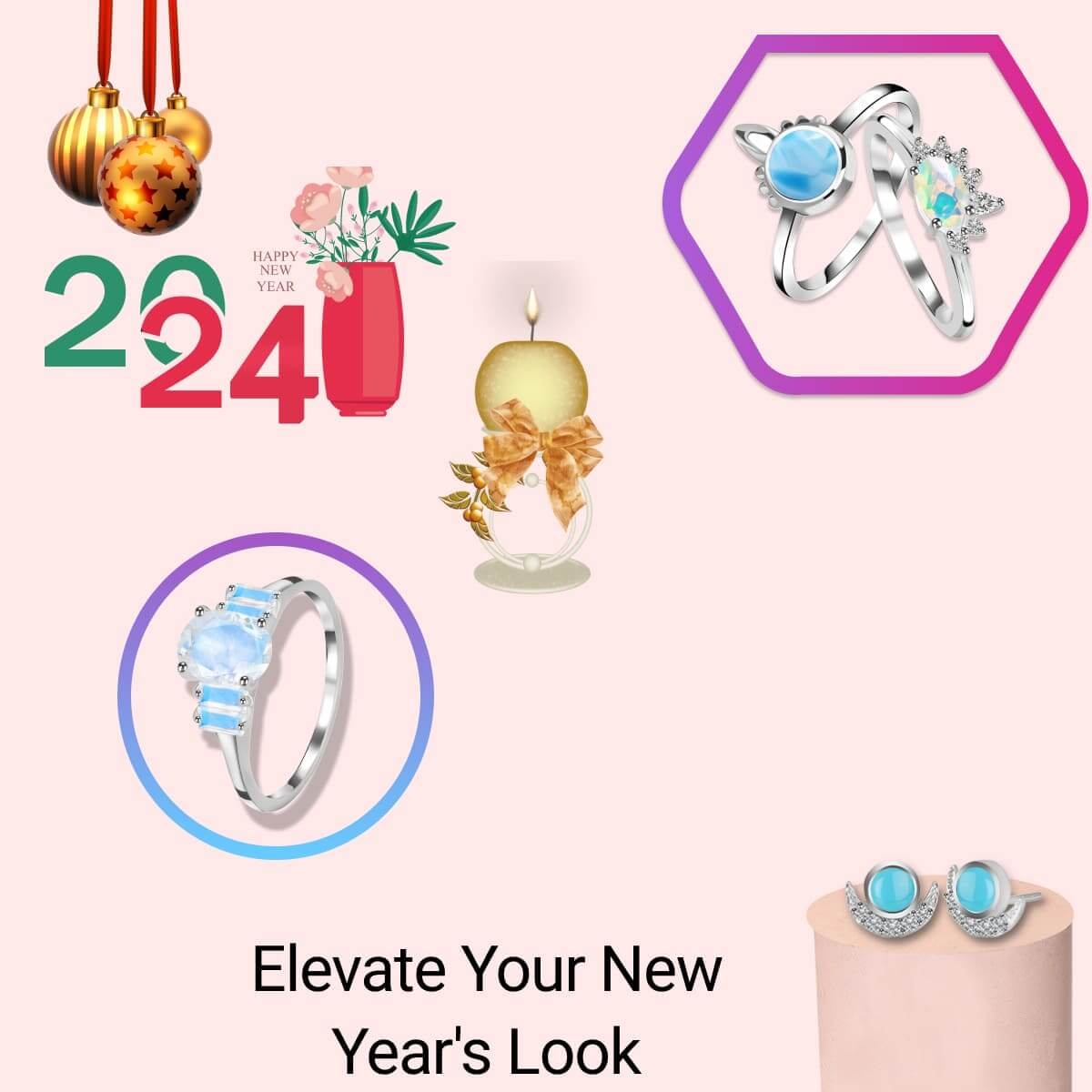 The New Year's party is close… And we know that you want it to look fabulous. For feeling great all night long as you sip your champagne and welcome the New Year in style, it's time to prepare your outfit and the accessories that go along with it. If you look over the trends for this winter, then you will find that the polished metallic look of sterling silver, chunky pieces, and gemstone jewelry are some of the best jewelry pieces to wear this winter.
Where on one hand, layered necklaces are back again in the trending section of jewelry blogs, while on the other, fashion enthusiasts on Reddit claim that coin pendants add a soothing vintage vibe to any outfit. In case you are in search of a balanced icy look, go for statement rings and colorful earrings that create a gorgeous effect. Last of all, an oversized link chain necklace made in sterling silver along with stacked silver rings in different gemstones will help you get noticed everywhere you go. Now, a question you might be having is, how can you take advantage of these New Year jewelry ideas? Well, with the right outfit. Here are 3 unique ideas that will help you bring up the game of your personal style at the party you attend.
When we think of the New Year's outdoor party, the first thing that comes to our minds is blazing fireworks, concerts, and outdoor festivals at crowded outdoor plazas. We all love the vibe of this place – a place where you socialize and have fun together. If you are attending an outdoor party, then we do have a perfect outfit recommendation for you. Wear the glamorous faux fur coat with a pair of lace tights and black boots.
Complement this outfit with a pair of pearl drop earrings made in sterling silver to get a vintage vibe that has a contemporary twist. Although you may skip the necklace since it won't be visible anyhow, it is recommended that you stack up your rings. Try some cocktail rings or lacquer rings to look absolutely stunning.
Celebrating New Year's Eve at The Club
For all party lovers out there, we know what's in your mind – you are gonna get grooving and dance all night long at New Year's Party. Embrace this winter's fringe trend as you put on your dance shoes. If you are not satisfied with the fringe trend, go one step further, by adding a sequin touch. Try out a fringe metallic slip dress with neutral stiletto shoes.
With the natural wavy hairstyle and our jewelry recommendation, you will turn out to be the star of the night. Put a pair of solid sterling silver studs that have no gemstone embedded in them. You know, the all-metal type. Don't forget to add a subtle bangle or a ball chain necklace to bring up the beauty of your studs.
New Year's Party in A Restaurant
If you are a social butterfly who enjoys having great conversations, savoring your tastebuds with delicious wine, and trying new dishes, then you might be thinking of celebrating New Year's Eve at some restaurant with a great ambiance. Here is our recommendation if you plan to go to the restaurant: choose an attractive off-white shirt and fitted trousers or a cocktail dress having neutral colors. Along with your outfit, wear a statement sterling silver necklace.
You can also stack up multiple pendant necklaces if your outfit has a deep-V neckline. Wearing the necklace with layers will allow you to draw attention to your figure. Select a pair of thick and small gold hoops that go along well with the necklace to look stunning. Don't think about wearing bracelets; it's better you keep them in your jewelry box. But it is suggested to finish your look with a single cocktail ring.
3 New Year Resolutions for Jewelry Enthusiasts in 2024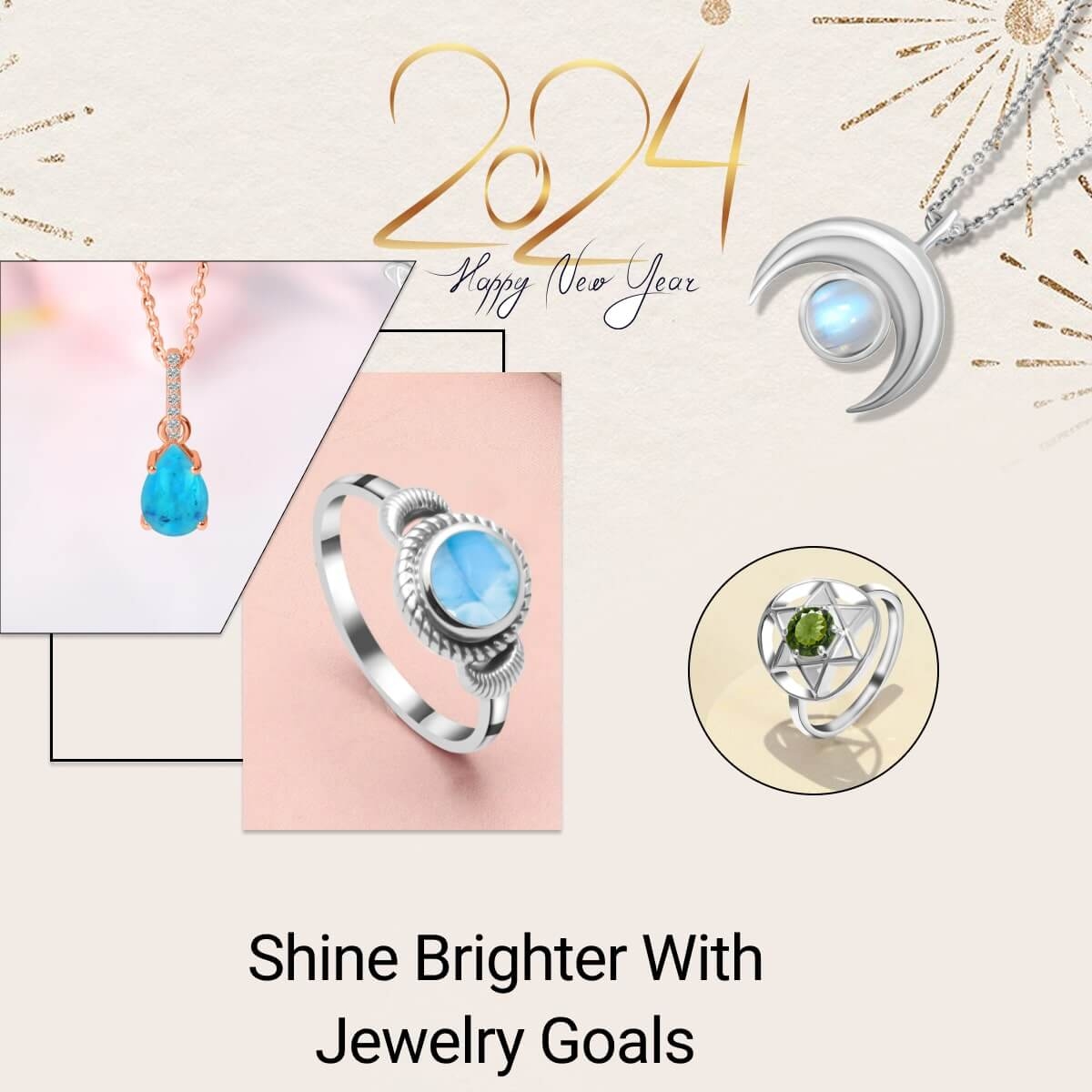 Up until this point, we have discussed what to wear this New Year's Eve. There is no denying the fact that although the above recommendations will enable you to make a great impression this New Year, yet, the jewelry you wear is in and of itself a costly and delicate matter. This is why, we bring forth 3 resolutions you need to take this new year as a jewelry lover. Here they are:
Clean Your Jewelry Regularly
We all love wearing jewelry – that is imperative. But do we all take proper care of our jewelry? If we do not take proper care of our jewelry and accessories, they will get tarnished as we wear them time after time. Fine jewelry like 925 sterling silver jewelry can last for years if you maintain it properly, meaning, you clean them every now and then. These caring rituals vary from metal to metal and from gemstone to gemstone. Some general cleaning instructions are as follows.
Don't use harsh cleaning cloth that would scratch your jewelry piece. Rather, use a soft and lint-free jewelry polishing cloth to clean your jewelry. Don't use abrasives like ammonia or chlorine, especially while cleaning gemstone jewelry with opaque gemstones. That is because certain porous gemstones tend to absorb the cleaning agents like detergents and get damaged in the cleaning process. Lastly, never end up using sharp objects like pins and tweezers to remove grime from your jewelry. These objects will damage the stone and setting.
Store Your Jewelry Cautiously
Do you know the one mistake that most jewelry lovers commit? While wearing their jewelry on a daily basis, they forget that they are exposing their jewelry to harsh elements such as chemical products and moisture which tarnishes the jewelry. This is why, you need to store your jewelry piece safely. How?
Well, keep your jewelry in the jewelry box or pouch it came in. It makes up for a great place where you can store what you refer to as, pun intended, "my precious". Also, never store all your jewelry pieces in one spot – this can make your jewelry get tangled, or worse, the gemstones would rub against each other and get scratched. Another thing you need to make a note of is, always make a habit to store your 925 sterling silver jewelry in an anti-tarnishing bag. Lastly, make a pledge that jewelry is the last thing you put on after your skincare ritual, and the first thing you remove after return home. All these tips will help you be better when it comes to storing your jewelry.
In the age of the Internet, shopping is just a few clicks away. Not only can you shop for your favorite gemstone jewelry and 925 sterling silver jewelry from Amazon, but you can visit countless e-commerce websites that deal in all the various types of jewelry – from Casting Jewelry and Custom Jewelry to Handmade Jewelry and Designer Jewelry. These online jewelers offer a wide variety of designs at an attractive price point that won't break your bank account. Whether you are looking for a perfect gift that you want to give to your special someone, or you are buying jewelry for yourself – going online is one of the best ways to fulfill your heart's desire.
But before going online, ensure that you do your research, such as verification of website and company address. Also, opt for the currency and payment option that is best suited for you if the online jewelry store provides multiple payment options. Lastly, double-check the size of the jewelry you are purchasing – after all, who wants to go through the complex replacement process?
Conclusion
After reading the above recommendations, you now have a comprehensive guide to what to wear on New Year's Eve. If you are planning to opt only for 925 sterling silver jewelry, and you feel restricted among the options and styles that sterling silver offers, then you can also try sterling silver jewelry having different vermeils. Rose gold and yellow gold vermeil are the two most popular vermeils that are trending among jewelry enthusiasts. As a customer who buys jewelry from retail stores and e-commerce websites, you have tons of options. But what if you are a jewelry retailer, looking to buy wholesale gemstone jewelry?
If that is the case, then order your jewelry from Rananjay Exports. We are India's top wholesale gemstone jewelry manufacturer and supplier, and we have been exporting wholesale gemstone jewelry worldwide since 2013. We are not restricted to gemstone jewelry – we also have a nice collection of sterling silver jewelry. This collection includes Alphabet Jewelry, Chakra Jewelry, Birthstone Jewelry, and Sea Life Jewelry. Within the wholesale gemstone jewelry collection, you will find it all – from sparkly gemstone earrings to eye-catching gemstone rings. And the plus point with us is, we deal in 250+ different gemstones. To name a few, we have gemstone jewelry like opal ring, moonstone ring, larimar ring, turquoise ring, Libyan desert glass ring, moldavite ring, and ruby ring. All our stones used in making jewelry are ethically sourced, genuine, and of AA grade and above.
As a jewelry retailer, you have plenty of choices to choose from at Rananjay Exports. You can re-stock your jewelry for your retail store from Rananjay Exports… So your customers walk happily after they buy their favorite jewelry this New Year. We hope that you will find the jewelry your customers love at Rananjay Exports. Thanks for reading this article, and we wish you a very Happy New Year!