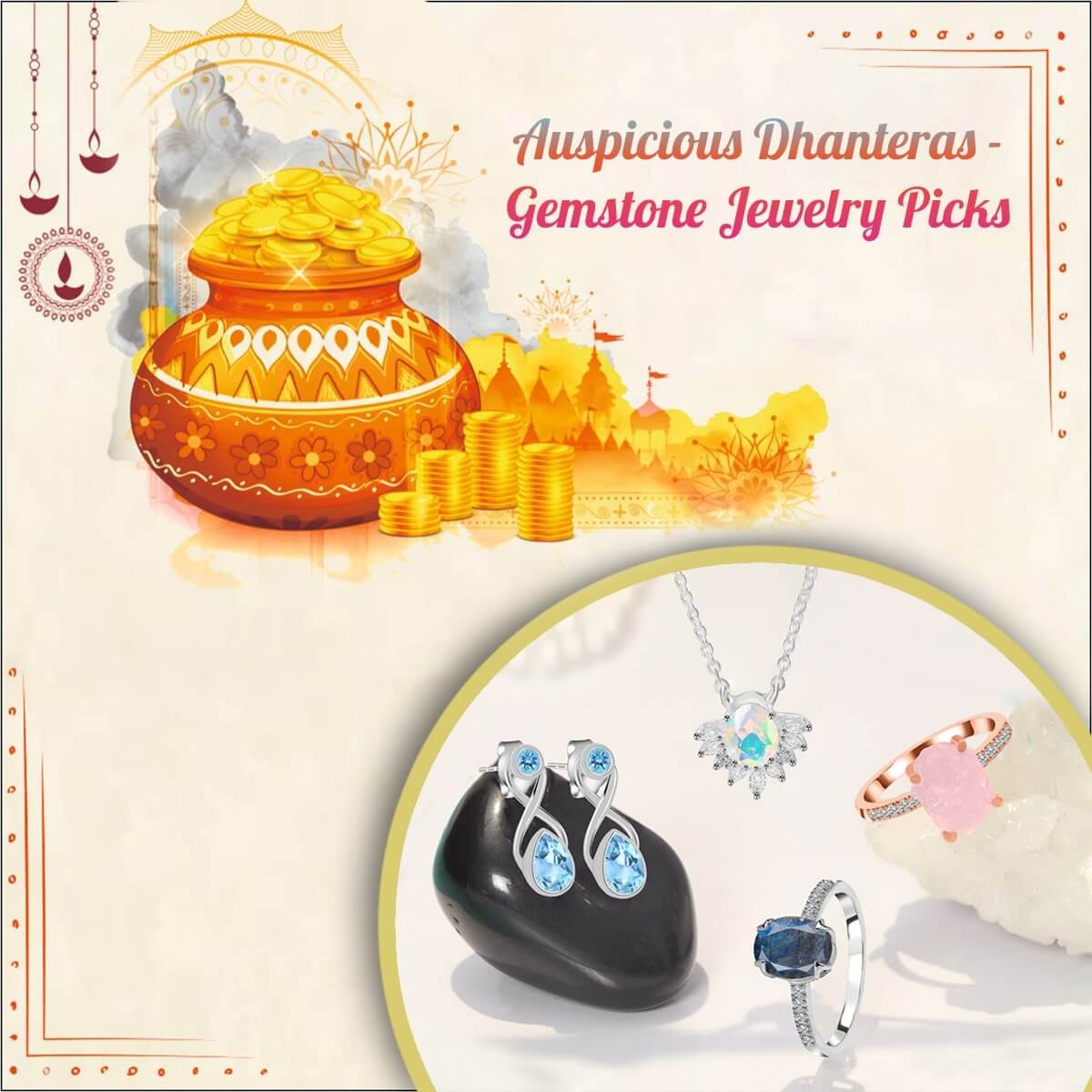 Introduction
There is no doubt that India is a land filled with diverse cultures and communities with rich traditions. Indians have numerous festivals that hold tremendous significance to them. One of the many festivals that is celebrated with immense enthusiasm is Dhanteras, also known as Dhanatrayodashi. Dhanteras marks the first day of Diwali – the festival of lights in most of India. This festival falls in the month of Kartik, which generally comes from October to November. Indians celebrate this festival with a lot of devotion – they clean their houses, draw beautiful rangolis, and decorate their houses with oil lamps so as to invite positivity and prosperity. Let us delve deeper into this topic and explore whether you should buy 925 sterling silver jewelry or not this Dhanteras.
Mythological Roots of This Festival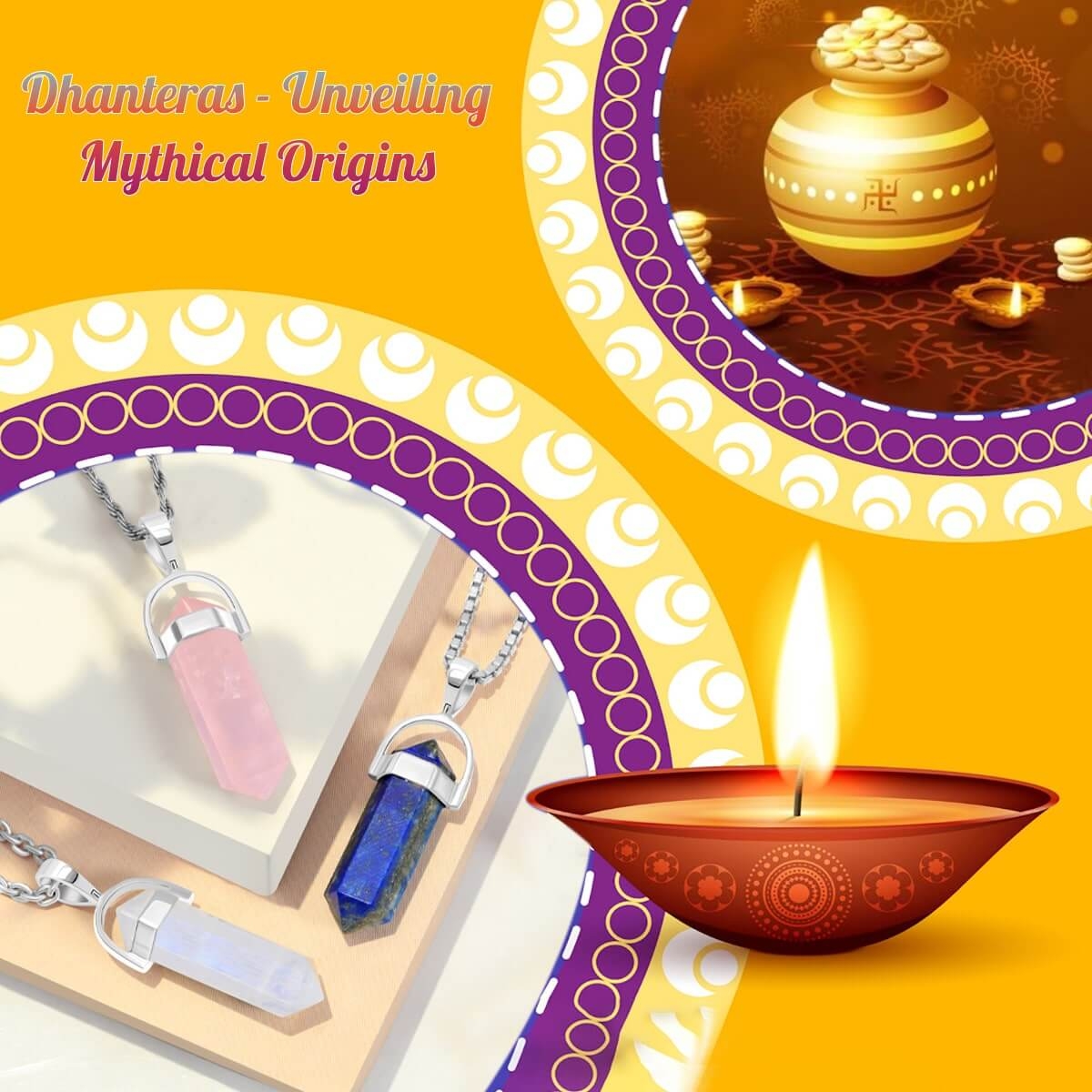 If you talk about the mythological origins associated with Dhanteras, then there are two stories associated with it. The first legend says that the roots of this festival are related to the churning of the cosmic ocean by devatas and asuras, also called Samudra Manthan. During this event, Lord Dhanvantari, who is also known as the physician of gods, emerged out of the ocean with a pot of amrita in one hand and the sacred texts of Ayurveda in the other hand. This mythological event is the reason why Dhanteras is linked to well-being and wealth, where Lord Dhanwantari is worshipped.
Another legend that is popular in India revolves around the story of King Hima and his 16-year-old son. If read the tale, then you will find that in the prince's horoscope, it was written that he would die due to a snake bite on the fourth day of his marriage. To prevent this, his newlywed wife did not allow him to fall asleep. She spread heaps of ornaments and many gold and silver coins at the entrance of their room, and she also lit many oil lamps. She then narrated beautiful stories and sang melodious songs so that her husband does not fall asleep.
On the fourth day, when Yama arrived at the prince's doorstep in the disguise of a serpent, his eyes got blinded by the shine of the ornaments and the dazzle of the oil lamps. Since he was unable to enter the prince's room, he silently went away. From that point on, people started celebrating Dhanteras to nullify the effects of an untimely death and for overall wealth and prosperity.
One of the main practices of celebrating Dhanteras involves purchasing gold, silver, or utensils. It has been believed that making a new purchase on the day of Dhanteras makes your entire year auspicious and it also symbolizes the continuous inflow of wealth throughout the year. While some people like purchasing gold and silver coins, others like purchasing 925 sterling silver jewelry. In India, you will also find a large subset of the population purchasing new vehicles, and homes, or starting new business ventures, as they consider Dhanteras as the right time for success and expansion.
Sterling Silver Jewelry to Choose from This Dhanteras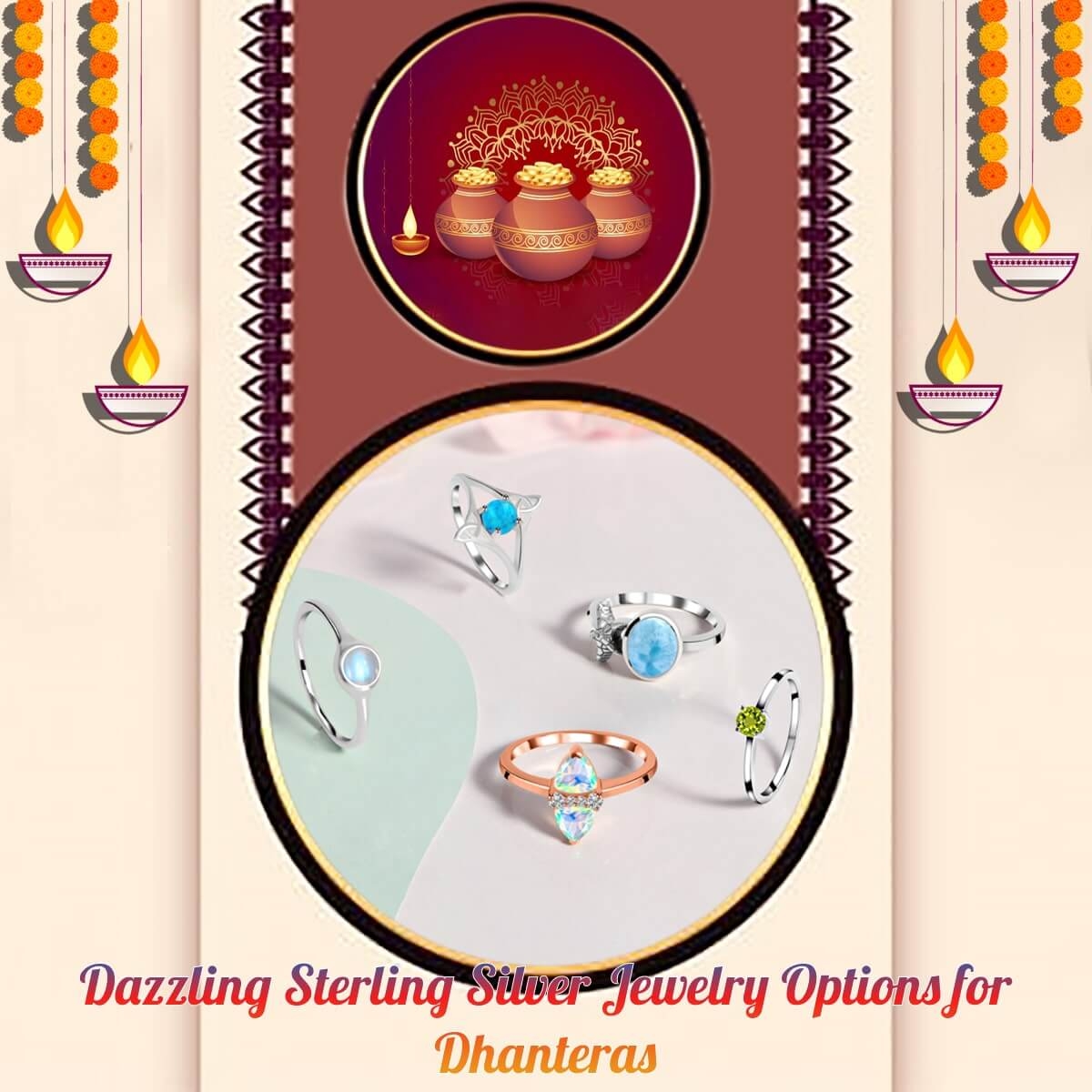 It is believed that buying gold or silver jewelry on the auspicious day of Dhanteras brings good luck and invites prosperity to one's life. If we talk specifically about silver, then you will find that 925 sterling silver jewelry is the perfect way to greet Goddess Laxmiji at your house. Why shall you opt for sterling silver instead of gold?
Well, because gold in the current times is very costly. Many people might find it tough to purchase gold jewelry, and the price of gold jewelry often skyrockets during the times of Dhanteras and Diwali. This is why, 925 sterling silver jewelry is one of the best options. And don't feel restricted when it comes to sterling silver jewelry. From Casting Jewelry, and Handmade Jewelry to Custom Jewelry, and Designer Jewelry, you have a plethora of options when it comes to sterling silver.
The best part about sterling silver is, that there is practically no limit to options of gemstones that are available in sterling silver jewelry. Within the gemstone jewelry section of various jewelry stores, you can explore Gemstone Bracelet, Gemstone Necklaces, Gemstone Earrings, and Gemstone Rings. It does not matter whether your choice of gemstone lies in the precious category or semi-precious, you will get tons of options in gemstone jewelry when you are choosing the base metal as 925 sterling silver. Here are some ideas of sterling silver jewelry that you can purchase this Dhanteras:
Sterling Silver Bangles
Even in modern times, we are tightly attached to our traditions. As submission in front of the feminine energy and Para-Shakti, we have been suggested to wear the "16 Shringhars". And women tend to pair their complete traditional attire & ornaments during the festive season. This is why, we recommend you to wear the 925 sterling silver bracelets and bangles this Dhanteras.
In older times, it was a widespread belief that sterling silver jewelry should be worn only on body parts below the waist, such as legs and leg fingers. But in today's times, this has been declared a myth. This is why sterling silver bangles have become the most common attraction in recent times. They perfectly complement all the different kinds of dresses such as sarees, salwar-kameez, and even indo-western clothing.
Alluring Sterling Silver Nose Rings
Within the "16 Shringhars" of married women, the nose ring holds an important position. Although all of us do not like orthodox belief systems that have no scientific thinking within them, we should wear what we find ourselves comfortable in. Wearing a nose ring is indeed a heartthrob for girls. Nose rings also add a highlight to the face and a delicacy to the nose, which is why it is one of the most chosen jewelry. Choose a nose ring made in 925 sterling silver, embedded with a beautiful gemstone such as moonstone or opal to look absolutely amazing this Dhanteras!
Sterling Silver Earrings – The Stylish Jhumkas
Long gone is the trend of wearing delicate earrings and teeny tiny studs. Nowadays, fashion influencers in India are recommending oversized sterling silver earrings, like Jhumkas so as to give weight to your look. It does not matter whether you wear a saree, a kurta, or anything else, these Jhumkas will give you an appealing, stylish look.
Should I Buy Silver Coins, or Should I Buy 925 Sterling Silver Jewelry
When Dhanteras comes, we rush to the nearest jewelry to buy precious metals because we believe that buying them would bring good luck and help us prosper. Within the jewelry stores, we have two options – either we can buy silver coins, or we can opt for 925 sterling silver jewelry. Both have their own advantages and disadvantages.
Silver coins or biscuits are not particularly useful – they sit in the lockers of the house or the bank. But if you purchase sterling silver jewelry, it is going to cost you more than a silver coin. The reason is, that there are making charges, and we bet that the silver jewelry you chose would have gemstones – something that adds beauty to the jewelry but whose price does not appreciate much with time.
A Lucrative Way To Invest Your Money: Silver Coins
These days, among investors, silver coins and silver biscuits are becoming really popular. People invest in silver coins as they are considered to be a safe investment that does not cost much. Unlike stocks, silver coins are a low-risk investment. If a recession comes, you don't need to worry about your wealth put in silver coins getting wiped out. Also, you can easily sell off your silver coins whenever you desire. It does not matter where you live, you can always find someone who would be willing to purchase your silver coins.
Why Buy 925 Sterling Silver Jewelry on Dhanteras?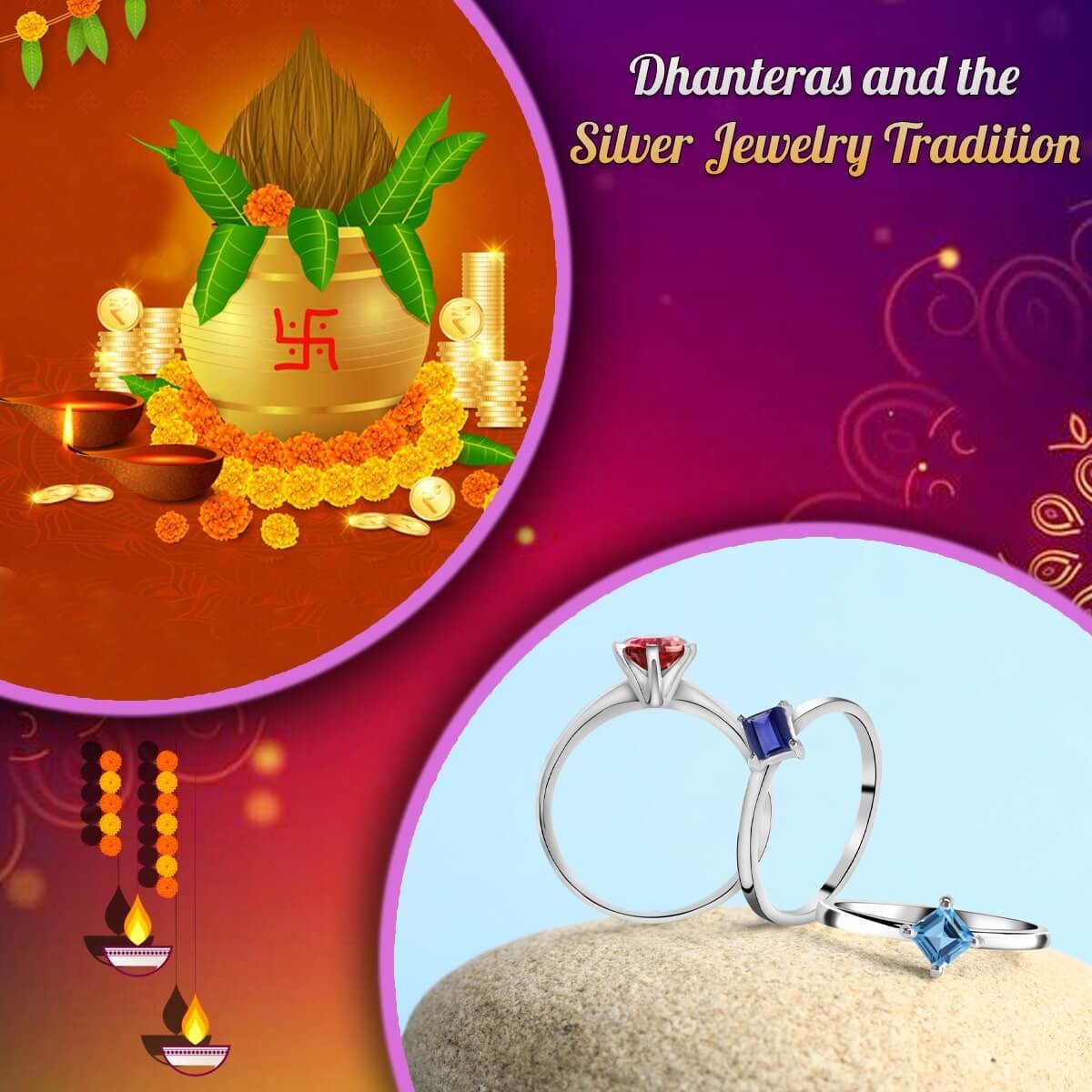 As discussed above, you will find that although it's easy to buy and sell silver coins, yet, they are of no practical use. They would just be sitting in the locker of your house or bank. 925 Sterling Silver Jewelry, on the other hand, can be worn for daily use. Also, big retailers always have special offers on their range of sterling silver jewelry and gemstone jewelry. The making charges are not too much. Also, if you buy stones that have a scarce supply in the market, like Tanzanite, Opal, and Tourmaline, the price of the jewelry as well as the stone set in the jewelry is said to shoot up as time progresses. Meaning, that not only the price of silver used in making your jewelry would shoot up, but the price of the actual gemstone used in the jewelry would shoot up as well – provided the supply of that gemstone in the jewelry market reduces with time.
Conclusion
We have covered a lot of different topics in this blog post. We hope that this blog helped you in making an informed decision when it comes to purchasing 925 sterling silver jewelry this Dhanteras. May the gemstone jewelry you purchase this Dhanteras invite wealth and prosperity into your life. If you are a retail jewelry store, or if you have the requirement of wholesale gemstone jewelry for your e-commerce store, then we recommend you to visit the website of Rananjay Exports. Rananjay Exports is one of the top wholesale gemstone jewelry manufacturers & suppliers in India, supplying their jewelry worldwide. You will be satisfied with their service, as all of their jewelry has a touch of luxury in them.
They deal in over 250+ gemstones which are all ethically sourced, genuine, and that are extracted from practices that are environmentally friendly. Some of these gemstones whose gemstone jewelry they sell include larimar, opal, moonstone, amethyst, moldavite, Libyan desert glass, and citrine. You can also choose from classic stones, such as pearl, ruby, sapphire, and topaz. And the best part is, they are not confined to selling gemstone jewelry – they also sell sterling silver jewelry. Within their 925 sterling silver jewelry collection, you will find alphabet jewelry, chakra jewelry, birthstone jewelry, and moon magic jewelry.
So, this Dhanteras, as you ask for the grace of Goddess Lakshmi, so she may bless you with increased profits at your retail establishment, also visit Rananjay Exports' product catalog and order the jewelry you need for your store. We are sure that you will find the wholesale gemstone jewelry your customers would love to buy.