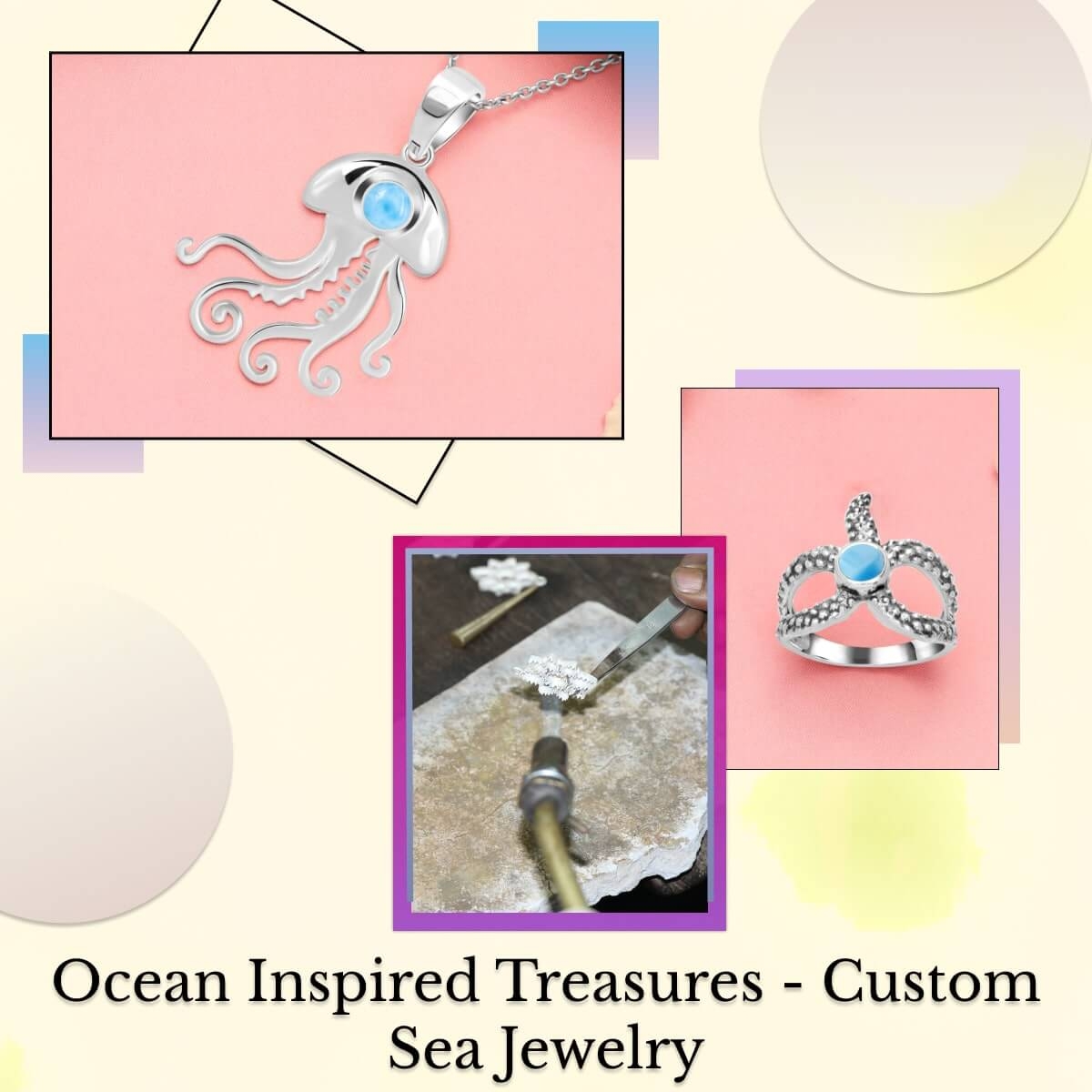 Introduction
Don't you find the mystical sea and its beautiful inhabitants captivating? The magnificent allure of the sea can be best experienced when you walk along the beaches beside turquoise blue waters in the morning with the cool breeze gently brushing over your face. Our sea life jewelry collection is made for those who daydream of spending their off-time around the waves of the sea. Our collection is inspired by the magical creatures and treasures that are found in the depths of the sea. As you browse through our sea life jewelry collection, you will feel that this jewelry will bring out your inner mermaid and add a touch of aquatic beauty to your everyday look.
Our sea life jewelry made in 925 sterling silver is one-of-a-kind and exquisite. It is inspired by the beauty of the marine flora and fauna. If you are someone who enjoys beaches, sea creatures, and the mysterious ocean, then you will find our sea life jewelry ideal for you. Not only will this jewelry add to your beauty, but this jewelry will also add a touch of class to your outfit – casual or professional. In the blog below, we will discuss the sea life jewelry which is our collection of sterling silver jewelry range made of larimar. We will also discuss why you should choose sea life jewelry over other types of jewelry, and what customizations we offer within our sea life jewelry range.
Alluring Larimar In Our Sea Life Jewelry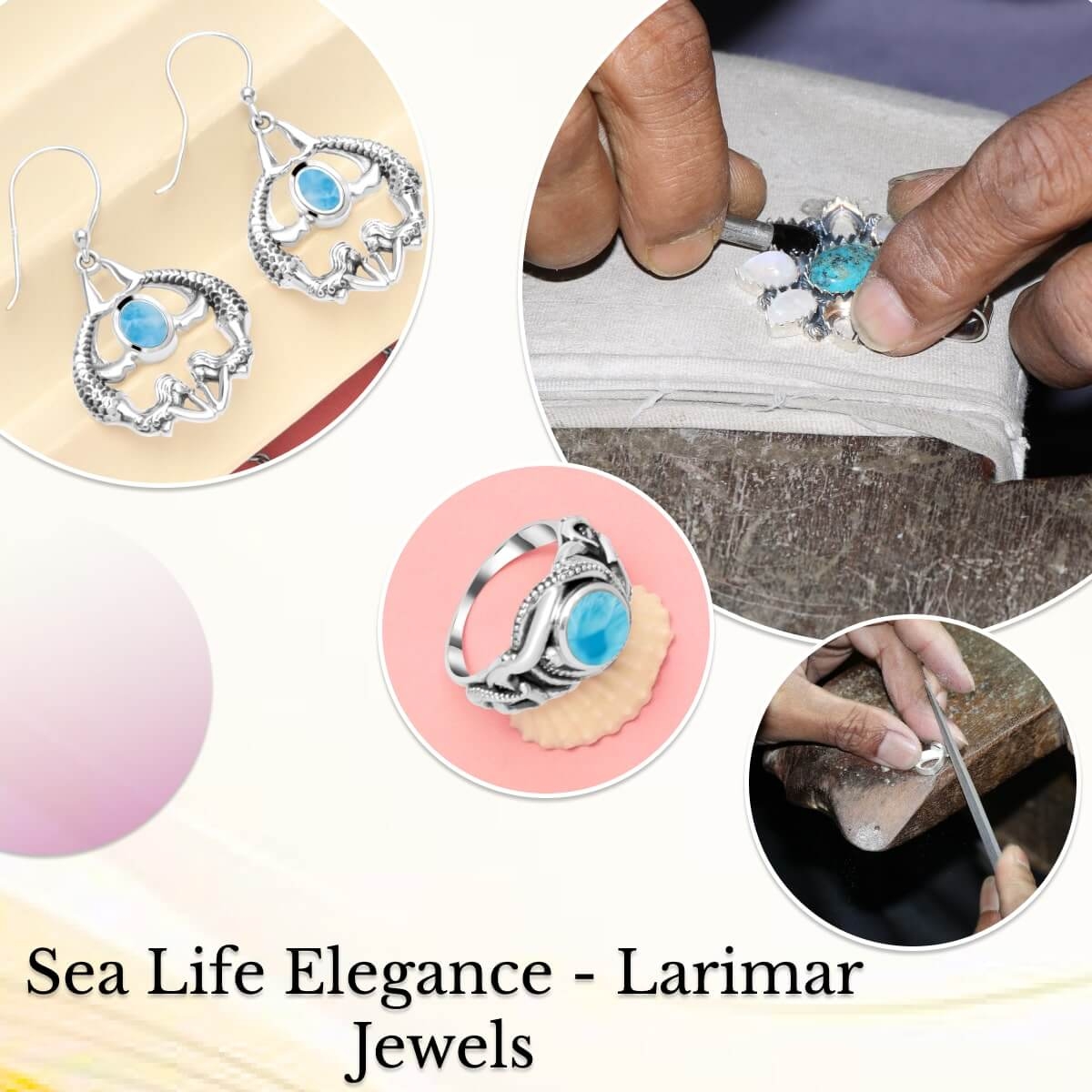 Within all of our jewelry in the sea life collection, you will find the larimar gemstone. It is a rare blue stone and we source it from the Dominican Republic. Within our sea life jewelry, you will find the color of larimar varying from blue to green-blue. It is often considered to be a soft stone since it ranks between 4.5 and 5 on the Mohs Scale of Hardness. Metaphysically, larimar helps an individual with clear communication and inner wisdom. You will experience some of the healing benefits as you wear our sea life jewelry due to the larimar gemstone. Some of the benefits are mentioned below.
Healing Properties Of Our Sea Life Jewelry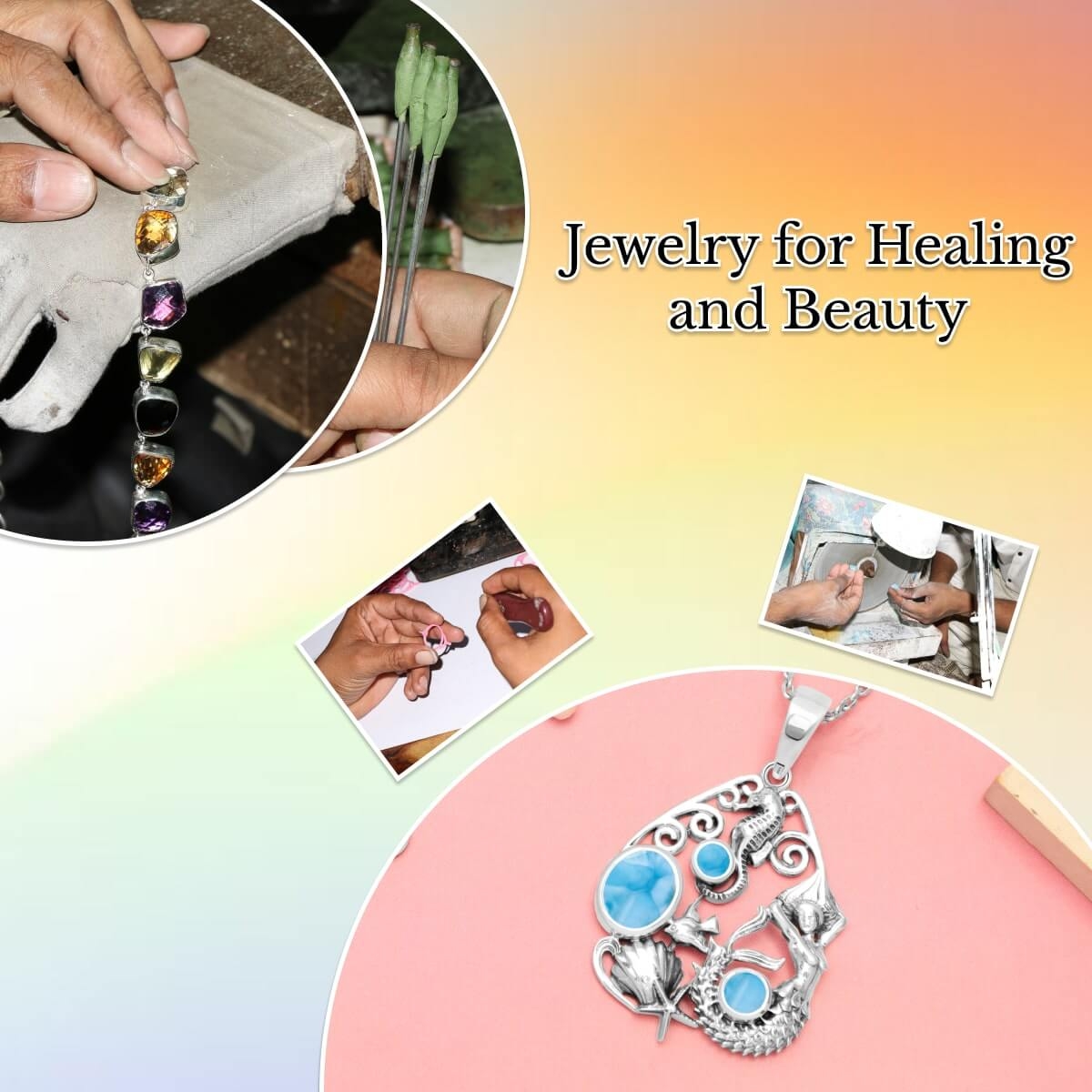 Larimar is a gemstone that is full of the calming energies of the ocean. It helps the wearer align his upper chakras, strengthening his true voice, and helping him eliminate all sorts of toxic thoughts. When you wear larimar jewelry, you will find that indeed it's a throat chakra stone that is linked to your communication abilities. It soothes the throat chakra and clears all types of throat chakra blockages. This stone which is present in all of our sea life jewelry also aids in stress-related health troubles such as high blood pressure, insomnia, and hypertension. It also aids people facing fire ailments such as rashes and fevers since the larimar gemstone acts like a natural coolant.
Does the Sea Life Jewelry Possess Zodiac Properties?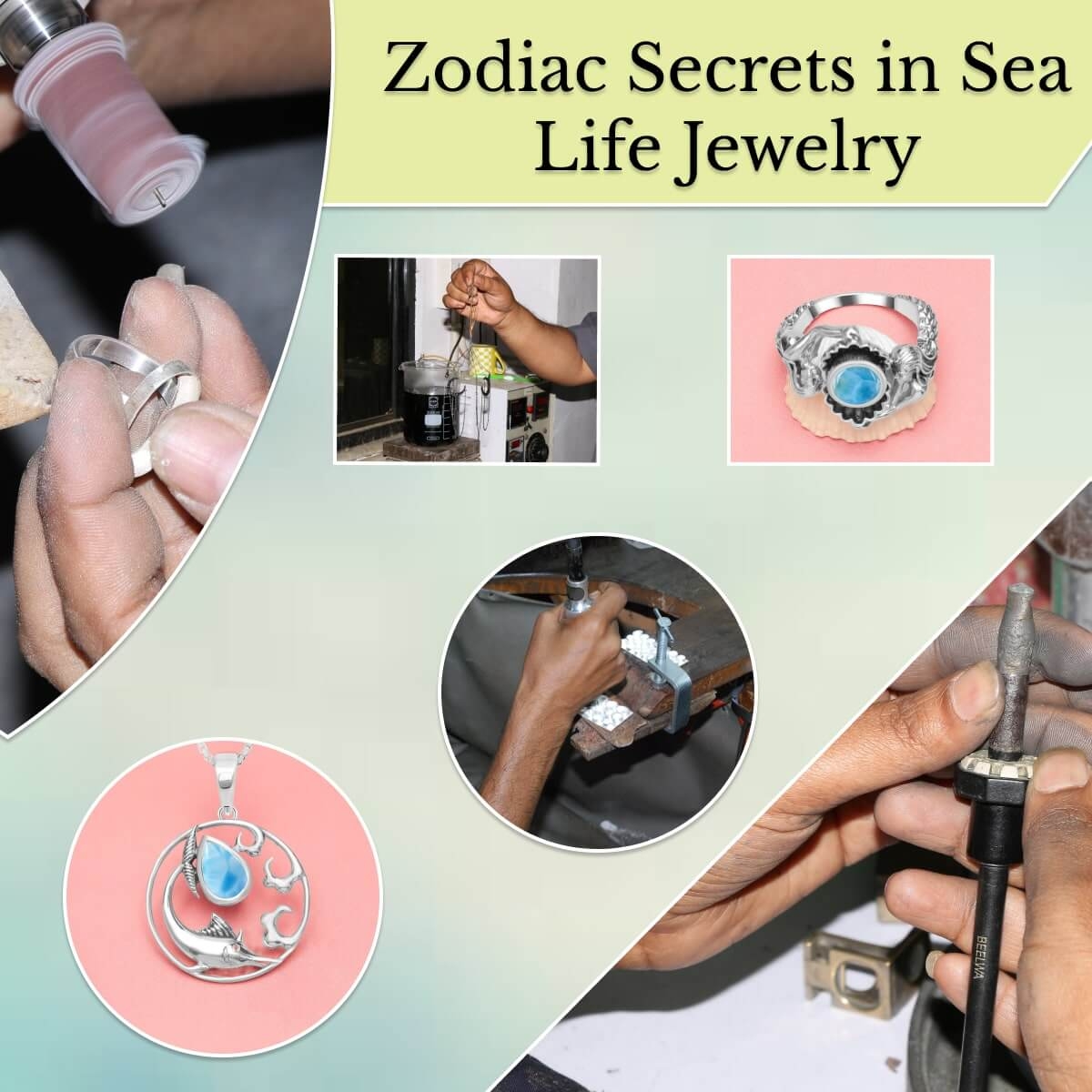 Although the larimar in our sea life jewelry is not a traditional birthstone, yet, its energies seem to help those who are born at the end of winter and during the spring. This is why, people born in the months of February and March resonate a lot with larimar jewelry and sea life jewelry. A special thing that you need to make a note of as readers is, that sea life jewelry can also be linked to those born under the zodiac of Leo. Leos tend to possess a lot of fiery energy and they are born under the height of the sun. Since the sea life jewelry has larimar set in it, it acts as balancing gemstone jewelry with the calmness of the water. This tends to cool the fierce nature of Leos and bring them back into harmony.
Precautions You Need To Take As You Wear The Sea Life Jewelry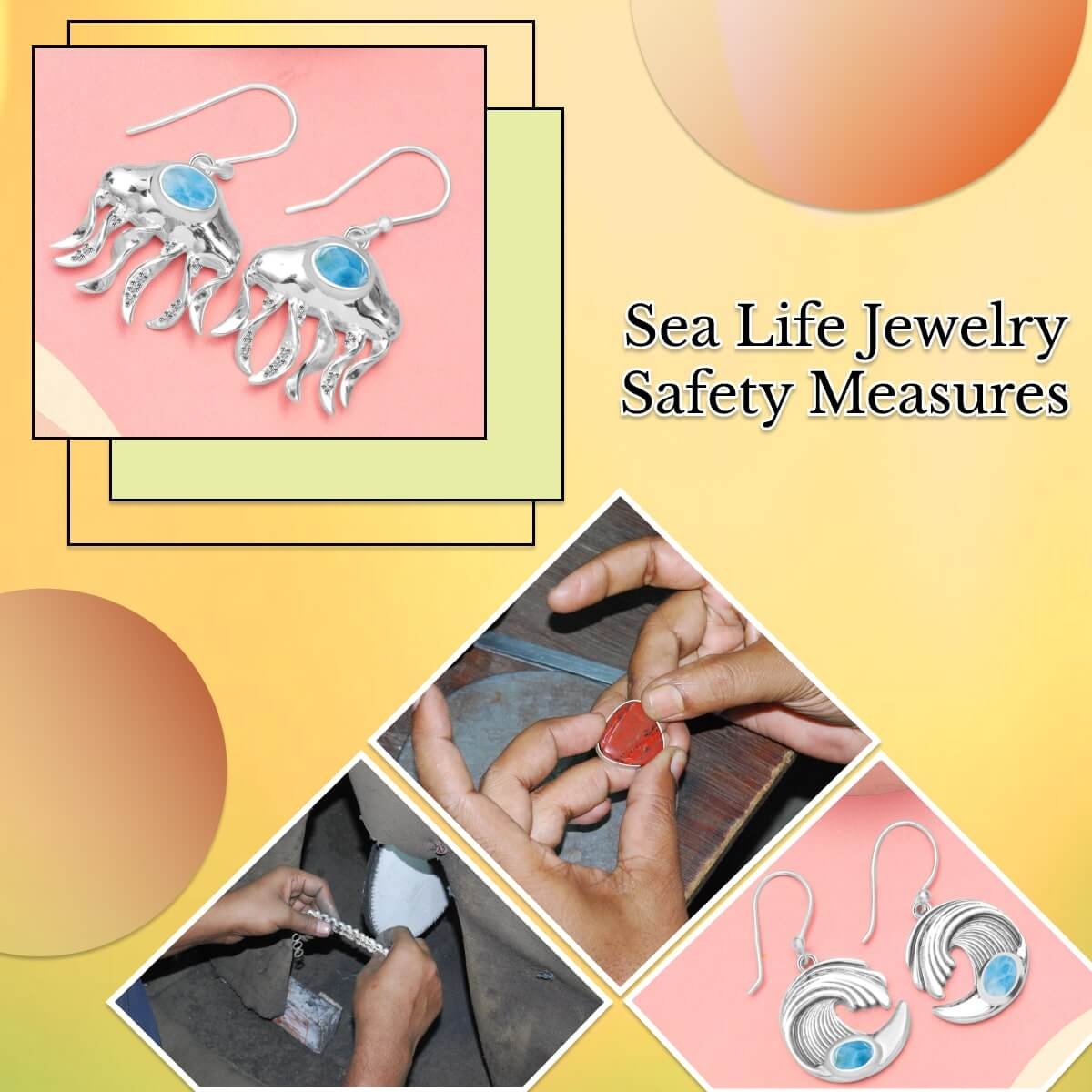 As we have already discussed above, the Larimar set in our Sea Life Jewelry is a soft gemstone. This is why, some precautions are mandatory as you wear this little bit of fragile gemstone jewelry.
One of the best pieces of advice we can offer is, to store larimar in a place where it is not exposed to heat or sunlight. Heat and sunlight cause loss of color in your larimar. Also, do not wear the sea life jewelry for long when you are under the heat of the glaring sun. Another advice is to be gentle while cleaning it. Warm water, mild soap, and a soft cloth are sufficient to clean the sea life jewelry.
Lastly, it is recommended to remove the sea life jewelry during activities where it could get damaged. For instance, if you are engaging in physical activities, or sports, such as playing beachball, it's highly recommended to remove larimar.
Why Choose Sea Life Jewelry Over Other Options?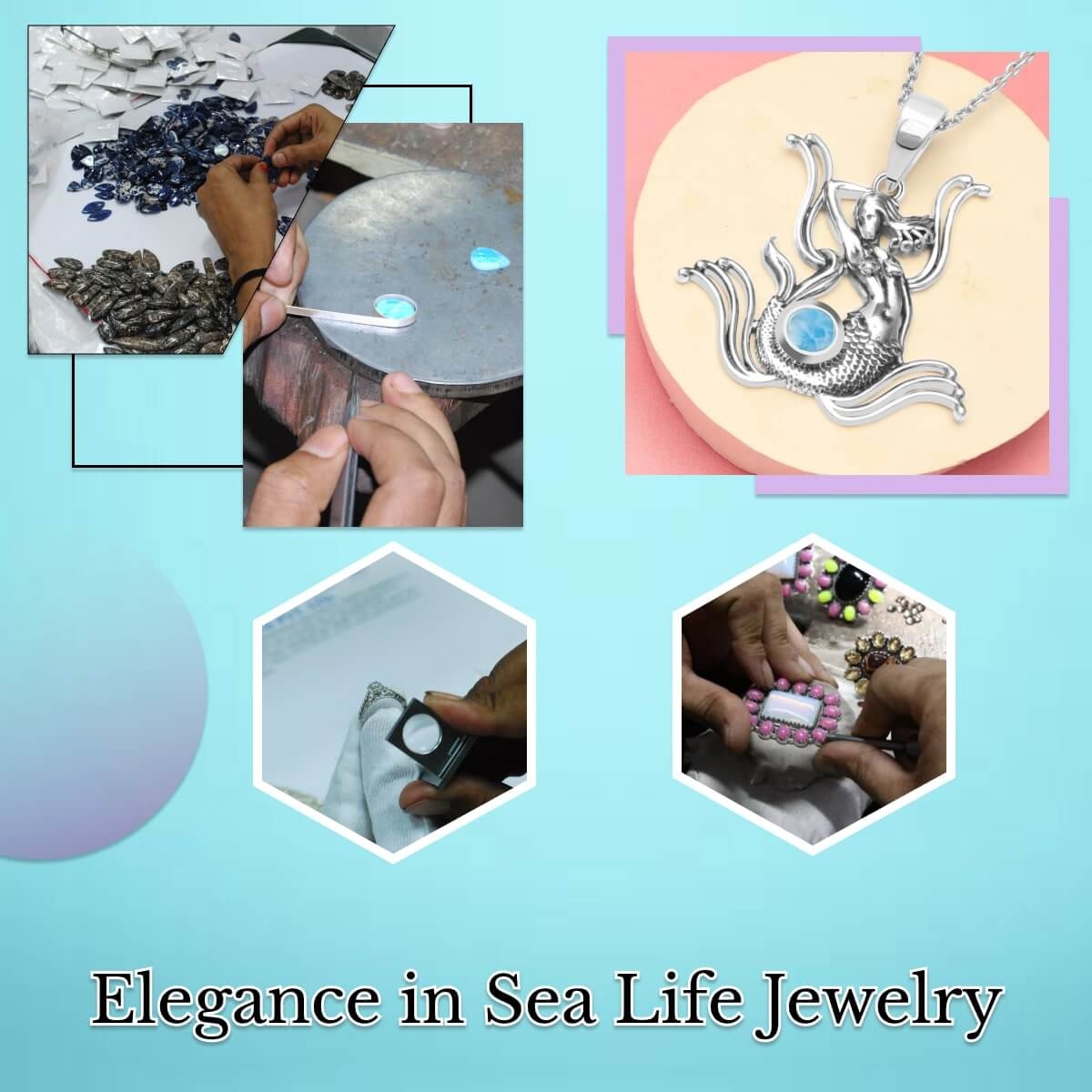 Here are a couple of reasons why should you choose sea life jewelry within our sterling silver jewelry collection over other kinds of sterling silver jewelry and gemstone jewelry options:
Our sea life jewelry is durable. For people who desire a piece of jewelry that is long-lasting and has a considerable life span, sea life jewelry makes up for a fantastic choice. We use only 925 sterling silver which is considered to be the highest quality silver that does not corrode with time as well as does not tarnish easily when it comes to jewelry.
The sea life jewelry we sell is affordable. Silver is considerably less expensive in comparison to gold and platinum, and the grade of larimar gemstone we use is AA, which makes the whole jewelry quite affordable. Also, we are wholesale gemstone jewelry manufacturers and suppliers, which is why, you can purchase a lot of different items without going over your budget, that too at wholesale prices.
The look and feel of our sea life jewelry is simply breathtaking. Each piece of our sea life jewelry captures fine details of the sea life and displays the beauty of the stunning ocean and its creatures. Each of the pieces that you will find within our sea life jewelry collection, be it a delicate starfish earring or a striking mermaid pendant, is a work of art.
Customized Sea Life Jewelry - What Customizations You Can Expect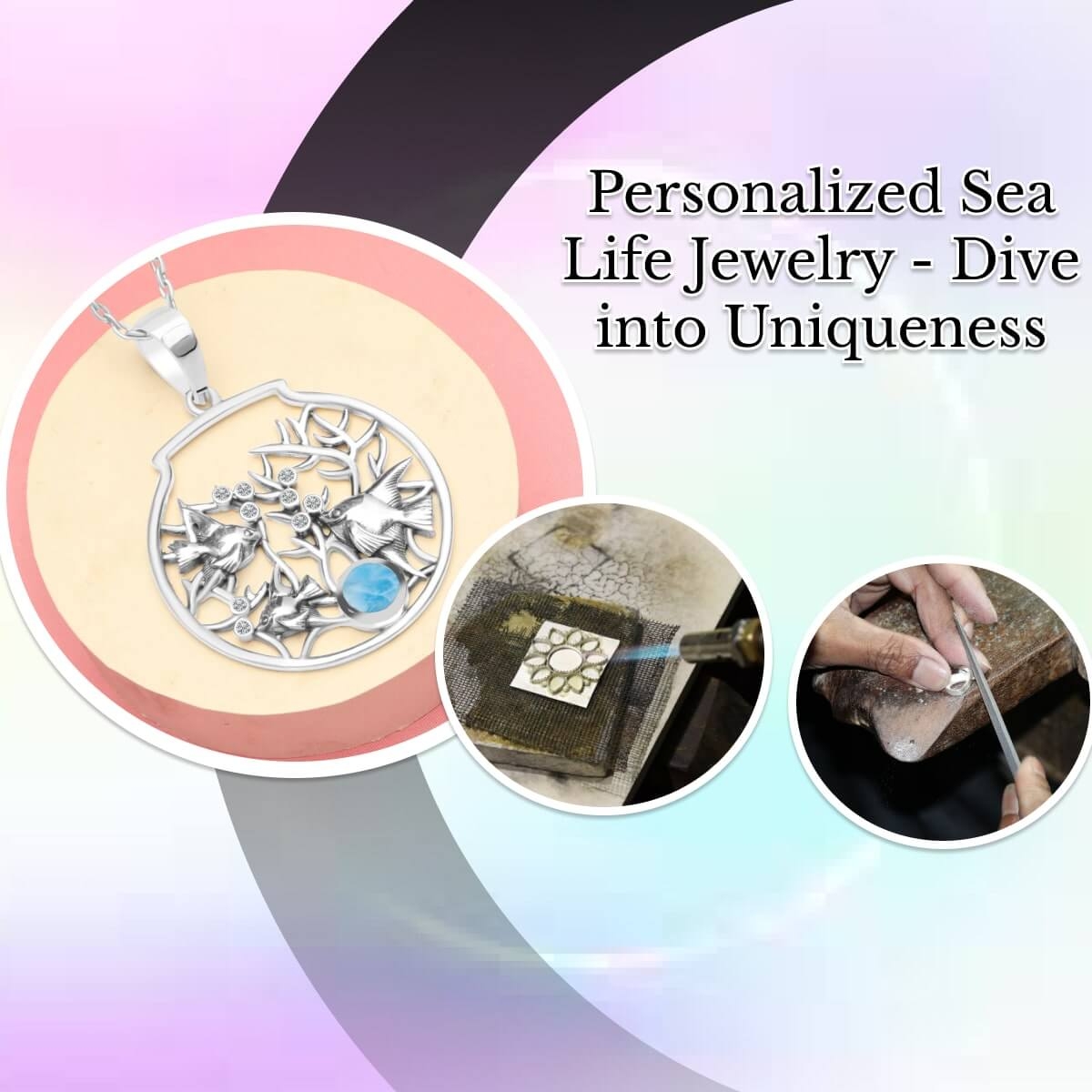 Are you looking for customized Sea Life Jewelry that is tailored according to your retail needs? We understand that even the smallest of tweaks and customizations can act as a game changer on the look and feel of the jewelry you sell. This is why, we offer modifications and changes in our Sea Life jewelry so you can make the design unique for your customers. Below are some of the ideas regarding how you can change the design of our sea life jewelry:
You can ask for a different stone, other than larimar. Or, to take a level higher, you can ask for a combination of one or more stones that come in with larimar. Some gemstones that can replace larimar are Swiss Blue Topaz, Blue Topaz, and Aqua Aura Quartz. Some stones that complement larimar well are garnet, ruby, amethyst, and Carnelian. To give an example, we would ask you to imagine our standard larimar sea horse earring set with a small blue topaz gemstone in the eye of the sea horse. Or imagine the larimar shark earring where the fins of the shark are set with garnet gemstone. Won't your customers find this amazing and beautiful?
All of our sea life jewelry collection is made through the lost wax casting process, and our existing pieces of sea life jewelry come under the category of casting jewelry. If you are asking for a different design, that is other than the ones present in our catalog, then, all you have to do is provide us with a sketch of that design or a picture of that design. We will create a CAD design of that particular picture or sketch, and then start with the next stage of jewelry making. If you don't want casting jewelry, then don't worry; we also offer Handmade Jewelry and Designer Jewelry within the custom jewelry design you provide us with.
You can also ask for a different metal or vermeil. Other than 925 sterling silver, we offer brass and solid gold as a variation in base metals. In vermeils, we provide rose gold vermeil and yellow gold vermeil upon our base metal which by default is sterling silver. We also offer rhodium plating on all our jewelry. However, within many of the existing sea life jewelry designs, you will observe that the silver present around the edges has been oxidized to enhance the beauty of the design. And, because of this, rhodium plating on such designs is not possible, otherwise, it would remove the oxidized part of the jewelry.
Conclusion
Unleash your inner mermaid by indulging in your love for the sea with our customized Sea Life jewelry. From starfishes and seashells to sharks and mermaids, you will find it all within our collection of catalog jewelry that celebrates the mystique of the sea. With these beautiful pieces of jewelry, you can carry the core of the ocean's magic everywhere you go. As a jewelry retailer, you will find it all - Sea Life Ring, Sea Life Pendant, and Sea Life Earrings within our catalog jewelry. And if you don't find the design you desire, you can order customized sea life jewelry for your retail store.
Do you feel satiated with this blog? We hope that reading this blog will allow you to make better decisions when it comes to buying Sea Life Jewelry and custom jewelry in general. If you want to shop customized Sea Life Jewelry, you can do that from Rananjay Exports – India's leading Wholesale Gemstone Jewelry Manufacturer and Supplier since 2013. Apart from Sea Life Jewelry, we also sell birthstone jewelry, charka jewelry, and moon magic jewelry within the catalog range of our sterling silver jewelry. You can also order gemstone jewelry in other gemstones like opal, moldavite, moonstone, amethyst, garnet, Libyan desert glass, and jasper. Since we deal in a huge variety of 250+ gemstones, you will find all sorts of wholesale gemstone jewelry at Rananjay Exports. Find the jewelry that suits your retail jewelry needs and order now from Rananjay Exports!