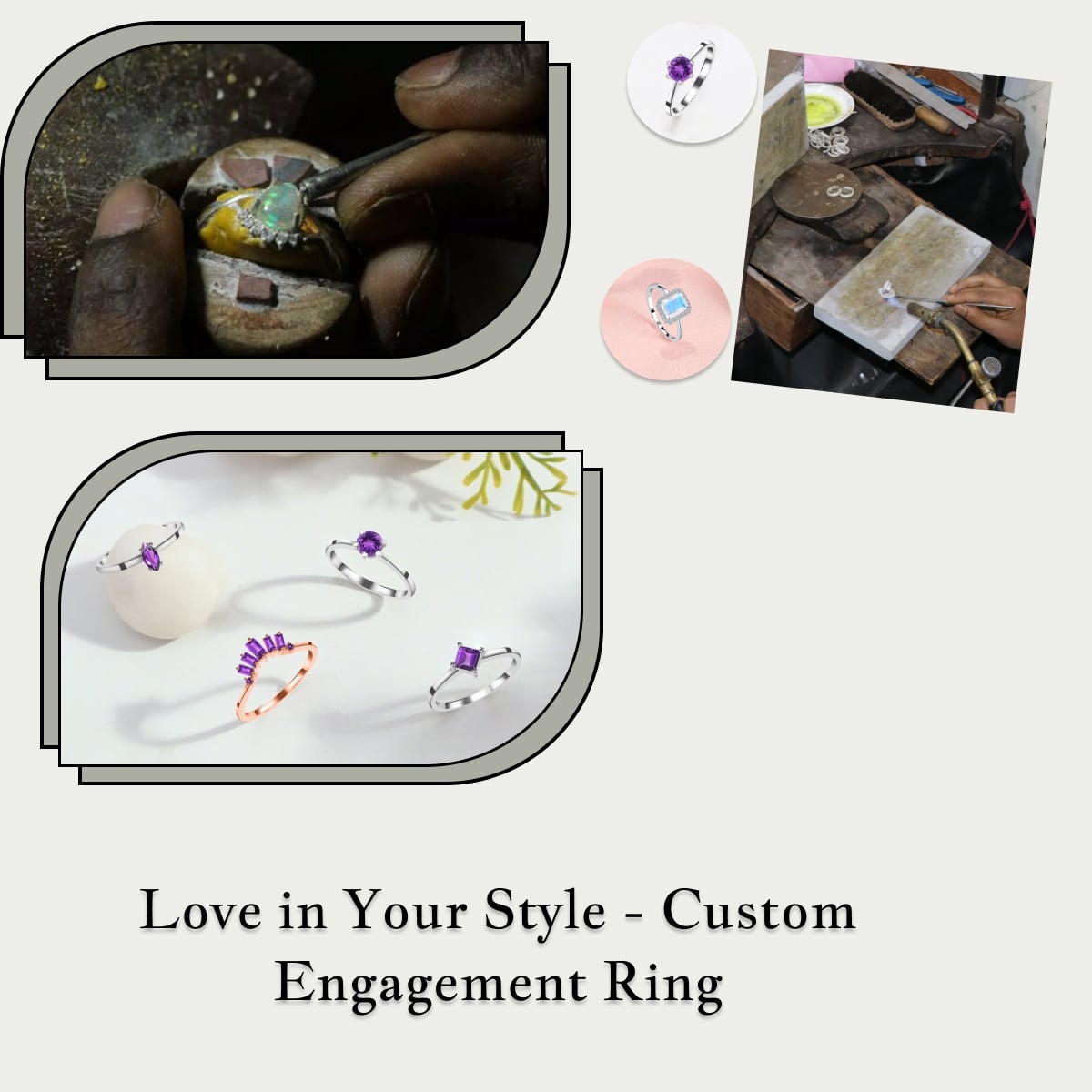 Introduction
We all know that choosing another person to share your life with is indeed a special moment that needs to be cherished for a lifetime. Before taking such a big step that will determine the future trajectory of your life, you need the right engagement ring to solidify your commitment to each other. A lot of jewelry retailers, be it online e-commerce stores or traditional brick-and-mortar stores, create stunningly beautiful and artful designs according to your personality and preference to show off your love story.
You can choose from several designer jewelry collections that these retail jewelers offer, or you can go for a customized engagement ring in which you play an important role in designing your own ring. These custom engagement rings come under the category of custom jewelry, and to get your perfect engagement ring, you don't need the world's top designers or in-depth know-how in jewelry. All you need is the innocent desire to symbolize your love store with a breathtakingly beautiful, customized engagement ring.
Step By Step Guide to Getting A Custom Engagement Ring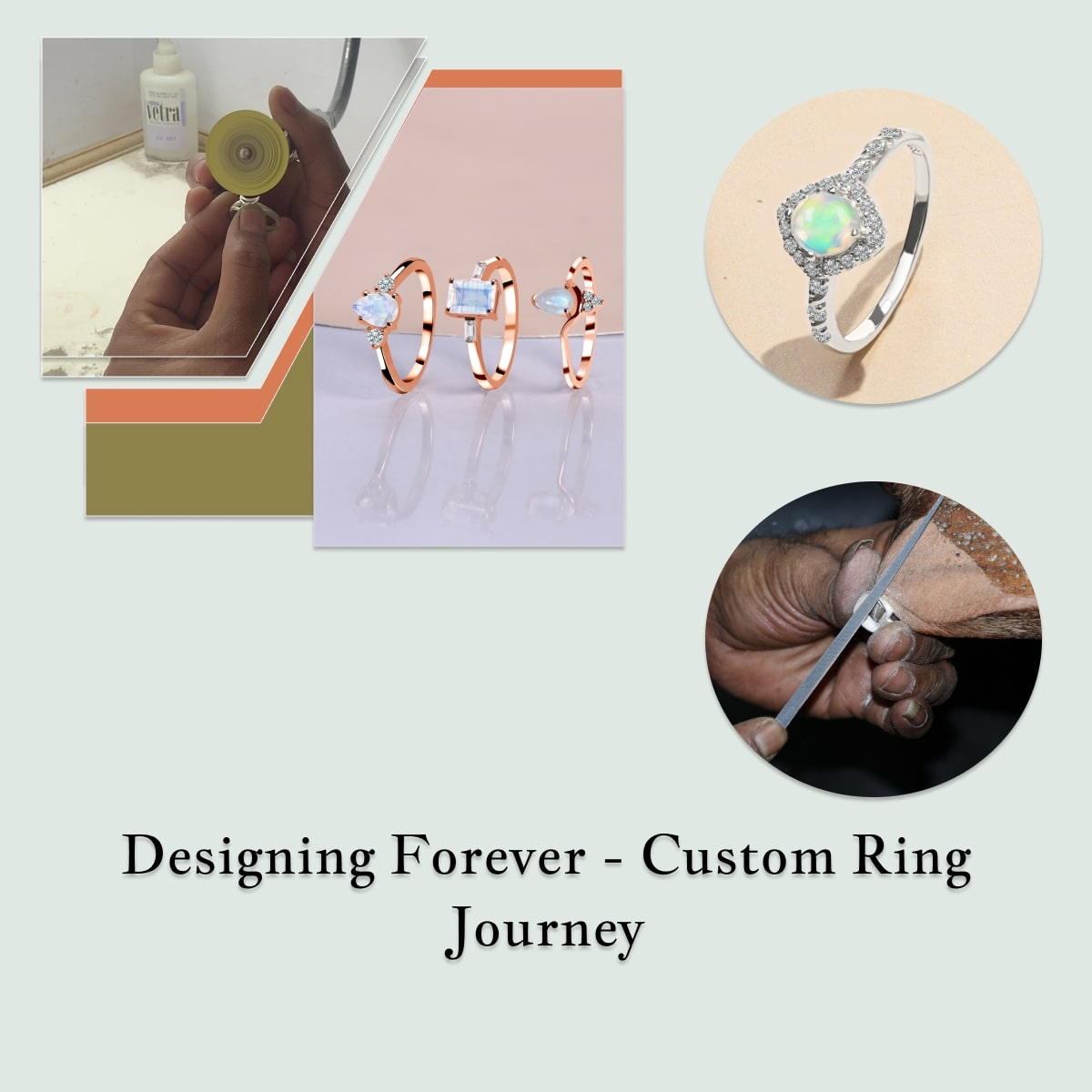 Are you looking for a custom engagement ring for your future spouse but you feel confused? Are you unsure of which gemstone to choose because you want your ring to look different – a ring that is not just another diamond ring? Here is a simple step-by-step guide that will explain to you how to customize your engagement ring, what you should expect from every part of the process, and what you need and need not discuss when you are in a meeting with your designer.
Step 1: Research, Research, Research...
The first step of our four-part process is to get the basic design knowledge of an engagement ring, especially a diamond ring. It is extremely crucial that you understand the different design features. This will enable you to know what are your options at hand through which you can customize your engagement ring. Below, you will find the breakdown of the different types of ring styles and designs that you need to be familiar with… If you are sure that you are going for a custom engagement ring.
Ring Styles:
Three Stone
Solitaire with Accent Diamonds
Solitaire
Halo
The above ring styles are some of the most trending ring styles. However, your design need not be limited to the ones mentioned above. You can browse Pinterest for engagement ring ideas, and the internet has a plethora of different ring styles and designs. The key factor that should influence what ring design you choose is, that the design shall be comfortable to wear, and it should securely hold the gemstones set in it.
Gemstone Cut:
Round
Pear
Cushion
Oval
Princess
Cabochon
You need to make a choice regarding which gemstone cut you like. This is important because of several reasons. The gemstone cut significantly shapes the look of the ring. For instance, you can compare the princess cut and the round cut in customized engagement rings. When it comes to diamonds and other transparent stones such as emerald, sapphire, ruby, amethyst, etc., the round cut is preferred because of its ability to reflect more light through its larger surface. The round cut makes these gemstones, including diamonds shine more with brilliance.
While, if you look at the princess cut, you will find that it is favored by many women for its classic and timeless look. Many gemstones such as opal, moonstone, pearl, and sunstone are not cut because they are not faceted – you will find them in cabochon form if you want them in your custom engagement ring.
Ring Settings:
Pave
Tension
Micro Pave
Channel
Hidden Halo
Cathedral
Split Shank
Twisted Band
The foundation of your gemstone ring will be its ring setting. You need to be sure of which ring setting your future spouse would like if you are ordering a customized engagement ring. For instance, within the channel setting, you will find a thick ring band, which is generally preferred by people who have a taste for chunky jewelry. In case your future spouse prefers something that appears minimal and simple, then you need to go for a micro pave setting that features a thin wedding band.
Ring Metals:
Platinum
White Gold
Rose Gold
Yellow Gold
A wide majority of the population chooses white gold as the metal for their engagement ring. This is followed by yellow gold and rose gold. However, there is no set rule per se. It all depends on your personal preference. In case your person has sensitive skin, like skin prone to allergic reactions, it's best to choose platinum – a metal that does not have any possible skin reactions. If you are on a tight budget, then you can also choose 925 sterling silver as your base metal, and on top of it, you can go for rose gold vermeil or yellow gold vermeil. This option is way cheaper than choosing solid gold or platinum as base metal.
Step 2: Weigh Up the Design
The next step of our process is to weigh up the design of the engagement ring with a jewelry designer. In this step, you need to explain and show the type of ring design of the customized engagement ring you want. Here is how to discuss the ring design that you have selected:
Save images of the other ring designs from which your ring is inspired, and bring these images and examples of the rings that look like the one you want.
If you want something altogether different, then you can bring a diagram or sketch of the specific design.
Discuss the message, purpose, and meaning that your design communicates.
If you are inspired by the ring of someone who is in your friend's circle, and you want to replicate it with some changes, then bring that ring to the jewelry designer.
It is important to note that the more elaborate and specific you are on the type of design you want, through the use of multiple examples, the easier it will be for your jeweler to get you your customized engagement ring. This is the reason why it is important to do the research before you meet the designer in person.
Step 3: Choose your Gemstones
In this step, you have to work around the budget you have. Here, you can select the specific gemstones that you want to be a part of your ring. And more than considering what brings the most beauty to your ring, you have to consider what will work for you within the value you are hoping to pay. The best part about a custom engagement ring is, that you can choose your gemstone, and find the stone that fits within your desired value.
When it comes to engagement rings, many people think that they have only and only diamond as their option. However, the trend has changed, and there are other gemstones that you can choose other than the mighty diamond. Some of the gemstones you can choose from are black opal, sapphire, emerald, ruby, and tanzanite.
Step 4: Wait patiently as the design process happens
As soon as you are done with step 3 where you have chosen your gemstones, the next and final step is to follow the design process. For most retail jewelers, it can take anywhere between 2 weeks to 6 weeks for your ring to be complete. All this depends on the peculiarity of the design, the skills of the jewelry designers and artisans who are crafting that ring, and the availability of the materials.
A seasoned jewelry designer won't take too much time to complete your customized engagement ring. You can ask the jeweler at different stages of the design process in order for you to confirm that everything is going as per your wishes. And, it is recommended that before the design process is complete (which ends with polish and cleaning), you ask the jeweler to show you the ring, so you can tell him if you want any final alterations.
Top 5 Reasons to Get a Customized Engagement Ring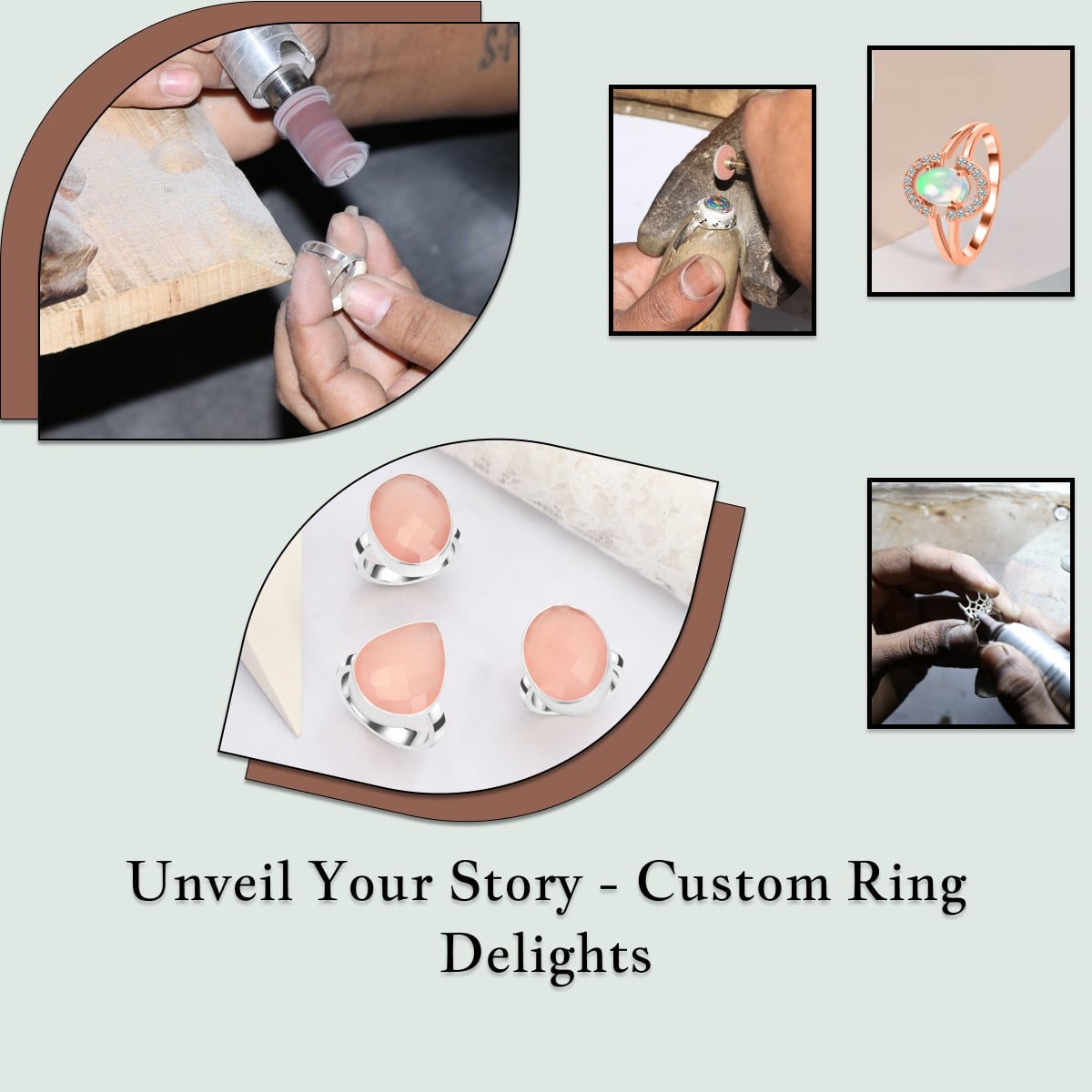 As a matter of fact, the hardest part of creating a custom engagement ring is finalizing the ring design. Once you have finalized the idea of the ring, the rest of the process, from the creation of computer-rendered 3D CAD design to the final polishing and finishing of the ring is usually completed without any trouble.
When you browse the market, you will find various ring settings at different jewelers. This is why the selection of the ring setting for your engagement ring is a very overwhelming and time-consuming task. When you get a clear vision of your engagement ring, from the color and size of the gemstone set in the center to the weight and cut of paving stones, then you should move to the custom jewelry design process instead of buying a readymade ring. After all, who will waste time searching various jewelry stores for the perfect ring that resembles the one in your mind? If you have the design, then it's much better to opt for a custom engagement ring.
The best part of getting a customized engagement ring is that you can add n number of small touches that are personal to you in the design you want. From the carat weight of the center diamond to the choice of your favorite band, the possibilities are practically innumerable.
A popular preconceived notion among many people is that custom means more expensive. But it is not true. The key factor upon which the price of your engagement ring depends is the carat weight of the gemstone you chose and the grade (which is the quality) of the gemstone.
Within the custom jewelry, you can exercise your freedom and ask the jeweler to use a different gemstone altogether (such as sapphire in place of diamond), use a different grade of gemstone (such as AA in place of AAA), or use a smaller carat stone. All these changes will drastically reduce the price of the ring, so much so that you will find your customized engagement ring cheaper in comparison to most diamond engagement rings.
The best part about custom jewelry is you can customize the jewelry to your exact preferences. This is especially useful when you or your partner have some specific taste and liking. For instance, if you have a special liking for yellow gold and you want a yellow sapphire to accent the color of the band, then it would be possible only if you opt for custom jewelry.
Conclusion
In the above blog post, we have discussed the four steps of how to get a custom engagement ring for yourself. We have also discussed the five key reasons why you should get a customized engagement ring for yourself. Also, on one hand, researching the engagement ring is necessary, while on the other, it is important to ask your jewelry designer to ask for suggestions. Are you a jeweler, looking to buy custom engagement rings for your customer? If yes, then your path to perfect engagement rings can be started at Rananjay Exports. Who is Rananjay Exports?