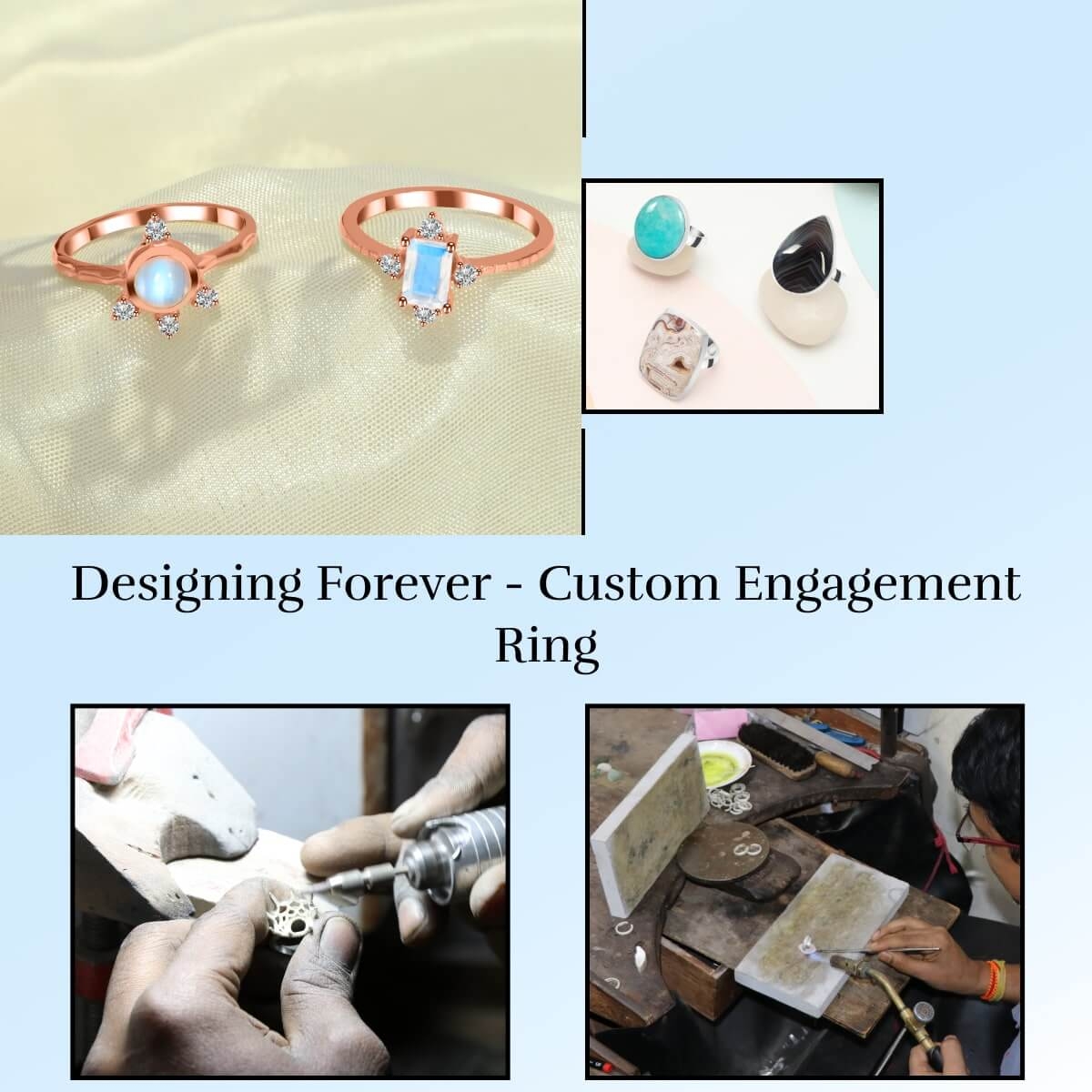 Let's Indulge in Making Custom Engagement Ring
Jewelry is an integral part of human life. Every human being loves to wear jewelry in their own way. Everyone has their traditions and preferences to wear jewelry in their style. Engagement and Wedding Days are the most memorable and precious days in someone's life. So many memories, emotions, and happiness are connected with these days. Everyone wants these days to be incredibly perfect. You want everything customized and up to your wishes and demands. When it comes to giving lifelong commitment, you don't want any small mistake to ruin it. Wearing jewelry is a prominent thing to enhance your beauty, especially on your special day. I have seen most people who don't like copying their outfits, footwear, hairstyle, and jewelry. They enjoyed everything special and fresh, so they preferred customizing everything according to their wish. Then, how about a personalized Engagement ring?
In this blog, we will discuss how custom engagement rings are better than choosing one from ready-made, along with the process and making of custom engagement rings.
Customization: A Good Alternative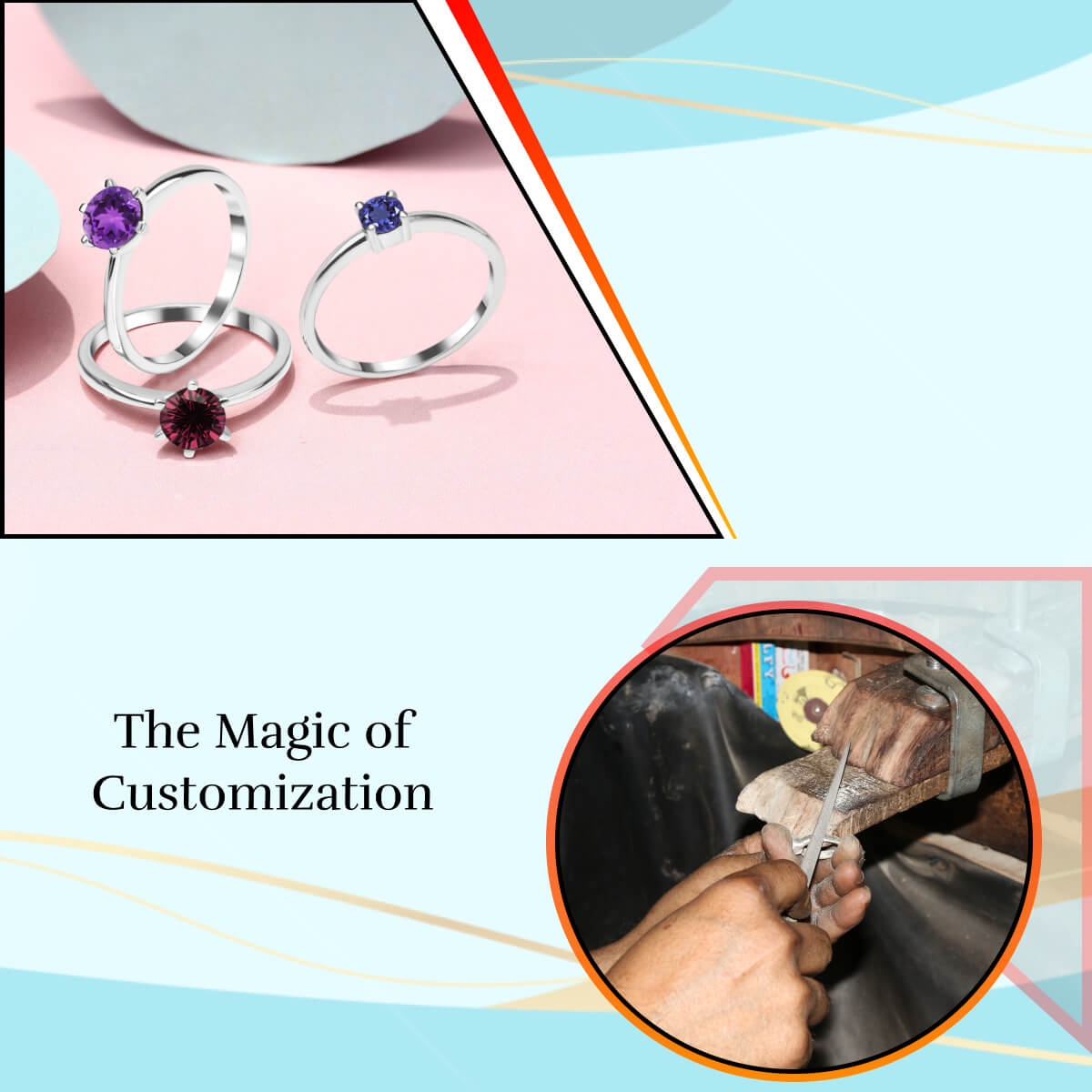 Crafting a piece of jewelry that carries excellent meaning is a solemn responsibility, and that's why people prefer customizing their jewelry. You can add every small idea created by you to your jewelry. It is not necessary that you only have to use diamonds in your engagement ring if you are out of budget. Please stop the cliche of using diamonds. Instead, you can use many gemstones as a part of your engagement ring or other jewelry pieces. Using gemstones in your engagement ring can be a great option to make your item unique and special.
You can find a custom engagement ring from Rananjay Exports, one of the best wholesale gemstone jewelry manufacturers and suppliers. You should absolutely go through its website and the wide range of Custom Engagement Ring, Chakra Jewelry, Gemstone Ring, Customized Alphabet Jewelry, Zodiac Sign Jewelry, etc. Let us focus on some points explaining how customization is better than ready-made engagement rings.
Firstly, it is a myth that customized jewelry is relatively more costly than designer ones; indeed, it is not expensive to customize.
You can be a part of your jewelry-making method and handle everything from selecting the stone to choosing the type to confirm every detail you want to be impressed on your piece.
As mentioned earlier, every piece of jewelry has a presence and sentiments related to the person in the form of remembrance and blessings. So, you get a lovely chance to carve your feelings and emotions into your ring.
Customization helps connect you with someone who allows you to eliminate the wholesalers, importers, distributors, and retailers and provides clearness throughout the process.
Custom jewelry will add originality to your jewelry as you create it according to your character. It is boosting if you produce something you do not find with someone else, and you get praise from others for what you have made.
When customizing your jewelry, you can make something that will blend and complete your outfit on your special occasion. This will help you to be clear about what you precisely want.
So, these points will tell you why customizing your engagement ring is much better than readymade one. Now, we will discuss some findings that one must remember before customizing your engagement ring.
Things To Remember Before Customizing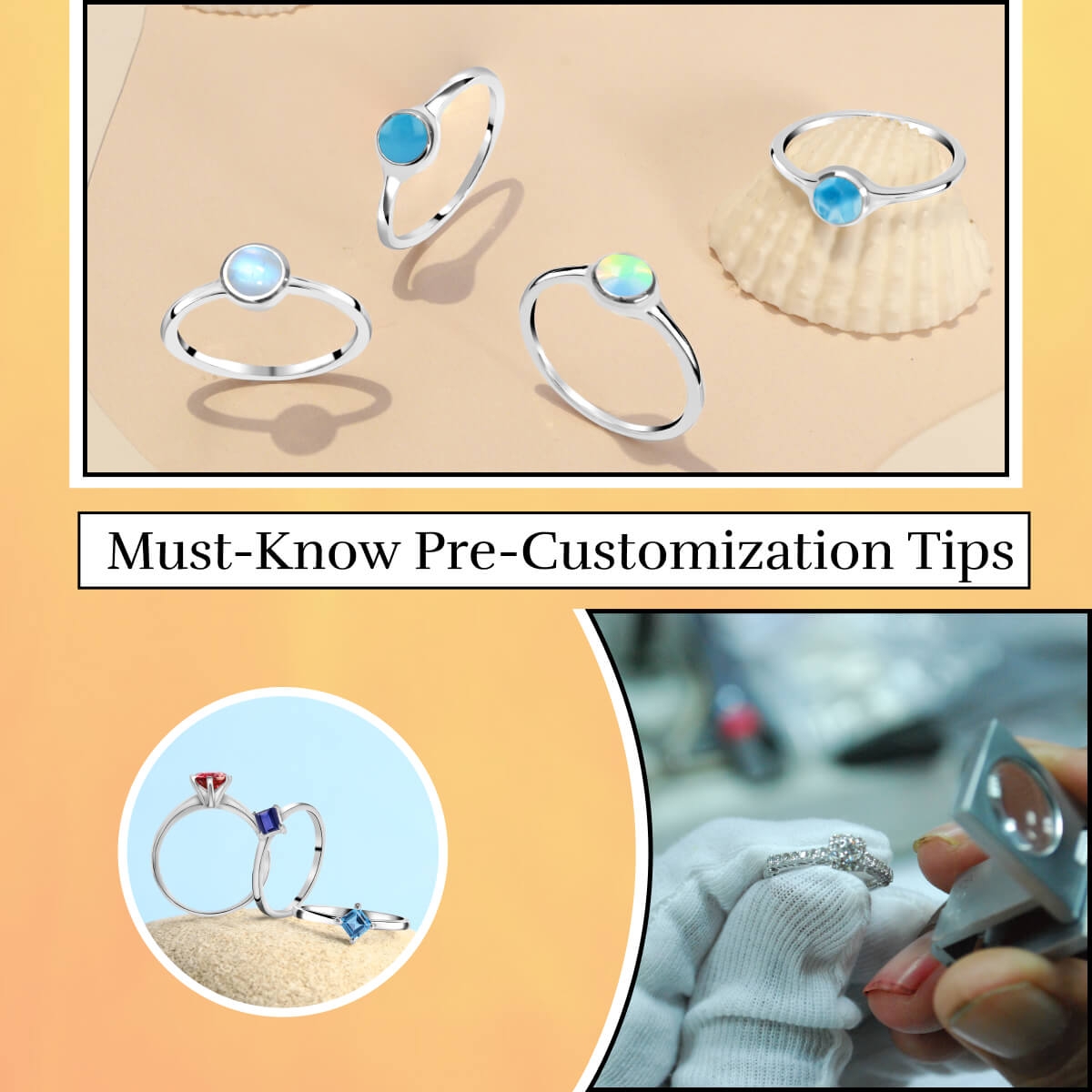 There are some things to remember before customizing to your jeweler.
Before anything, you must do a lot of research on everything related to jewelry and design. It would be best to have clearance and mindset about what type of metal, cut, style, or setting you want for your engagement ring. Do research and make up your mind about what you exactly want.
Always Specify A Budget:-
One should always have a prepared budget so the jeweler will tell you about options that fit your pocket. The complexity of the design, the gemstones you choose, and the precious metal you choose can all affect the price of a customized engagement ring. Your designer can help you design your customized ring while considering your budget limit.
The process of making a customized engagement ring is straightforward. The complicated and time-consuming part is to choose the design, metal, and stone you want. Once it is done, the process is trouble-free and can be completed without taking much time.
The best part of customizing your ring is that you can add so many personal touches to it. If you and your mate have a remarkable connection with a particular number, letter, sign shape, etc., you can add these attributes while designing your ring. Also, if there is something more connected to your heart, it can be added.
We have heard good things take time; similarly, a remarkable personalized engagement ring takes more time. It may take several weeks to months to complete each process and hand it to you as a finished item. As you must get involved in every step of the procedure and approve it, customized rings are more time-consuming than readymade rings.
Process Of How Customized Engagement Rings Are Made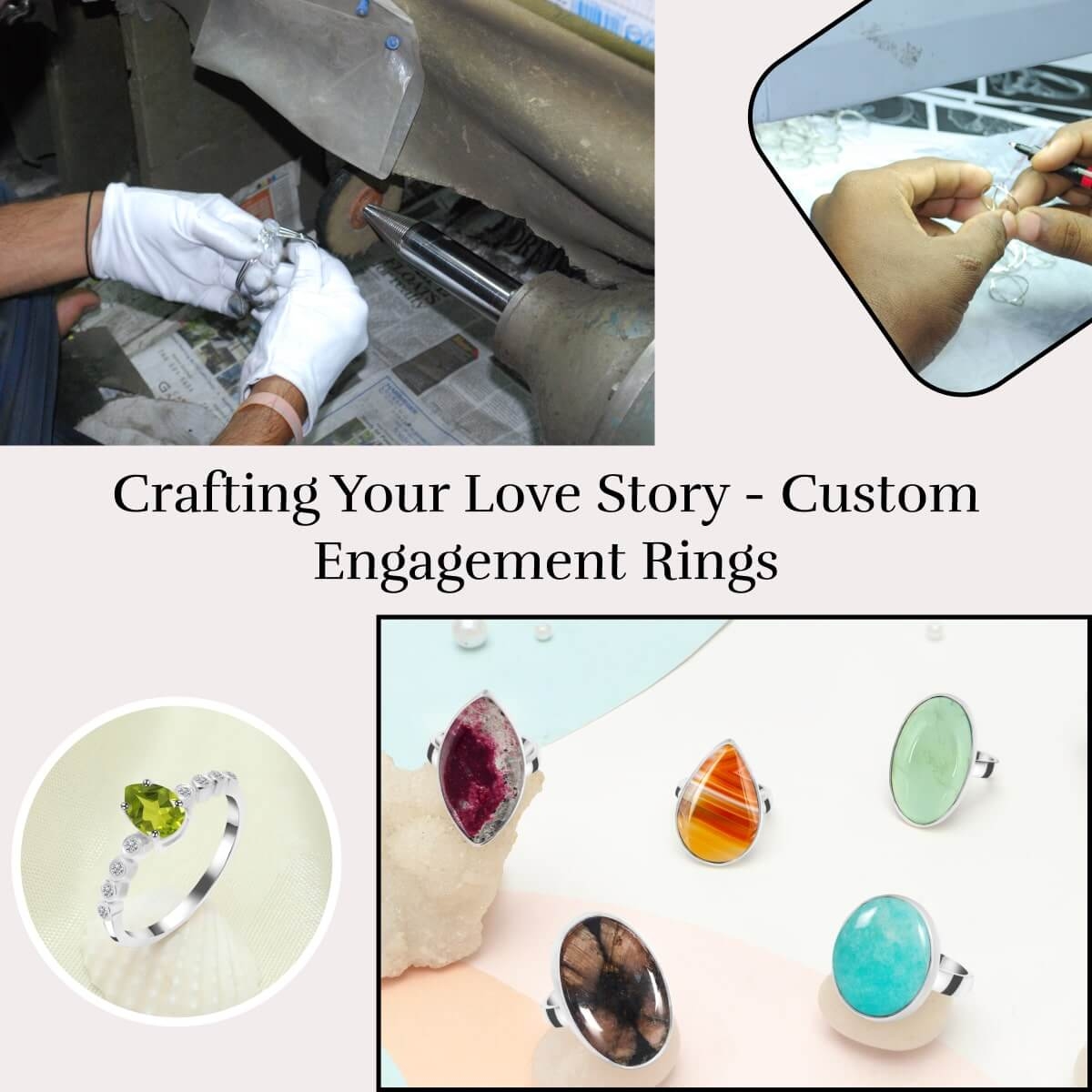 Choosing a custom ring over a ready-to-wear ring is entirely a personal choice. It is an ideal option for those with a concept of what they want but are unable to get it in the marketplace. Customization gives you freedom of choice. You can select a design, setting, stone, cut, etc., by your wish. So, the question arises about the process of the Custom Engagement Ring: is that how it is made? What is the process of its making? To get the answer to the following questions, we must go through the process of its making.
The process of making a customized engagement ring is explained as follows:
Step 1: Sketching Your Design
After finalizing the stone, cut, setting, etc., the first step is to take your design towards advanced sketching. It will help you make judgments about your design's finer attributes. A jeweler integrates Computer-Aided Design(CAD) models as well as handmade sketches, authorizing you to notice your ring setup from various angles. After considering these designs, you can dot any errors before the jeweler can start operating with the final metal or design you selected.
Step 2: Setting The Perfect Ring Size
A customized engagement ring is the most precious thing or a piece of jewelry you are wearing, but what if, due to size issues, you are getting uncomfortable?
The other main thing that one must remember is to give the correct size of your finger to get a perfect-sized ring. The jeweler provides sizing rings, so please choose the perfect and most comfortable size of the finger you want to wear the ring on.
Step 3: Lost Wax Casting Of Your Ring
Using the ancient art of lost wax casting, your ring is cast in the precious metal you choose using the 3D printed model. The jeweler creates various wax models using a plaster mold. Once the wax model is finished, it should emerge like a replica of your ring's design. When specific setting styles are needed, the craftsperson puts hot wax into the mold and removes it after cooling, which is a wax casting model. This complete process is called Lost wax casting.
Step 4: Setting Up The Stone
After doing all the steps, such as soldering, sculpting, hand-engraving, and any other metalworking, hammering, and finishing, the further step is to set the stone into your ring. At this time, the ring setter has to put your selected gemstone or diamond into the metal carving with utmost care. This process is done under a microscope to make sure no errors should be made. This step is mainly done with hands.
Before proper finishing, Emery paper is used to give a glossy finish. This process is done before working on polishing. It is used for woodworking and automotive refinishing other than metalworking. An emery paper is a type of abrasive or sandpaper that works similarly to the tool used for nail manicures. There are various grits of emery paper used for jewelry making. It provides a ring of any metal type with a more refined finish.
Step 6: Polishing and Rhodium Plating
Polishing and Rhodium plating are two different things. It is the second last step of the making of a customized engagement ring. After the emery paper process, the ring is polished entirely using a more refined polishing mix. Sometimes, the ring of white gold goes through rhodium plating to maintain its white color and shine and shield the metal from scraping. Silver and other metal except white gold is not necessarily required for Rhodium plating.
The last step of this process is in which the ring or any other jewelry undergoes strict quality control checking. Before you collect your ring from the jewelry store, the experts perform final quality checks to confirm it looks excellent and delivers the much-needed glimmer. After that, the ring goes through a quality control process to ensure it meets industry standards also.
So, This is the whole process of making a customized engagement ring.
Customized Engagement Rings at Rananjay Exports
Rananjay Exports is the best wholesale gemstone jewelry manufacturer and supplier, and they make sure they meet the quality standards every time. Rananjay Exports is the leading brand where you can find customized jewelry, such as engagement rings. You can also find other custom jewelry, chakra jewelry, zodiac sign jewelry, birth month gemstone jewelry, etc. They make use of sterling silver to enhance your jewelry. They have been serving in this industry since 2013. Their customers are delighted with the services they provide.