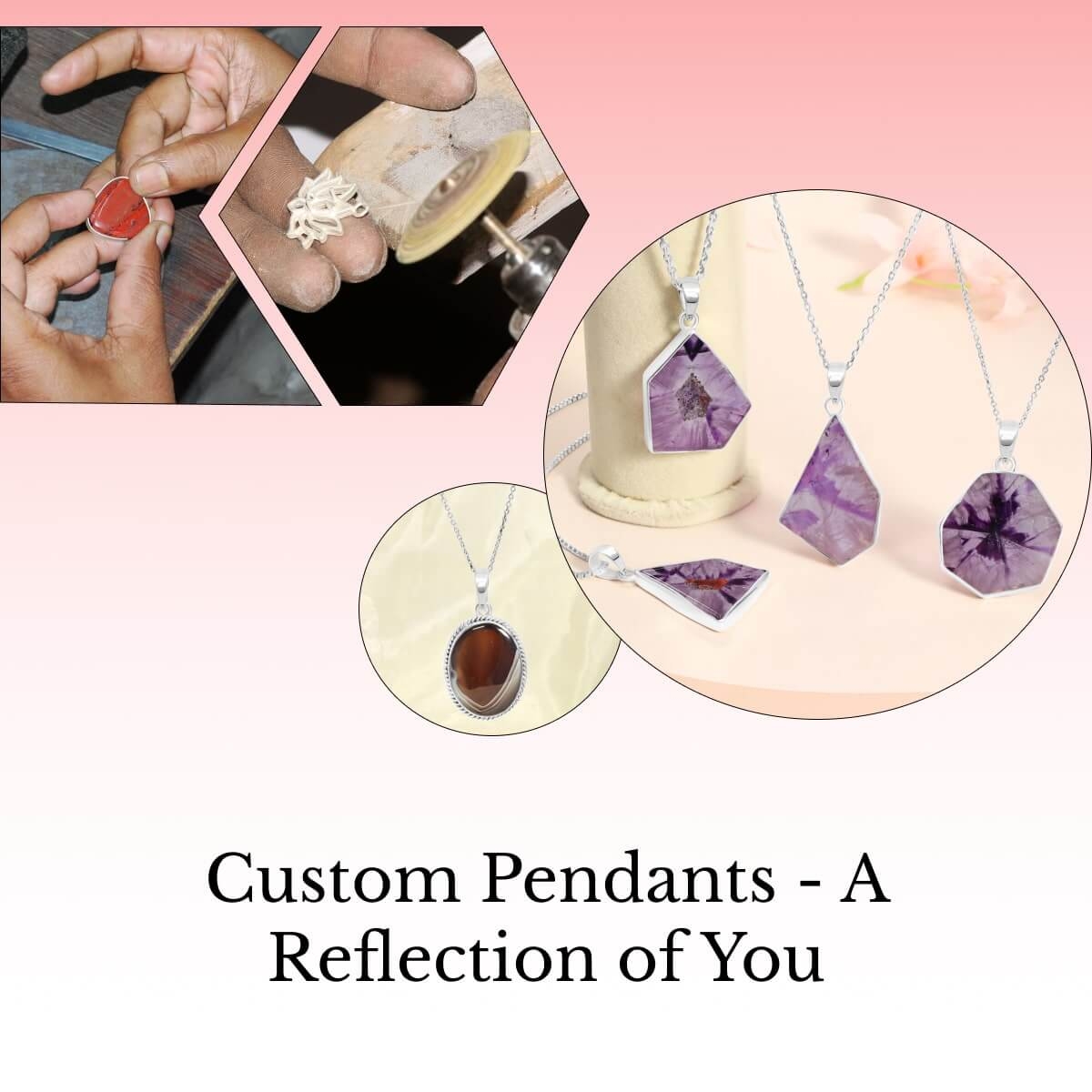 Introduction
We all have an image of jewelry lovers in our heads – someone who loves to wear jewelry and collects as many pieces of gemstone jewelry as possible. This is quite reasonable – people who have a particular liking for jewelry love to show their beautiful gemstone accessories by styling them in various ways. The most important thing a jewelry lover can teach you is, it is not important that how many pieces of jewelry you wear, or how big the size of gemstone is in your gemstone jewelry. In fact, heavy jewelry sometimes causes troubles, such as it might come out as quite uncomfortable when it comes to daily wear.
This is why jewelry lovers generally don't go for gemstone necklaces unless there is some big occasion. For everyday wear, jewelry enthusiasts prefer wearing pendants. Gemstone pendants offer the sparkle of gemstones and precious metals (like 925 sterling silver), yet they are simple and they steal the show through their look. A pendant is a type of jewelry that is in the form of loose-hanging piece, which is generally attached by a small loop to a necklace. This is why it is also sometimes referred to as a "pendant necklace".
Nowadays, customized pendants have become quite a trend. If you go into retail jewelry stores or e-commerce jewelers, you will find that you can get endless customizations within pendants. The customizations are not just limited to the type of metal used, the vermeil of the jewelry, or the gemstone used in it. You can get a custom pendant with your own name, initials, or desired letters. You can get a customized pendant with your favorite quote on it. Not only do you have the freedom to choose the gemstone, but you can also select your desired cut of a gemstone, gemstone size (carat weight), and gemstone grade. In this blog, we will discuss how you can get a customized pendant for yourself. But first, we will discuss the types of pendants that are available in the market.
Different Types Of Pendants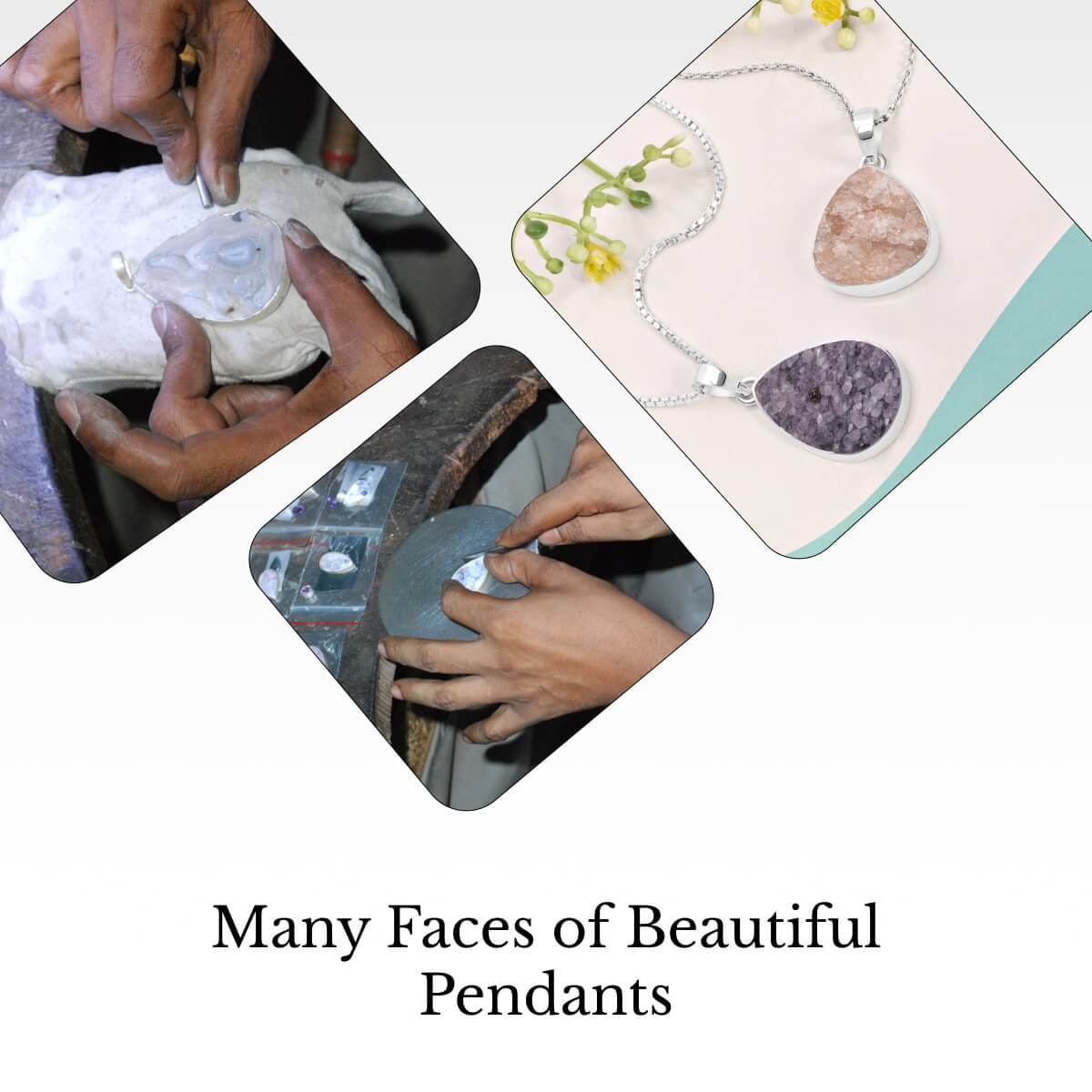 Amulet
Amulets, sometimes referred to as talismans as well, are natural or man-made objects, that are believed to have metaphysical attributes and healing properties because they possess special powers within them. They can protect an individual from unforeseen events or bring good fortune. They are available in a wide variety of different shapes, forms, and sizes, and are worn generally around the neck, arm, or leg, in the form of a pendant.
In general, people who have amulets wear them because they believe that the amulet possesses spiritual or magical powers that will be beneficial for them. Sometimes, these amulets have gemstones, which are believed to be the source of these powers. Other times, amulets contain spiritualistic chants, mantras, or prayers inscribed on them which makes them special.
Locket
Lockets are one of the most popular options when it comes to pendants, and they are also the oldest form of pendants. Lockets are little items that open to reveal a compartment that retains a tiny object, which is most frequently a photo of someone or a curl of hair of a loved one. They are indeed the most common focal elements added to a pendant. They are generally designed to open when the 'lock' is poked upon.
Lockets are usually given to someone you love on special occasions such as Valentine's Day, Marriage Anniversary, or occasions such as weddings. It is interesting to note that during the Victorian Age, lockets were given during funerals. Sometimes, you will also find lockets that have the inscribed name of a loved one over the top opening part. This makes these lockets the fanciest and most beautiful forms of pendants.
Functional Pendant Jewellery
Functional Pendants are pendants that are nothing but tools worn around as pendants. These tools can be anything - Maori pounamu pendants. Shepherd's whistles, bosun's whistles, and ocarinas. In the past, portable astronomical and navigational instruments have been made as pendants. During the first decade of the 21st century, there was a trend to wear USB flash drives as pendants.
Teardrop Pendants
You should opt for a teardrop pendant if you are looking for a simplistic design that maximizes the size of the gemstone set in the pendant. These teardrop pendants generally have a tough look, and their teardrop shape makes them the most beautiful pieces of jewelry you could ever possibly buy. This type of pendant includes a huge piece of precious gemstone such as ruby, sapphire, emerald, etc. in the center present in the shape of a teardrop. This centerpiece is surrounded by mini gemstones or just the simple lining of the metal such as gold, silver, or platinum.
How to Get a Custom Pendant Made for Yourself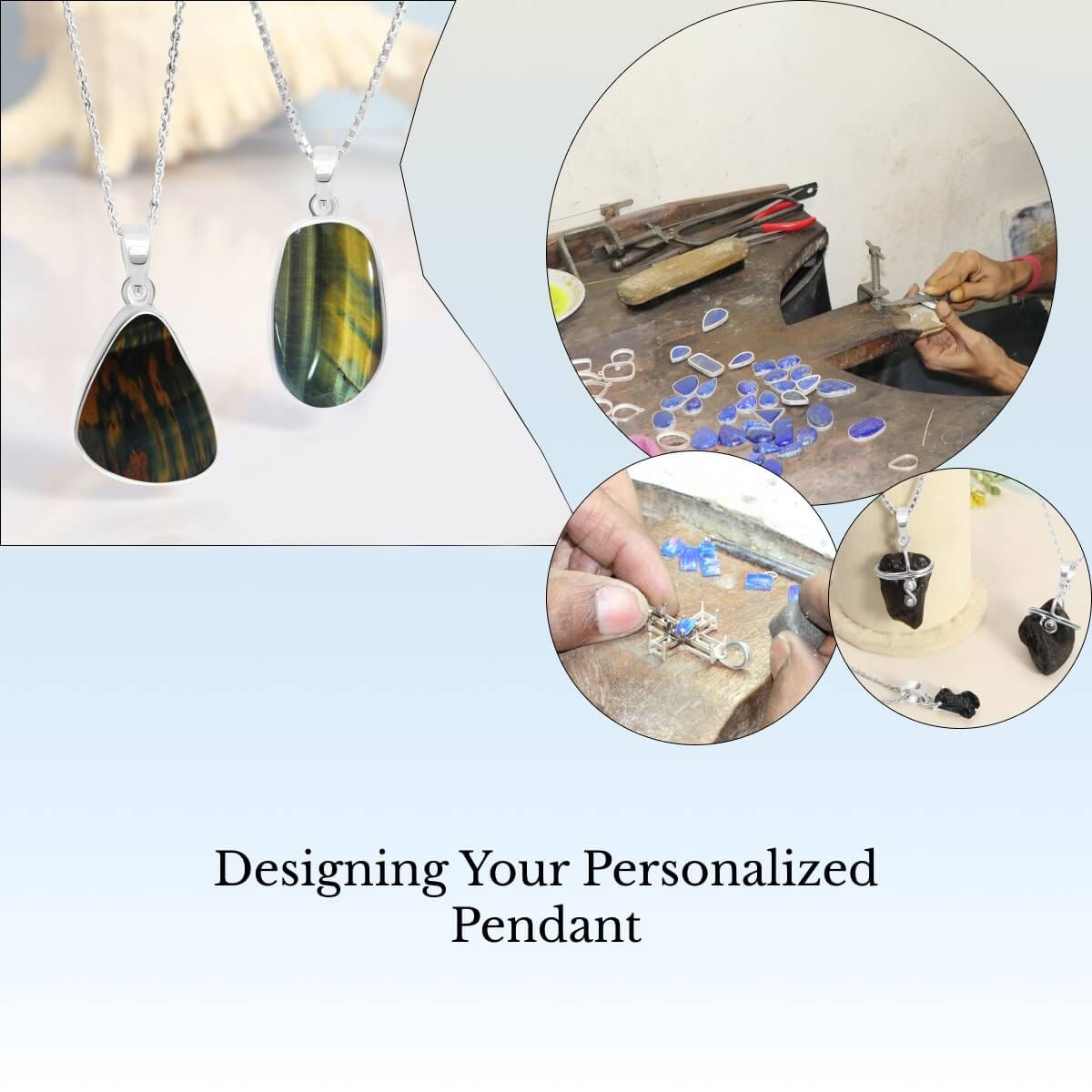 It does not matter whether you are browsing the web for a one-off custom pendant for someone special, or you want customized pendants with different gemstones for starting your own jewelry business, being able to design and create pendants is a useful skill in and of itself. Knowing how to design and create customized pendants allows you to get the exact pendant you want and allows gemstone jewelry manufacturers to get a better idea of what you exactly want. Below are the steps for creating a customized pendant:
Know The Style and Design of Pendant That You Will Be Making
Think of whether you will be making a locket, a delicate piece of pendant with gemstones, or a streetwear-style pendant. This will determine your forward journey and the tools required in that journey. In case your design is not complex, which involves simple shapes and geometry, then it is better that you draw the design on a piece of paper or use basic modeling tools such as Blender.
If you desire to make a streetwear-style pendant, then it is necessary for you to get used to creating 3D models that are made with sculpting tools. You can also click a picture of some pendant that a jeweler is selling, and then give that picture to us for the custom pendant you want which is inspired by another jeweler. If the design is inspired by some online source, such as Pinterest, then you need to download that image.
The Next Step: Start Designing Using 3D CAD Software
If the design of your pendant has basic shapes, then you can use a simple tool like Blender. However, if you want to create a more intricate design, like our Sea Life Jewelry, then you need to use the sculpting function of Blender. You will find countless tutorials on YouTube which will walk you step by step and get you familiar with Blender. The most important part of getting familiar with Blender is to get comfortable with adding polygons and adjusting the resolution of the design. This is because when you stretch the design to manipulate it, its resolution decreases.
You can use a keyboard and mouse to sculpt your custom pendant using Blender. But, if you want more accurate strokes and you want to detail your customized pendant, we recommend using a drawing tablet. During the design process, you will need a photo of the design as a reference. Using this photo, you start designing your 3D Model.
It is all right if you don't want to design your customized pendant yourself. In this case, you need a photo of the design. Generally, most people who get custom jewelry are inspired by Pinterest. You can provide the photo downloaded from the web to the jeweler, and explain to him verbally the intricacies of the design. He himself will get the CAD design created for you. Once the design is made, all you have to do is check with the jeweler and give him a green signal to go forward with the manufacturing phase.
Send the Design to the Manufacturer
Once you have the pendant design that you are completely happy with, send it to the jewelry manufacturer. If you contacted the jeweler to get your 3D Design, then all you have to do is confirm that you want the jewelry with that particular design.
You also need to provide the gemstone jewelry manufacturer or jeweler with various specifications of the pendant, such as:
Dimension: Length, Height, and Width in millimeters
Materials & Vermeil: You need to tell which base metal you want. Sterling silver jewelry is trending nowadays, which is because people generally feel comfortable in 925 sterling silver. If you want the look of gold but you don't want to spend much, then you can opt for sterling silver with rose gold vermeil or yellow gold vermeil.
Pendant Bail Type: You also need to select the bail type for your pendant. You can choose from snap-on bails to v-loop bails and bails with loops. You should always opt for the bail you like, not what that manufacturer or jeweler has to offer.
Type of Chain: It is recommended that you choose a chain that is sturdy and which won't break easily. Some of the types of strong chains are rope chains, Cuban chains, cable chains, and wheat chains. As a rule of thumb, always avoid flat-type chains since these chains will probably kink and break due to the weight of the pendant.
Length and Thickness of the Chain: Always go with this rule: thicker chains for heavier pendants, and thinner chains for lighter pendants. And as far as the length of the chain goes, you can choose anywhere between 20-22 inches. This chain length will allow you to layer your pendant with shorter chains.
What Happens at the Manufacturer's End?
The following things happen at the manufacturer's end:
The first step is casting. The manufacturing team will print the design of the pendant into a 3D wax model. Using this 3D wax model, a cast is prepared into which molten metal is poured.
Once the pendant is cast, it is polished using steel wool since the cast is generally rough. If any of the gemstones are included in the design, then these gemstones are set at this stage.
Any type of coloration, such as plating, enameling, or oxidation is done after polishing. Once the coloration effect is completed, the final jewelry is generally plated with Rhodium and then sent to you.
Conclusion
We hope that the above blog cleared a lot of your doubts. We have discussed many things, from the different types of pendants available in the market to the how-to guide for getting your own custom pendants. If you are looking for a jewelry retailer to get yourself a custom pendant, then make sure that you keep an eye on past customer reviews. Also, discern whether the reviews are genuine or just fake so as to artificially inflate the reputation of the jeweler. Lastly, look at the prices they offer. Some gemstones like Ruby, Emerald, Opal, and Sapphire cost more as compared to others, like moldavite, Libyan desert glass, moonstone, and turquoise. Apart from this, the price is dependent on the making charges for the jewelry and the metal used in the jewelry.
If you are looking to purchase wholesale gemstone jewelry, then the best choice you can make is to buy from Rananjay Exports. They are India's top wholesale gemstone jewelry manufacturer and supplier, exporting wholesale gemstone jewelry worldwide since 2013. Apart from gemstone jewelry they also deal in sterling silver jewelry, such as alphabet pendants, chakra pendants, and sea life pendants. So what have you been waiting for? Visit Rananjay Exports and order now!