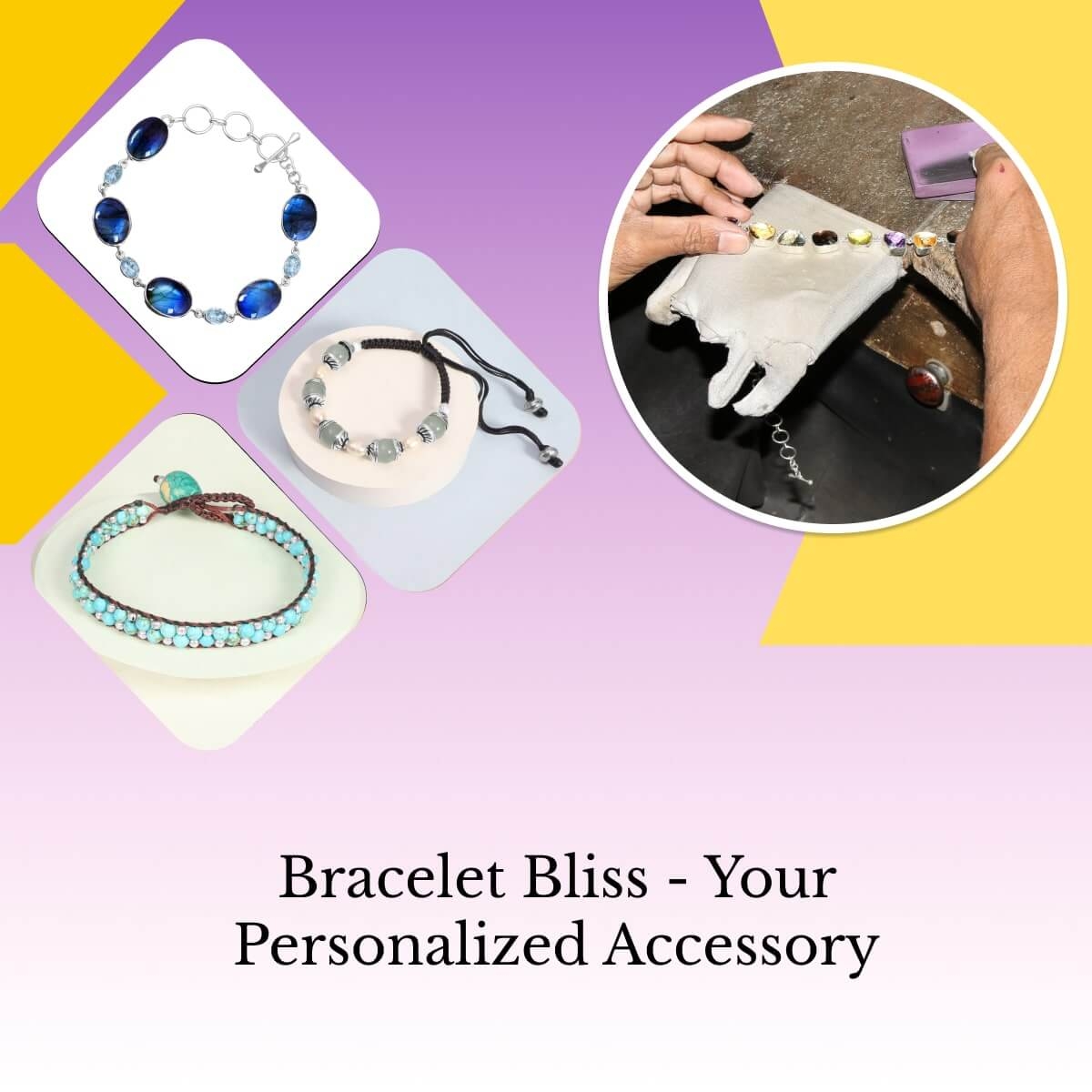 Introduction
Bracelets have been an essential part of human life since the dawn of humanity. The oldest bracelet dates back to about 40,000 years, when a bracelet made with green stone was found in Siberian caves. Bracelets have been a status symbol and generally, they were worn around the wrist as an accessory. In ancient times, enchanted bracelets laden with gemstones were worn as protective talismans. Although you will find various websites selling bracelets, only a few offer you a wide range of customization.
For most people, the thought of creating a customized bracelet is overwhelming. Many people, when searching for a special bracelet, visit countless retail stores and browse the web. But, when the special bracelet they are looking for is nowhere to be found, they become disappointed and begin searching for other alternative ways. Once they get comfortable with taking part in the creative process, they share their ideas of the style and design of the bracelet they want with the jeweler. With the help of these ideas, the jewelry designer will give shape to the bracelet of your personal preference that will reflect your personal style. We will jump into the subject of custom bracelets, but first, let us discuss the bracelet types.
8 Different Types of Bracelets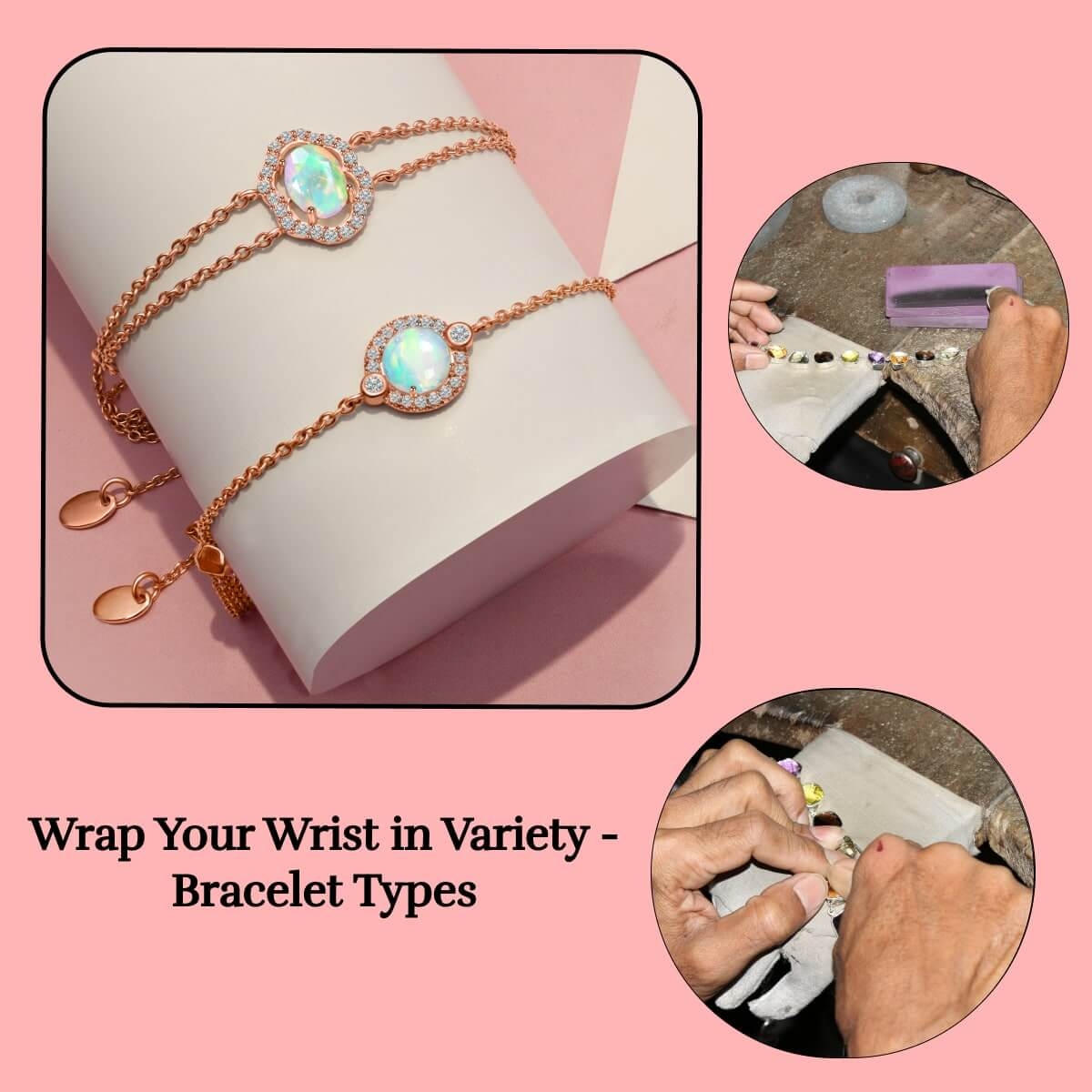 Chain Bracelets
The key component of chain bracelets is metal links. Although you will find various kinds of chains, the most common include traditional cable chains. These cable chains have interlocking oval links, box chains, byzantine chains, curb chains, and rope chains. A huge majority of chain bracelets are made of metals such as gold, stainless steel, or silver. Sometimes, you will find that resin, acrylic, and wood are also used in the making of the bracelets. The most common style of chain bracelet closure is no doubt the lobster claw.
Bangle Bracelets
Bangles are a class of rigid and inflexible bracelets. They are generally found in a circular shape. Unlike most of the bracelets, bangles don't have a closure. In the jewelry market, you will find two types of bangles: the traditional (closed) bangles, and the open bangles. The open bangles are more commonly found at jewelry stores because they are adaptable to a wide range of sizes. Depending upon the look that you would like to project, bangle bracelets can be worn in different ways, like a single standout item, layered, or loose on the wrist. Generally, bangles are made of metals, but you will also find them made of glass, stone, plastic, or wood occasionally.
Tennis Bracelets
Generally, most of the tennis bracelets that you will find in the market are diamond-studded eternity strands. But, you will also find them encrusted with less expensive alternative gemstones, such as cubic zirconia. These symmetrical bracelet designs have gemstones set on the metal element or chain which is stretchy or rigid. Generally, tennis bracelets have gemstones of the same size and color. Tennis bracelets are highly rated because of their versatility and broad appeal, which is very similar to traditional bangles and chain bracelets.
Charm Bracelets
Chain bracelets that include charms, such as a pendant or trinkets, attached to serve a decorative or symbolic purpose, are known as charm bracelets. Some of the few possible charms you can have in your charm bracelets are hearts, flowers, locks, initials, astrological signs, and celestial bodies. Similar to chain bracelets, charm bracelets also have durable closures (like lobster locks), spring rings, toggles, and numerous hook styles.
Beaded Bracelets
Beaded Bracelets are made of a string (or sometimes, several strings) of beads. When it comes to the design options of beaded bracelets, you have a plethora of possibilities with beads, such as elasticized, adjustable, closure-equipped, wrap-style, etc. Generally, beads are strung on elastic, wire, or both. Remember, it's not necessary for all of the beads to be of the same size – beaded bracelets come in a variety of styles, such as uniform designs (that use beads of the same size), mixed, or crescent beading designs.
Cuff Bracelets
An open bracelet which is wider and more unyielding is what a cuff bracelet actually is. Cuffs are generally made out of solid metal, but you will also find them made of durable plastic, stone, or wood. They have an opening that can be entirely hard or slightly flexible for changes. You can say that they look somewhat like hugging the wrist or the arm. Because they are massive, they are frequently referred to as statement jewelry items that people wear to make a bold statement.
Multi-Layered Bracelets
As the name "Multi-Layered Bracelets" implies, these bracelets are the ones that have two or more layers. These could be leather bands, chains, or other metallic components, as well as strings (of pearls or beads). Some of the multi-layered bracelets that you will find in the market are uniform, in the sense that each layer is the same as the one before it. This is quite common to see this in wedding jewelry. Some multi-layered bracelets are mixed, where each layer has a distinctive design and uses a wide range of materials such as gemstones.
Bar Bracelets
Any bracelet which incorporates a metallic bar into its design is known as a bar bracelet. It is not necessary for you to put this bar on a hard open or closed bangle; you can also put it over a flexible chain. The bar component, which is a part of the minimalist jewelry trend, serves as decoration. The bar on these bracelets is generally used for engraving initials or affirmations, which makes them a popular option when it comes to personalized gifts.
Customized Bracelets at Rananjay Exports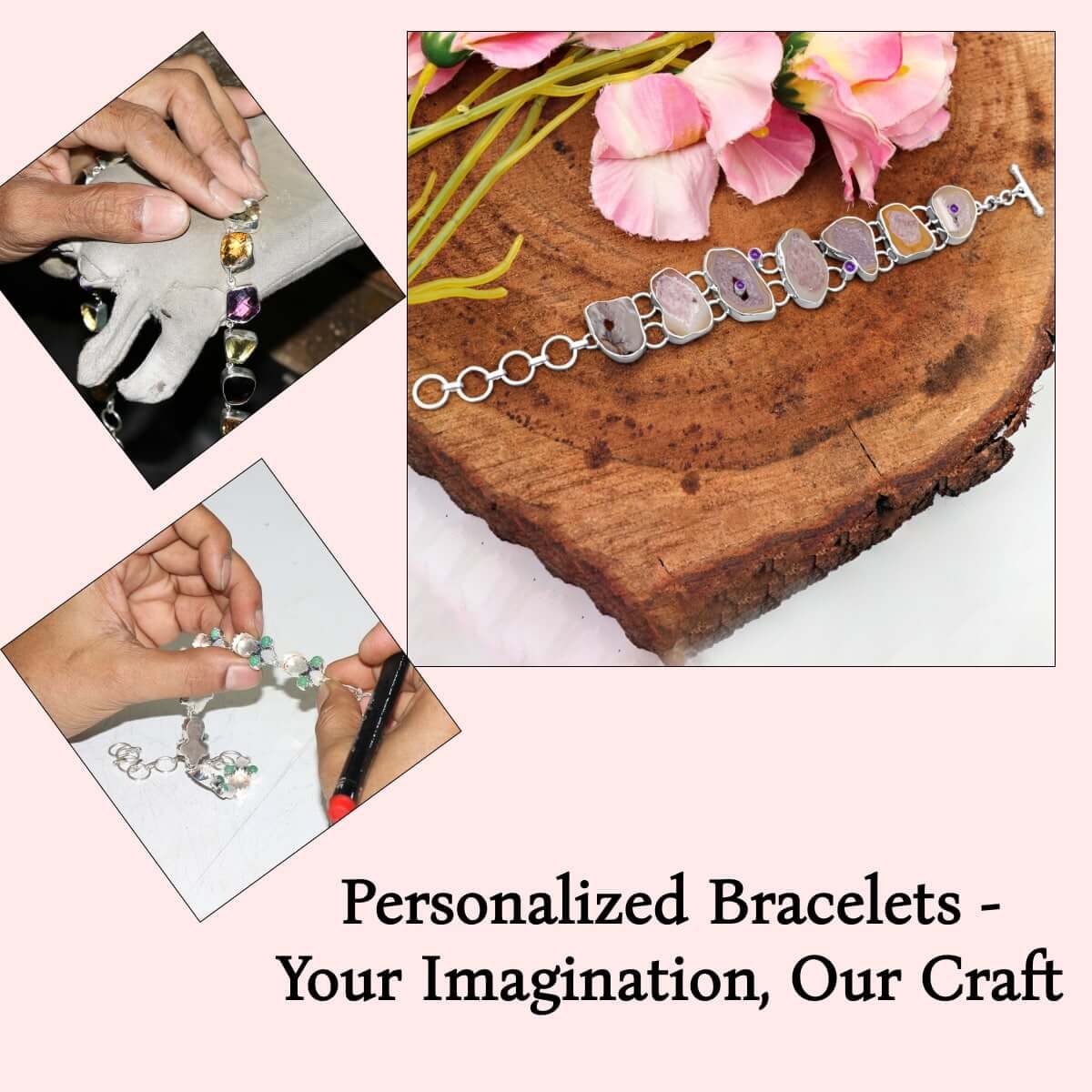 We, at Rananjay Exports, offer a wide array of customizations in our bracelets. All the above types of bracelets are available at our online portal, and if you have a taste for something altogether different, or if you want to customize your bracelet as per your wishes, you can get it from us. Some of the customizations within bracelets that we offer are:
Gemstone – At Rananjay Export, we offer more than 250+ gemstones within our jewelry range. You can get your custom bracelet in a particular gemstone. It does not matter whether you want classic gemstones like emerald, ruby, and sapphire, or you want more trending gemstone bracelets, made of gemstones such as moldavite, larimar, turquoise, opal, moonstone, and Libyan desert glass – we deal in all sorts of gemstone jewelry.
Metal and Vermeil – You can get the metal and vermeil of your choice when it comes to getting customized bracelets from us. The three main metals we deal in are brass, solid gold, and 925 sterling silver. (Note - Most of the jewelry showcased on our website is 925 sterling silver jewelry embellished with gemstones.) If you don't want jewelry in solid gold, because the price is something you are bothered by, then you can opt for vermeils. The two most popular vermeils in which we sell our custom jewelry, especially custom bracelets are rose gold vermeil and yellow gold vermeil. Rest assured - in the case of vermeil, the base metal will be 925 sterling silver.
Closures and Clasps – We provide a wide range of closures and clasps when our customers order customized bracelets from us. The two most famous clasps we sell are Lobster clasps and toggle closures. But we will provide you with any type of clasps and closures you want – be it Bolt Ring Closures, Magnetic Clasps, Cylinder Closures, Box Clasps, Screw Closures, Hook Closures, or Fold Over Clasps – according to what you asked us while ordering.
Chain Extenders – If you want chain extenders, we do provide them. The chain extenders are made in 925 sterling silver. You can opt for either rhodium plating or rose gold / yellow gold vermeil within these chain extenders. These are especially helpful when you have gained some weight, and the bracelet with lobster clasp does not fit into your hand. When it comes to our gemstone jewelry with toggle closure, you do not need chain extenders because the chain is sufficiently long.
Other Customizations – We also deal in custom bracelets that are based on your birthstone, letters of your initials, or some design of your liking that you saw online. If you are more of a spiritual person, then you can opt for bracelets with runes, or bracelets with spiritual symbols, like the symbol of om, hamsa, cross, or lotus.
Conclusion
If you are confused with which bracelet to go for, and if sometimes you like the dangly charm bracelets and other times you feel nostalgic for cuff bracelets, then remember to choose only that bracelet in which the customization would look its best. All the different types of bracelets have their unique charm, and they come in different shapes and sizes to add glow and sparkle to the particular outfit you wear.
Are you a jewelry retailer, looking to work with an esteemed wholesale jewelry consultant? Do you want someone who could suggest the right bracelet within the different variety of shapes, patterns, and bracelet styles the gemstone jewelry manufacturer has? If your answer is yes, then you have arrived at the right place.
We, Rananjay Exports, are India's top wholesale gemstone jewelry manufacturer and supplier since 2013. Our team of master jewelers has been designing gemstone jewelry in 250+ different gemstones, and we sell a wide variety of 925 sterling silver jewelry as well. Browse the official website of Rananjay Exports and order the wholesale gemstone jewelry you want.