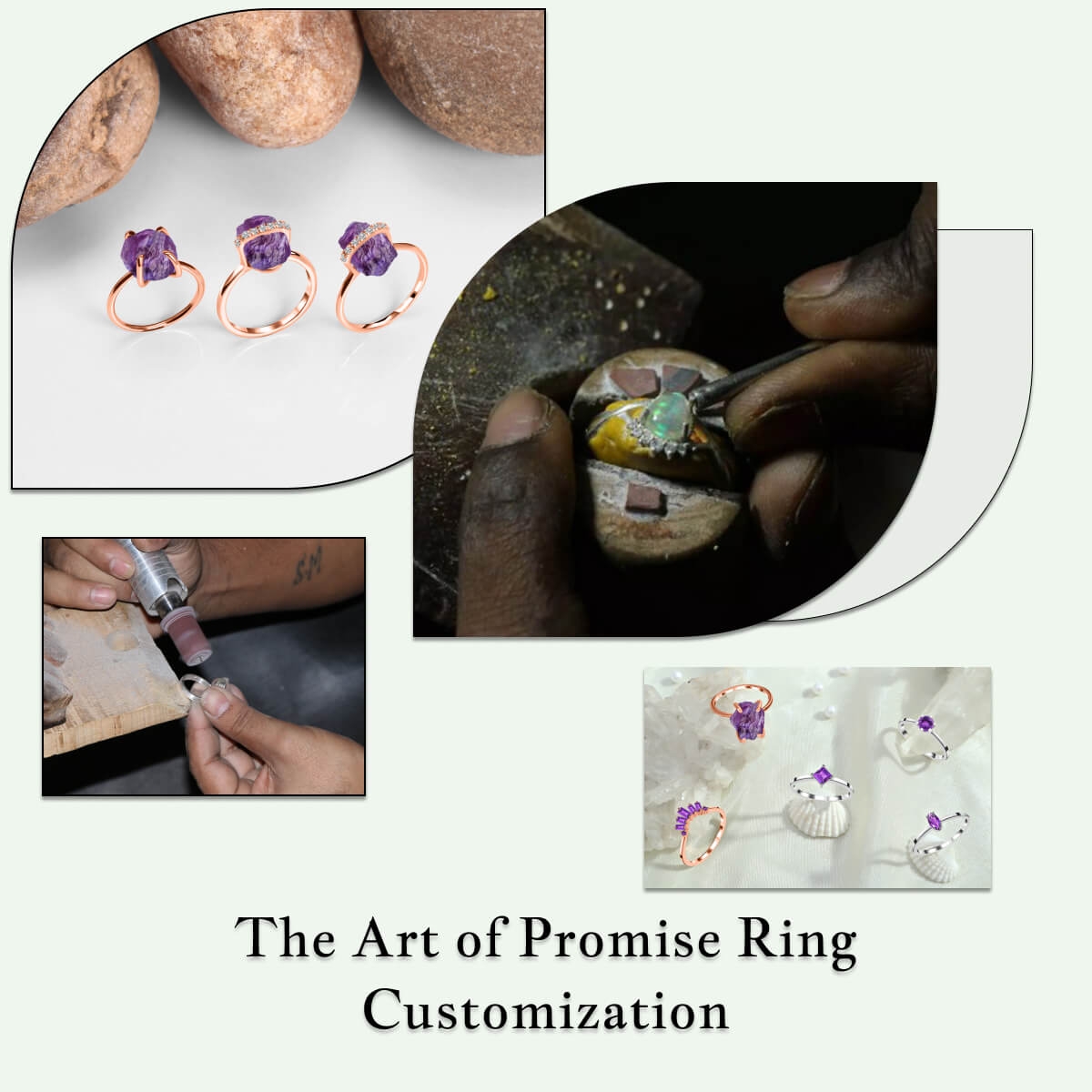 Love is indeed a beautiful thing – it does not matter whether it comes in the form of friendship, a romantic, or perhaps some platonic relationship – it is something special that we all crave. Many people choose to mark their love in front of their partner using a promise ring. The promise rings can represent a monogamous commitment, mark a significant occasion, represent a special time period, or simply express what you feel for your partner in the deepest chores of your heart.
The promise ring has various meanings and symbolisms associated with it. For some people, a promise ring is a pre-engagement ring, while for others, it's a symbol of friendship. Some people even consider promise rings to be a symbol of romantic commitment without giving the relationship a specific title, and thus, we can say that promise rings mean different things to different people. If you desire to learn everything about promise rings, such as what promise rings are, how to wear one, why should you gift a promise ring to your partner, etc., then go through this article.
What Is A Promise Ring?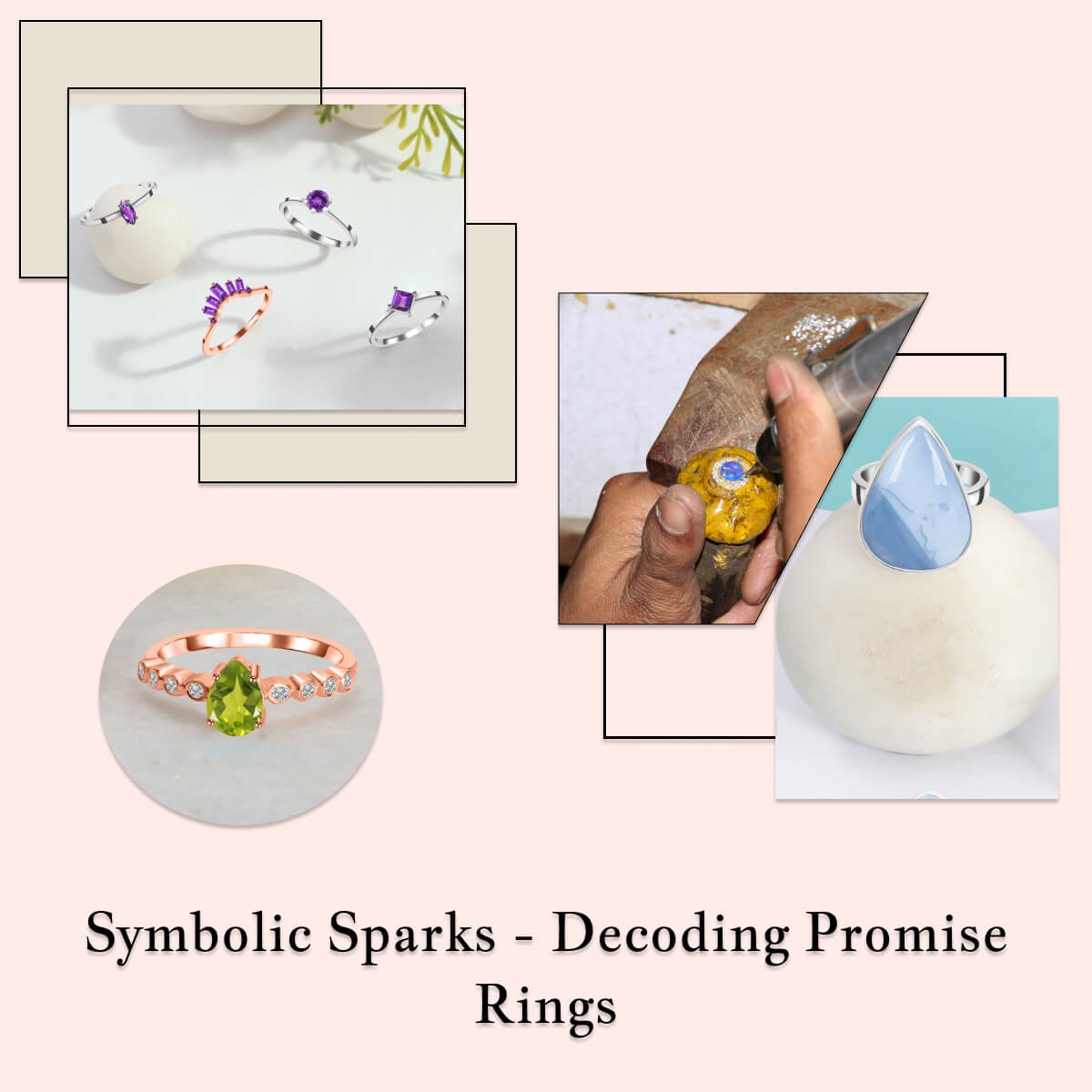 Generally, people give promise rings to their partner after a period of serious dating, as to mark the "next step." A promise ring basically says that you desire more, you don't want to be titled as "in a relationship", however, you are not ready yet for the next Facebook definitive term for your relationship.
A promise ring can also be used by people to mark their commitment to each other outside the bounds of traditional marriage. For couples who are resisting the thoughts of marriage but still desire to solidify their commitment to one another, they can use a promise ring as a great alternative to symbolizing their commitment to one another. After all, you don't need a ceremony or pompous destination wedding to wear these promise rings. When two people in a relationship are too young for marriage, or to resist tradition, couples wear promise rings as a symbol of their love, commitment, and companionship.
History of Promise Rings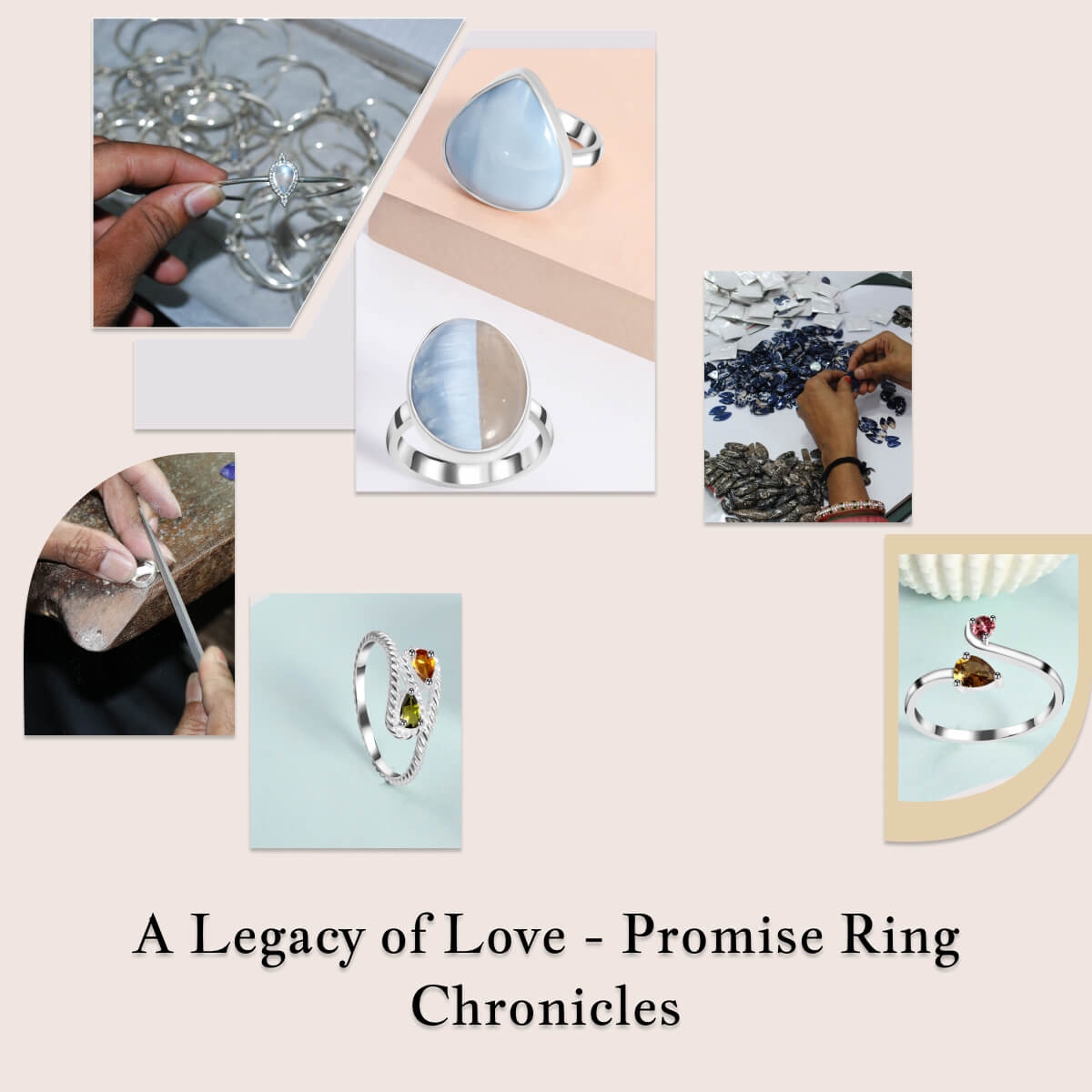 The concept of Promise Rings which denote fidelity and loyalty in a relationship dates back to ancient times. One version of promise rings which were called betrothal rings, were worn in ancient Roman times by couples who desired to get married one day. Similarly, in ancient Greece, special gemstone rings were worn on the ring finger as a constant reminder of one's beloved. Lastly, ancient Egyptians used to exchange rings that were made of woven reeds or leather to honor their partner.
In the 16th century, a version of the promise ring called the "posy" or "poise" ring was quite popular in England and France. They were given as gifts by lovers which were often engraved with romantic poems. When we talk about the Georgian and Victorian eras, "Acrostic" rings gained popularity. These acrostic rings were set with different precious and semi-precious gemstones for spelling out meaningful words. For instance, if you set lapis, opal, verdelite tourmaline, and emerald together on a ring, it spelled out as "love". Thus, the gemstones' first letters used in the ring were used to symbolize the first letter of the words you are trying to spell.
Promise Rings vs. Engagement Rings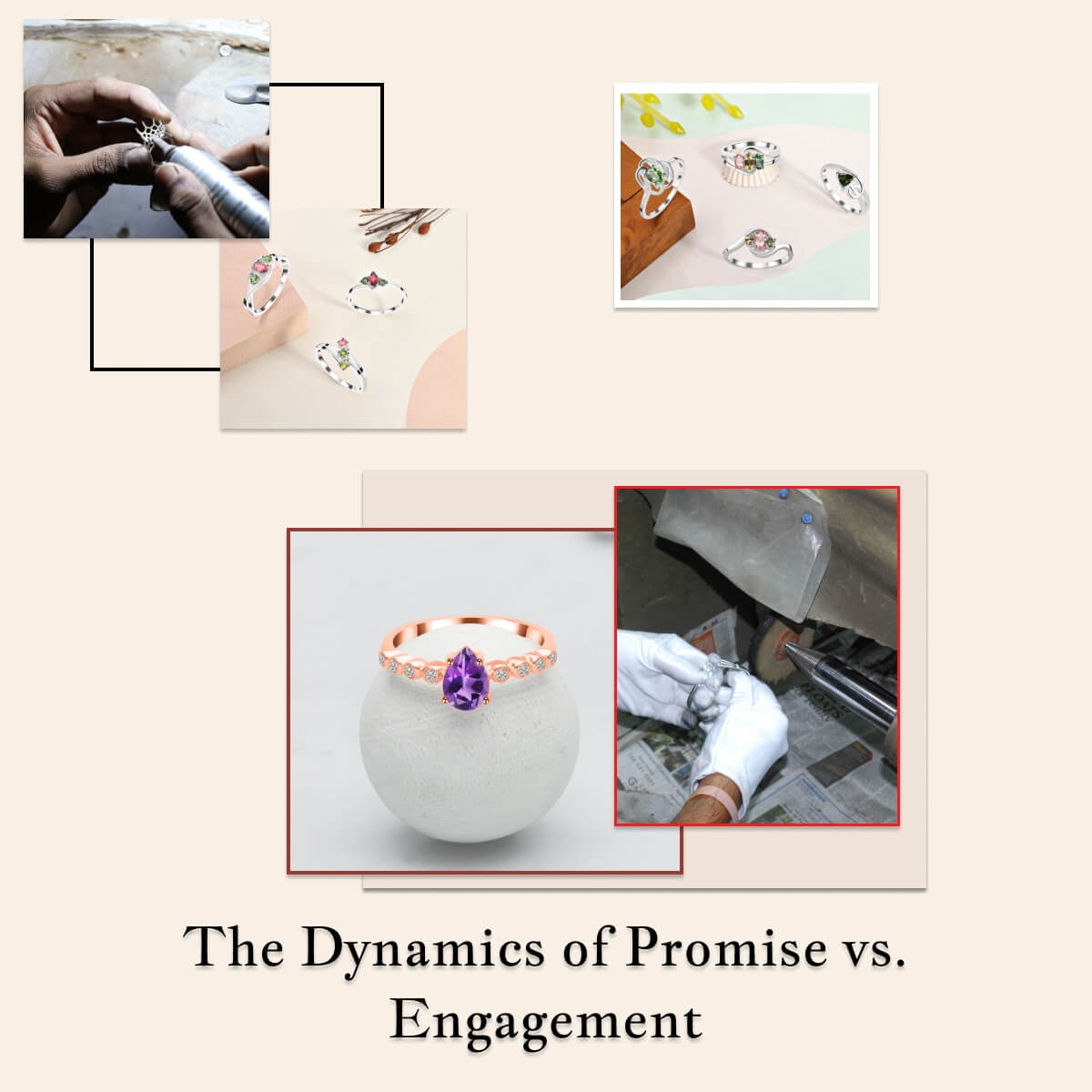 You must be thinking of why can't you get an engagement ring when you are making a commitment anyway. This is because both types of rings serve different purposes. Typically, a promise ring is considered to be a precursor to an engagement ring. The concept of an engagement ring is all about showcasing an impending wedding, while promise rings point towards your commitment to one another, without planning a wedding. There are many reasons why many couples choose the promise ring route.
Perhaps the reason is because both of you are too young to plan a wedding, or perhaps one of you is overseas, and it does not make a lot of sense to get engaged just now. Or maybe, you prefer commitment that is not traditional. In all these cases, you can gift your partner a promise ring. Also, promise rings can have a non-romantic meaning as well. In case you are marking a unique friendship, or you want to see your partner's reaction when they receive a promise ring and then you plan to propose to them for marriage, you can use a promise ring.
How Do You Wear A Promise Ring?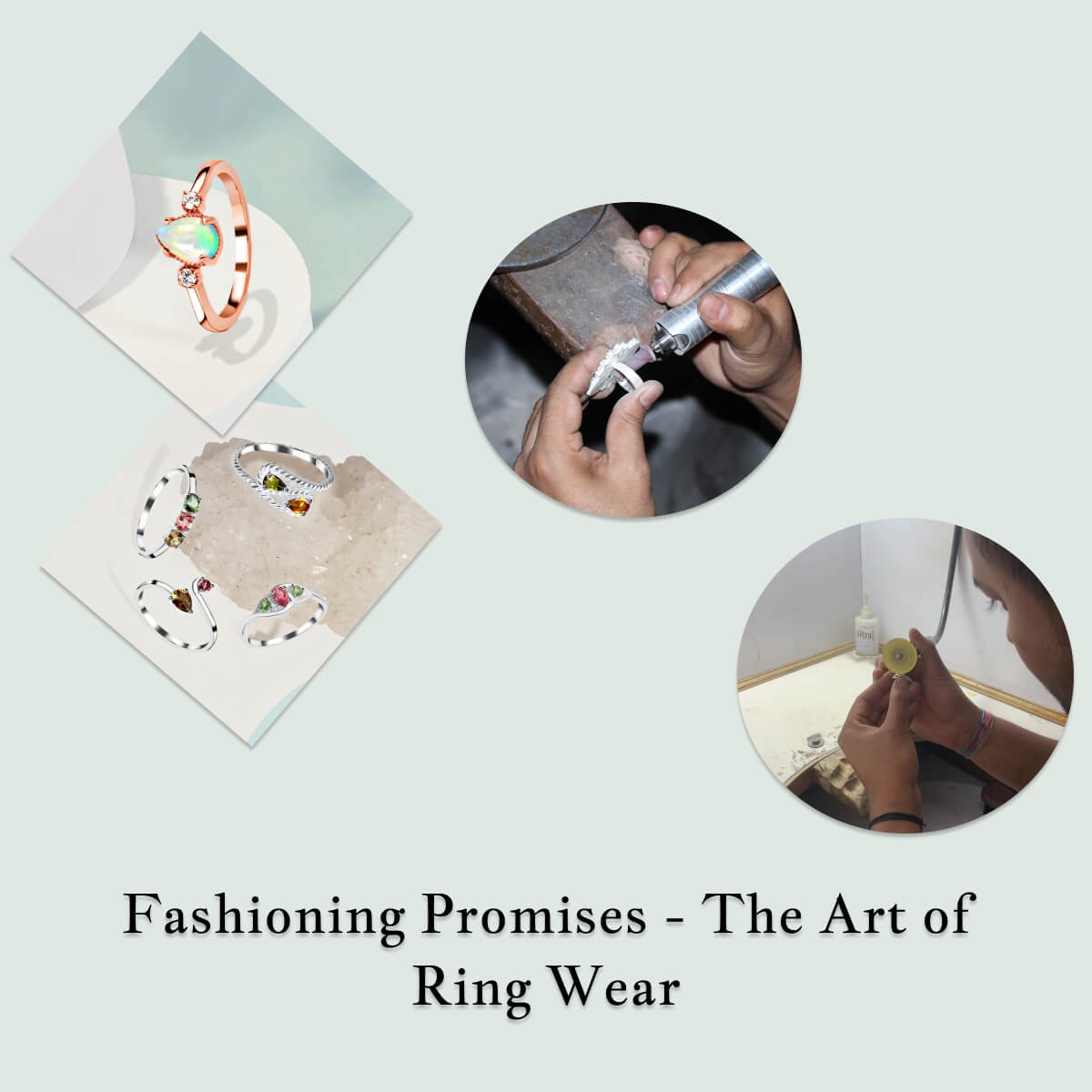 Now that we know what a promise ring actually is, it's time that we see how to wear a promise ring. After all, it isn't an engagement ring, which is why it is not worn like an engagement ring. First of all, you can wear a promise ring in whichever hand you want to. However, if you are wearing the promise ring as a pre-engagement ring or if you want to take it as a symbol of romantic commitment, you should choose to wear it on the left hand.
Secondly, when it comes to the finger, you can wear a promise ring on any finger. But, there is a catch to this, If your promise ring marks a milestone on the road to marriage or if it symbolizes a monogamous romantic commitment, it is best to wear it on the ring finger (of your left hand).
How to Customize Your Promise Ring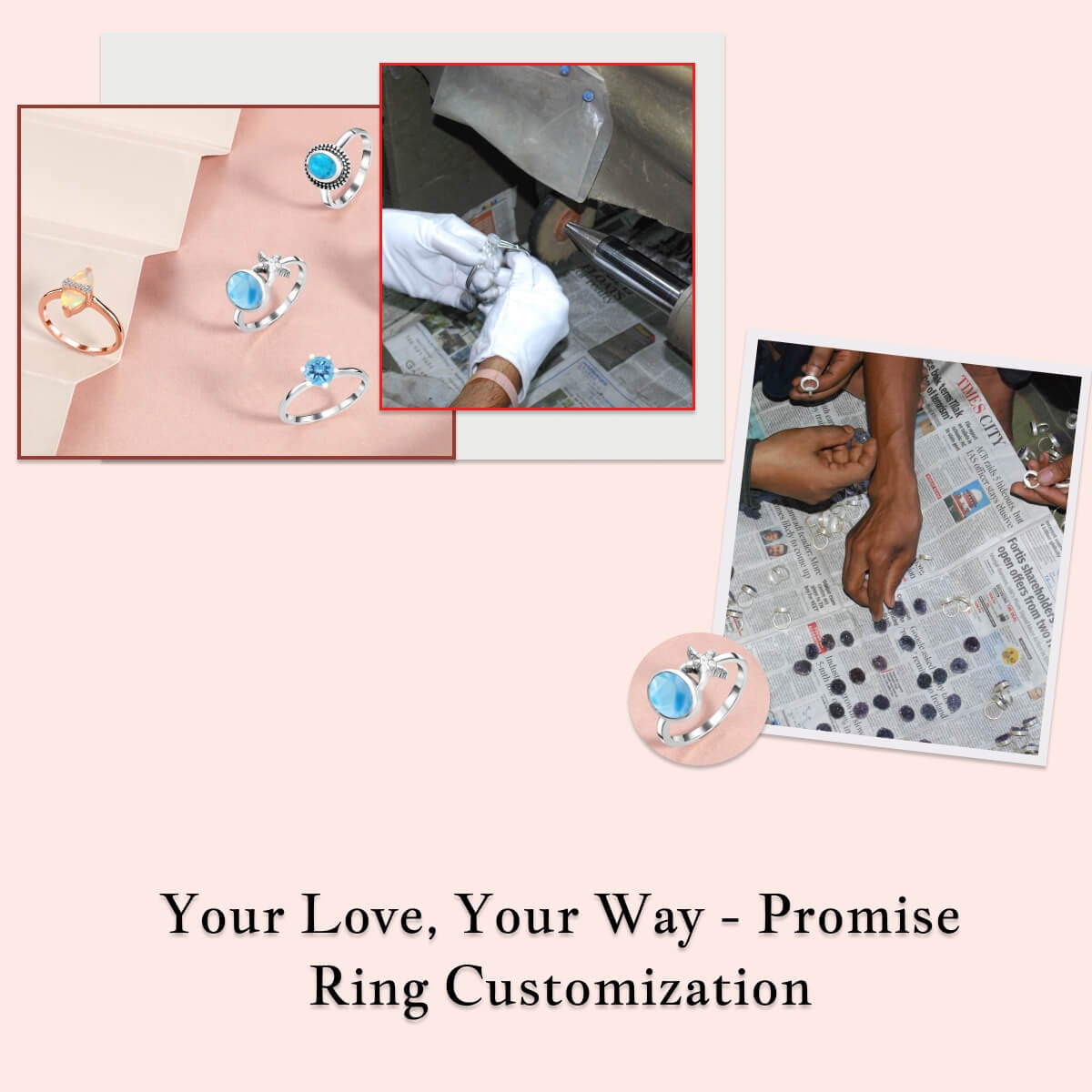 The best way to customize your promise ring is by changing its number of prongs. Prongs refer to the claw-shaped metal endings that hold the stone in the ring and keep it secure to the band. When the gemstone is held via 6 prongs, it creates a rounder-looking gemstone. On the other hand, when the gemstone is secured via 4 prongs, it appears to be a square or rectangular shape. Thus, changing the prongs can make a big difference in the appearance of your ring.
Another way to get a customized promise ring is by changing the side stones. Many jewelers use this technique when the center stone is small. In this technique, essentially, the side stones are made to appear a lot bigger and grander using side stones which are added on both sides of the ring. Similarly, when the center stone is large, and you feel that the side stones make the ring a little too extravagant and flashy, you can get the side stones of your choice removed. Either way, playing with the side stones and customizing the ring on the basis of your needs can make the ring fit your personal choice.
If you desire to add a pinch of color to your promise ring, you can replace the diamond side stones present on your promise ring with rubies, sapphires, or emeralds. This way of customization adds a unique look to your ring. And, you are not limited to the side stones – you can even replace the center stone with rubies, emeralds, or sapphires and let the side stones be diamonds – this will add exquisiteness to your ring.
One of the most popular ways to personalize your promise ring is by getting your ring engraved. Although not as popular with rings, this technique is generally used with bands. The moment of your life when you gift your partner with a promise ring is indeed special; it's a date to be remembered and to commemorate this moment, you can engrave the inner part of your promise ring or promise band with your name. Not only is engraving one-of-a-kind, but it is also personal and private. There are many ways in which you can get your promise ring engraved – it is best to ask for some inspiration from the jeweler who is selling you the ring.
Lastly, one of the ways in which you can customize your promise ring is by changing the Karats of solid gold used in making the band. For instance, if you want your promise ring to be of more value, you can change your 14K gold band to an 18K gold band. The 18K gold band has 75% gold content compared to the 14K gold band, which has just 58.3% gold content. Thus, it is another way of customizing your promise ring, but this time, you are changing its value. This is a really great idea if your partner loves gold jewelry. And if you want your promise ring to be more economically viable, you can opt for sterling silver in place of gold. On sterling silver, you can get the vermeil of your choice – such as rose gold vermeil, yellow gold vermeil, etc.
Conclusion
Many couples express their love and commitment through promise rings. Whether you have fallen head over heels for your high school sweetheart, but you are still too young to take those next steps, or you are involved in a long-distance relationship with your partner who lives in another country, or you are a couple who desires a more non-traditional commitment, a promise ring is indeed a great way to show your loving sentiments and show your partner how special they are for you.
We hope that you liked this particular blog on promise rings. Are you a retailer, looking to buy wholesale gemstone jewelry, such as promise rings, at wholesale price? If yes, then visit Rananjay Exports – India's top wholesale gemstone jewelry manufacturer and supplier who deals in both sterling silver jewelry and gemstone jewelry. They deal in a variety of 250+ gemstones, which is why, you can find various gemstone rings such as moonstone rings, opal rings, larimar rings, turquoise rings, moldavite rings, Libyan desert glass rings, and amethyst rings aside from promise rings. The best part about Rananjay Exports is if you have a bulk order, you can order jewelry in grams and pay for jewelry based on its gram weight instead of paying for it per piece. Have a great day, Goodbye!