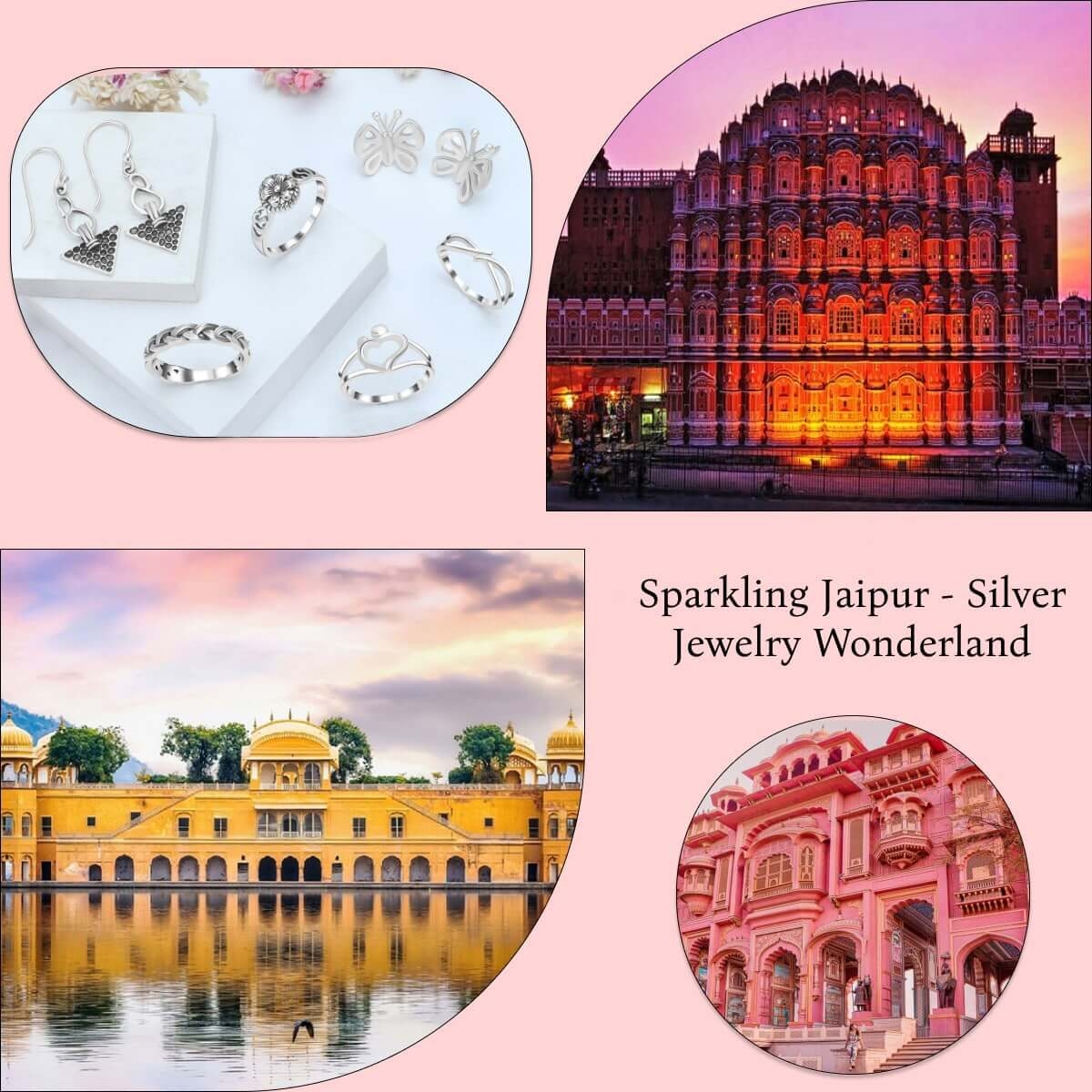 Jaipur is renowned for its regal heritage, reflected in the demeanor of its inhabitants. The history of this city is commendable and worth feeling proud of. The Pink City is not only famous for its rich heritage, culture, and architecture but also for Handcrafted silver jewelry. Three centuries ago, Sawai Jai Singh introduced the gemstone industry along with a few artisans in Jaipur. From that time, the city was enhanced and upgraded in the jewelry industry and is renowned for its exquisite and delicate jewelry pieces.
If you want to buy Handcrafted silver jewelry at the best price, Jaipur is the best place. There are several reasons why Jaipur is known for its exquisite silver jewelry, including the skilled artisans who create these beautiful pieces. If you love stunning jewelry, Jaipur is the place to be. The city is famous for its jewelry market, as well as its food and heritage.
Jadau Jewelry, Thewa Jewelry, Kundan Jewelry, and Meenakari Jewelry are the most popular types of jewelry found in Jaipur. Jewelers use a variety of gemstones such as Opal, Sapphire, Moonstone, Amethyst, Ruby, Emerald, Agate, Labradorite, Aquamarine, Turquoise, Citrine, and many more to create exquisite gemstone jewelry in gold and silver.
Regarding the jewelry industry, Jaipur is undoubtedly one of the most significant hubs in the world. It's no surprise that tourists flock to this city to indulge in some of the finest handmade necklaces and precious gemstones. If you're looking for exceptional jewelry, Jaipur offers an array of options, including gold, silver, kundan, enamel, meenakari, oxidized, polki, and more. Additionally, you can find gemstones tailored to your specific preferences.
If you want to shop for Handcrafted silver jewelry, Jaipur is the place to be. With a wide range of options available, you can find exquisite pieces that showcase the art and craftsmanship of the local artisans. But let us first know about the popular silver jewelry found in Jaipur.
Thewa Jewelry:
Thewa Jewelry is a traditional Indian jewelry handmade using a unique technique. The jewelry is made by fusing a sheet of 23-karat gold onto a multicolored glass base. The process is delicate and requires a high level of skill. The final product is a piece of jewelry that is unique and beautiful, with intricate designs and vibrant colors. Thewa Jewelry is a popular choice for bridal jewelry and is often passed down as a family heirloom.
Kundan Jewelry:
Kundan jewelry is a type of traditional Indian jewelry that is crafted using a specific technique. The technique involves setting gemstones, typically diamonds or other precious stones, into a gold or silver base using a particular type of wax. The result is a stunning piece of jewelry known for its intricate and detailed design. Kundan jewelry is often worn by Indian brides on their wedding day and is a popular accessory for special occasions.
Polki Jewelry:
Polki Jewelry is a type of traditional Indian jewelry popular for its uncut diamonds and intricate designs. The conventional technique of polki jewelry often includes motifs such as creatures, blossoms, leaves, etc., and can also feature precious and semi-precious stones. Polki jewelry is typically worn during special occasions like marriages, parties, and celebrations. It is an excellent way to add a touch of dignity and custom to any outfit.
Jadau Jewelry:
Jadau jewelry is Mughal-styled jewelry. It is a type of traditional jewelry that is designed in India. It is crafted using a combination of gold and uncut/uncensored polki diamonds. Making Jadau jewelry is complicated and requires a high level of skill. It involves embedding polki diamonds in a gold frame using Kundan. The result is an exquisite piece of highly valued jewelry often passed down through generations.
Meenakari Jewelry:
Meenakari Jewelry is definitive Indian jewelry known for its complex designs and vibrant colors. The jewelry is made by merging colored glass with metal to create beautiful patterns and designs. Meenakari Jewelry is often used for specific events such as festivals and is considered a symbol of prosperity and position in Indian culture. Meenakari is an art that can be applied to various metal surfaces, not just jewelry.
Gemstone Jewelry:
Gemstone jewelry is a type of jewelry that incorporates gemstones into its design. These gemstones can be precious or semi-precious, often adding tint, glimmer, and quality to the jewelry piece. Gemstone jewelry can come in many forms, including earrings, necklaces, rings, and bracelets, and can be made from diverse materials such as gold, silver, or platinum.
Lac Jewelry:
If you're looking for affordable and authentic souvenirs, consider lac jewelry. Lac is a resin produced by insects to make brightly colored accessories. Lac bangles are trendy among souvenir collectors. Rajasthan's Karauli, Jaipur, and Bundi regions are renowned for producing exquisite Lac jewelry. This type of jewelry is highly valued for its intricate designs and durability. Symbolic jewelry comes in different forms, and this is one of them.
After knowing the famous types of jewelry found in Jaipur, a question arises: Why is Jaipur the best place to buy handmade jewelry? So, the answer is explained below:-
Jewelry from Jaipur is highly sought after nationally and internationally due to its unique handmade designs that cannot be found anywhere else, whether it is antique, gold, silver, or diamond jewelry. This jewelry provides aesthetic and metaphorical value.
The jewelry industry in Jaipur has a considerable impact on the state's economy and has the prospect for enormous evolution.
The city specializes in refining and shaping valuable gems without advanced machinery. Instead, they do everything by hand to preserve tradition and authenticity and give detailing in jewelry.
The industry has a long-standing tradition of utilizing craftsmanship and high-quality raw materials. It is paramount to sustain and elevate the jewelry industry in Jaipur to ensure its development and conquest.
Another reason to buy jewelry from Jaipur is that you will find it at affordable and wholesale prices here and guaranteed up-to-the-mark quality standards.
The designs made in Jaipur are comprehensive on their own. The individuality behind the designs is that they are handcrafted.
Jaipur is even more intriguing because the artisans running the hundreds of jewelry workshops constantly experimented with the metal. As a result, you can find new designs each season. The artisans don't stick to the same procedures but continuously innovate to meet the seasonal demands.