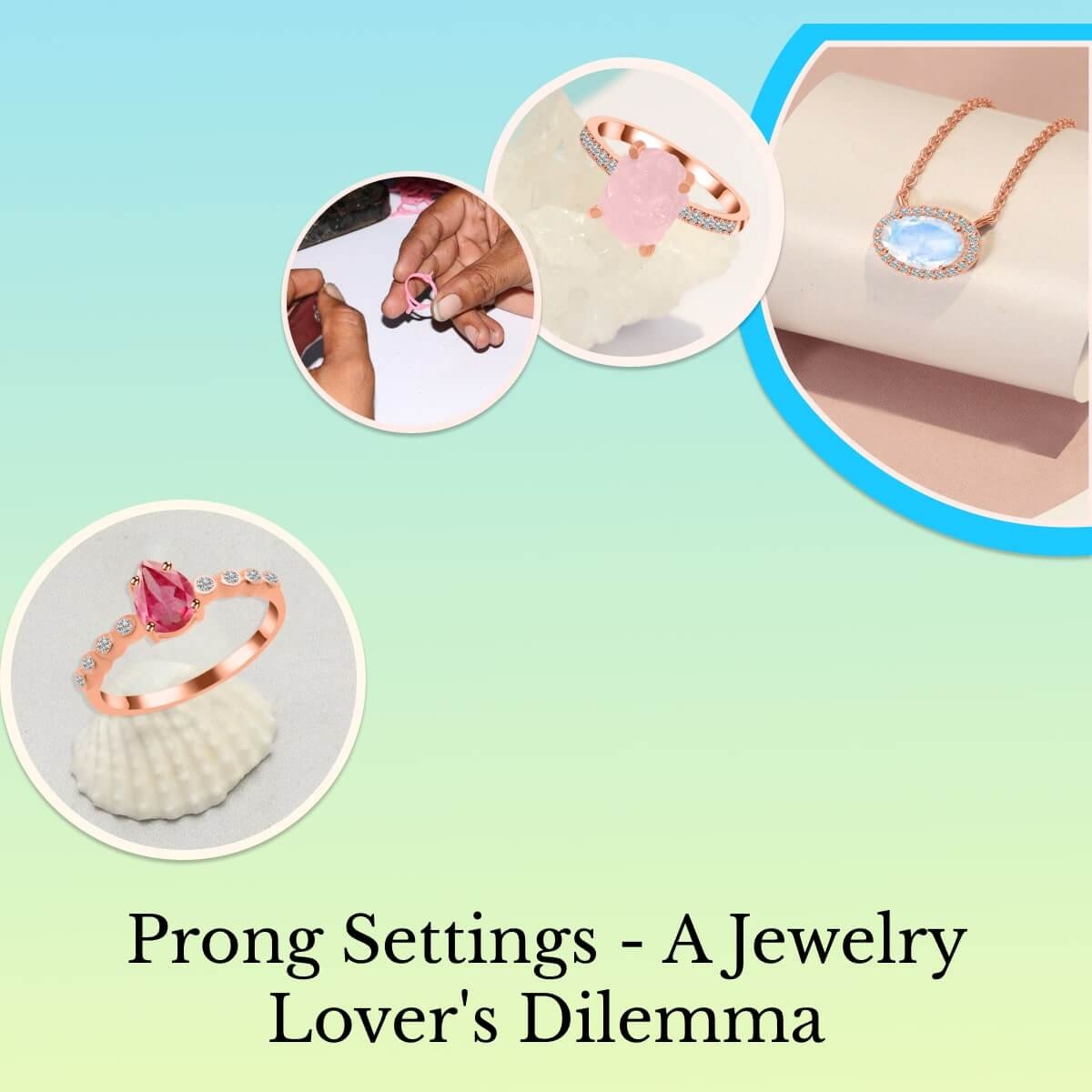 Selecting a ring, either for your engagement or wedding day or to wear on a regular basis, is a difficult task. Everyone wants their product to be good-looking and attractive without any flaws. There are a lot of things to discuss while creating or buying a ring. You have to make a clear mind of what stone, setting, design, pattern, size, etc., you want in your ring. Whether you are customizing your ring or purchasing readymade items from a jewelry store, you must be knowledgeable about design, setting, metal, etc., in both ways. Let me share my experience with you.
I am also an admirer of rings and love to wear rings, but I don't have much knowledge about what design is good, which setting is more safe and reliable, what metal should I opt, etc., besides this, I decided to purchase a readymade ring. So, I selected a sterling silver ring with a Turquoise gemstone curated in the Prong setting because I liked it. It looks gorgeous, but along with its beautyfulness, I am facing some issues, too. Then I decided to gain complete knowledge about the Prong setting and really wanted to share it with you people to get thorough knowledge about the Prong setting, including its history, types, advantages, disadvantages, and some tips to take care of the Prong setting jewelry.
What Is The Prong Setting?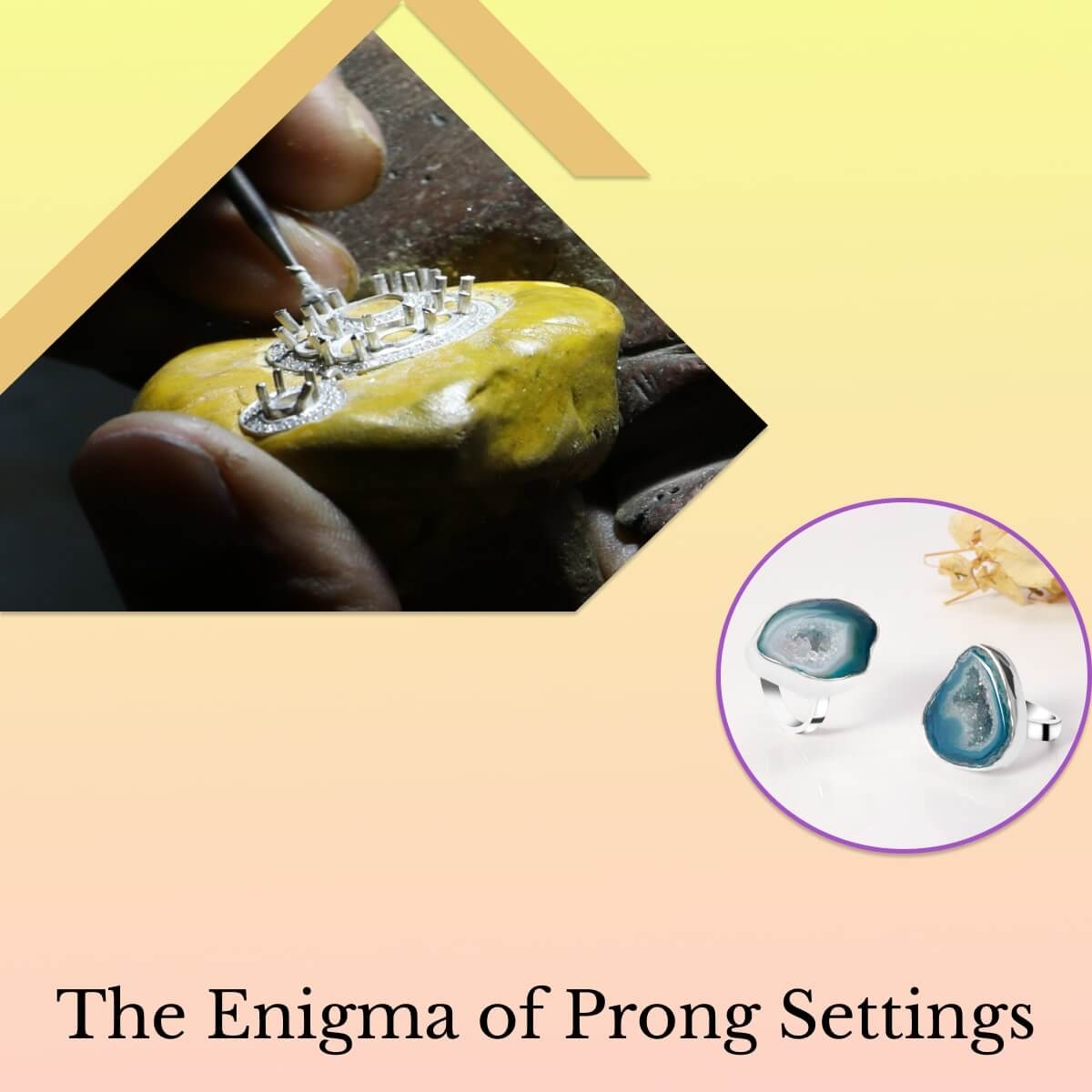 Prong setting, or Claw setting, is one of the most popular techniques for setting gemstones. It is comfortable and less expensive compared to other techniques. This type of setting applies thin and small metal components (claws) that grow from the base of metal and hold the gemstones securely from their edges. The Prong-setting jewelry looks gorgeous and perfect. You can choose from different shapes, such as round, triangle, cushion, square, V-shaped, etc., relying on your gemstone size. You can also designate the number of claws - 3, 4, 6, 8, etc. - according to your selection. You can find these collections at Rananjay Exports, one of the finest wholesale gemstone jewelry manufacturers and suppliers.
Prong settings can be cast in any metal, such as white or rose gold, sterling silver, platinum, copper, titanium, etc. The widespread Prong setting requires concentration while detailing, just as much as any other popular setting needs. The diamond, as well as the gemstones you want, should rest and hold with the prongs, and the prongs should not cover its surface and dimensions. The beauty of accurately crafted Prong jewelry is that it displays the gemstone clearly. Equipping prongs inaccurately can make gems appear shorter and affect the wearability and protection of the jewelry pieces.
History of Prong Setting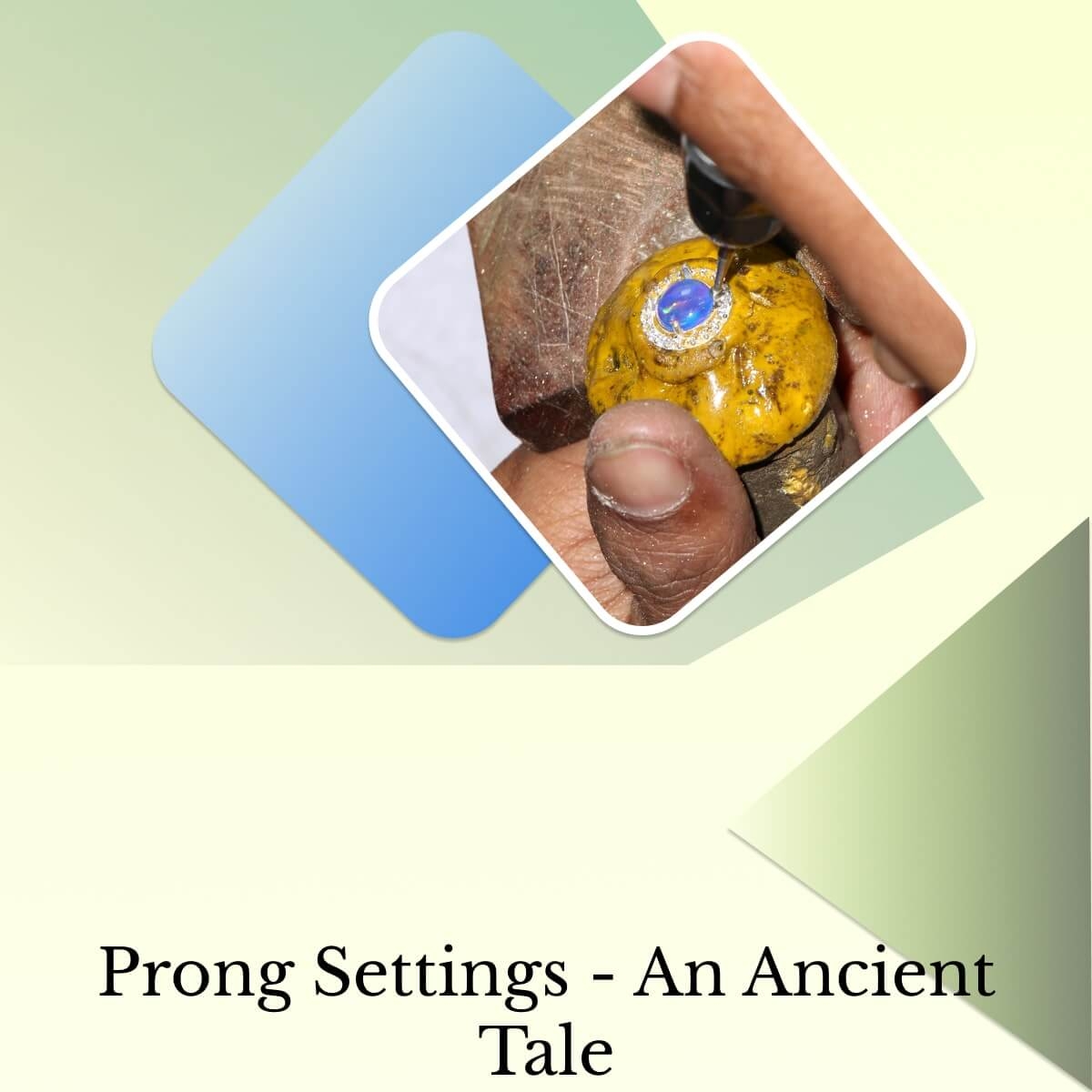 The sources of the Prong settings can be discovered from ancient civilizations, where gemstones were preferably integrated into jewelry for their precious and metaphorical significance. Then, the Prong setting appeared during the Renaissance period in Europe, from the 14th to the 17th century. This period is marked as the most crucial time in the history of the jewelry industry. During the Victorian age in the 19th century, power, love, and to represent some value towards someone had a prominent influence on jewelry designs.
Prong settings have been used since the 19th century, but they were improved by Tiffany & Co. in 1886 and achieved across-the-board praise. The Tiffany prong setting creates the illusion that the stones float above the finger rather than being held by metal. In the 20th century, jewelry design and evolution quickened, resulting in more modern and trendy forms. This century has honored the start of a new generation in the jewelry industry.
Types of the Prong Setting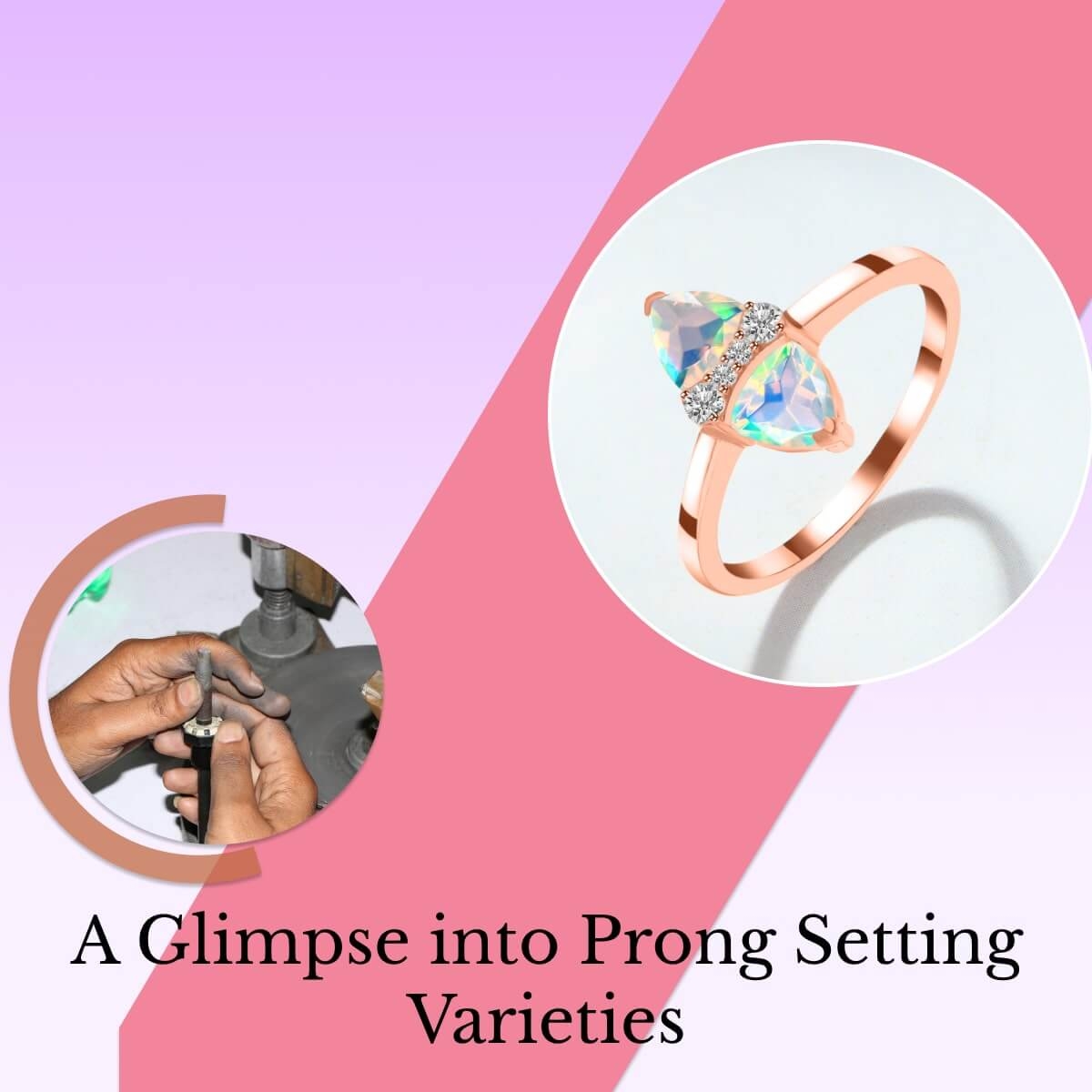 Several types of prong settings are explained as follows:-
Round Prongs
This prong setting is rounded at its end and is the most used type of setting in making commercial jewelry pieces. It is one of the most familiar kinds of prong setting. The round prongs grab a portion of the corset and the dome of the gemstone, giving a tight fit. Usually, four and six-prong variations are mainly preferred in the rounded style, though the six-prong arrangements deliver better security. Antique pieces generally have eight to ten-prong settings, which are perfect for securing enormous gemstones or diamonds and spotlighting both fierce and soft designs.
Claw Prong
The Claw prong, also known as the pointed prong, is a type of jewelry setting that uses claw-like prongs to hold diamonds or gemstones in metal carving. Far apart from rounded prongs, claw prongs have a sharper, more pointed design that highlights the diamond or gemstone's shape and cut. The pointed tips of a claw setting give it an elegant, modern look that further emphasizes the gemstone. Claw prongs are often found in vintage-inspired structures and add a glimmer of classiness to any piece of jewelry.
Double Claw Prong
As the name implies, a double prong means a structure having two prongs per stone to offer a sense of uniqueness and protection of more prominent gemstones. A double-prong setting creates the prongs look smaller than a single stable prong. It is an excellent choice to make your stone more secure and add extra metal to your piece. These types of prongs are designed to ensure the gems are in place and make a visually attractive balance. These are generally more demanding than others, as clients want more shields.
V-Prong
The V-prong setting is unique and elegant that delicately cradles sharp and pointed gemstones or diamonds with V-shaped prongs. This setting provides both security and improved lightweight adjustment of the stone. It is incredibly best suited for pear-shaped, heart-shaped, and marquise-cut gemstones or diamonds, as it benefits their unique shapes with utmost finesse. The V-prong setting helps in preventing the gemstone's sharp tips from cracking and damaging. Princess-cut and square-cut diamonds and gemstones will be best suited for this prong.
Button Prong
Button prongs are the genuine model and are straight and curved at the ends. The button prongs wrap a small area of the gemstone's exterior and, when seen from overhead, look like tiny dots or buttons. Most of the button settings are consisted of either four or six prongs. A usefulness of this type of setting is that there is the lowest existence of metal so that more diamonds or gemstones can be visible and more glow can pass through them, thus counting to their luminance. They're usually used for fancy shapes such as hearts, pears, and other forms of diamonds, as well as gemstones.
These are some main types of Prong settings. We will also discuss some advantages and disadvantages of the Prong setting.
Advantages of Prong Settings:-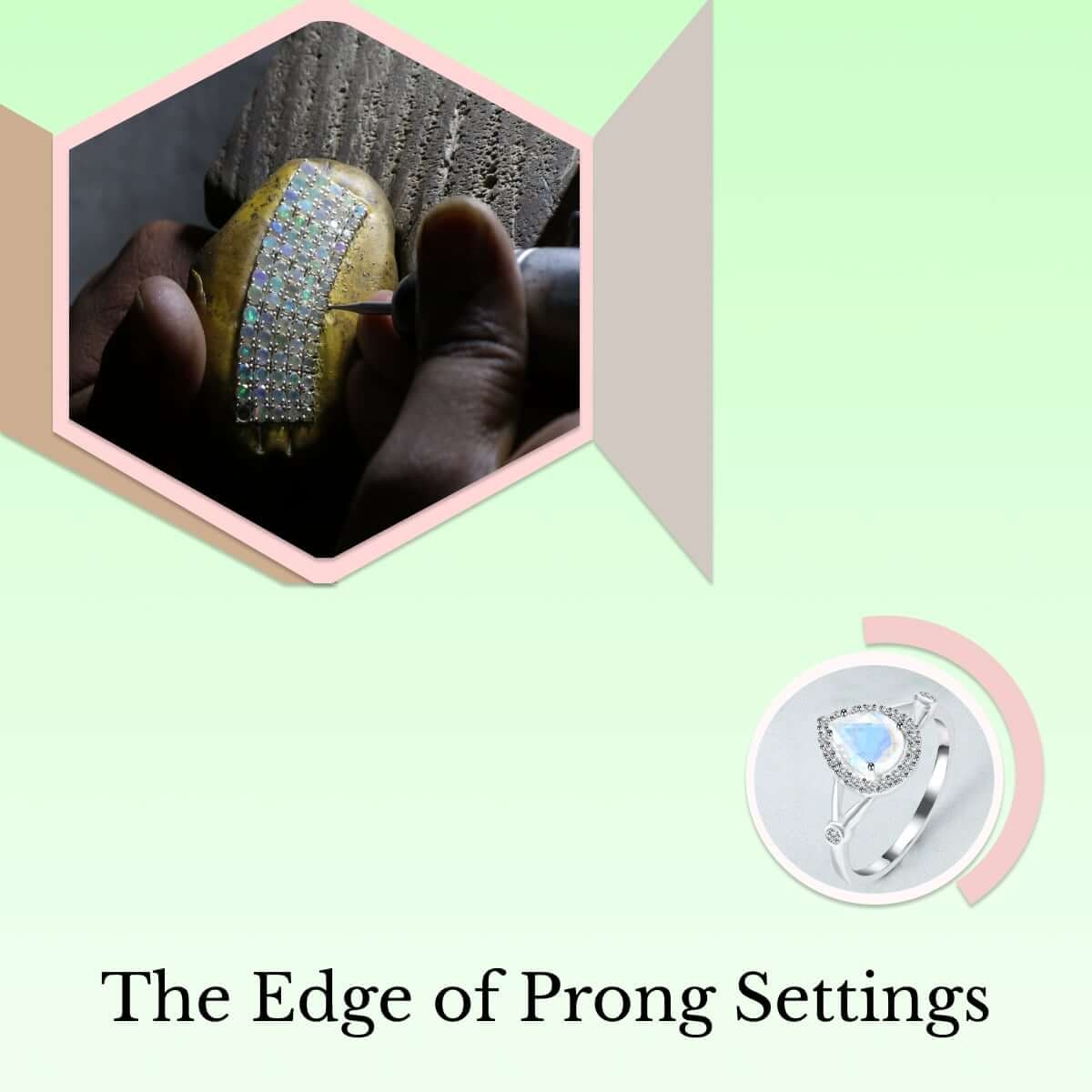 Do you want a prong setting in your jewelry pieces, just like me? Then, avoid mistakes that I committed as I was unaware, but you must be aware of the advantages of the Prong setting:
The very first thing that one makes sure to do is to choose a durable and rare gemstone to avoid more and more damage.
Prong settings are the perfect ones for showering and maintaining a diamond's and gemstone's blaze, brightness, and sparkle.
It can make more undersized stones emerge more extensive by boosting it.
The standard and simple design means they can go perfectly with any occasion, and you can also personalize your jewelry according to your preferences.
A broken prong setting can be repaired and cleaned efficiently and needs low maintenance, and make sure no pressure or complex tools are used for it.
A prong setting modifies to any shape and looks extremely beautiful, curated with colorful gemstones and diamonds.
Comparatively, the Prong setting is more affordable than any other stone setting.
Disadvantages Of The Prong Settings:-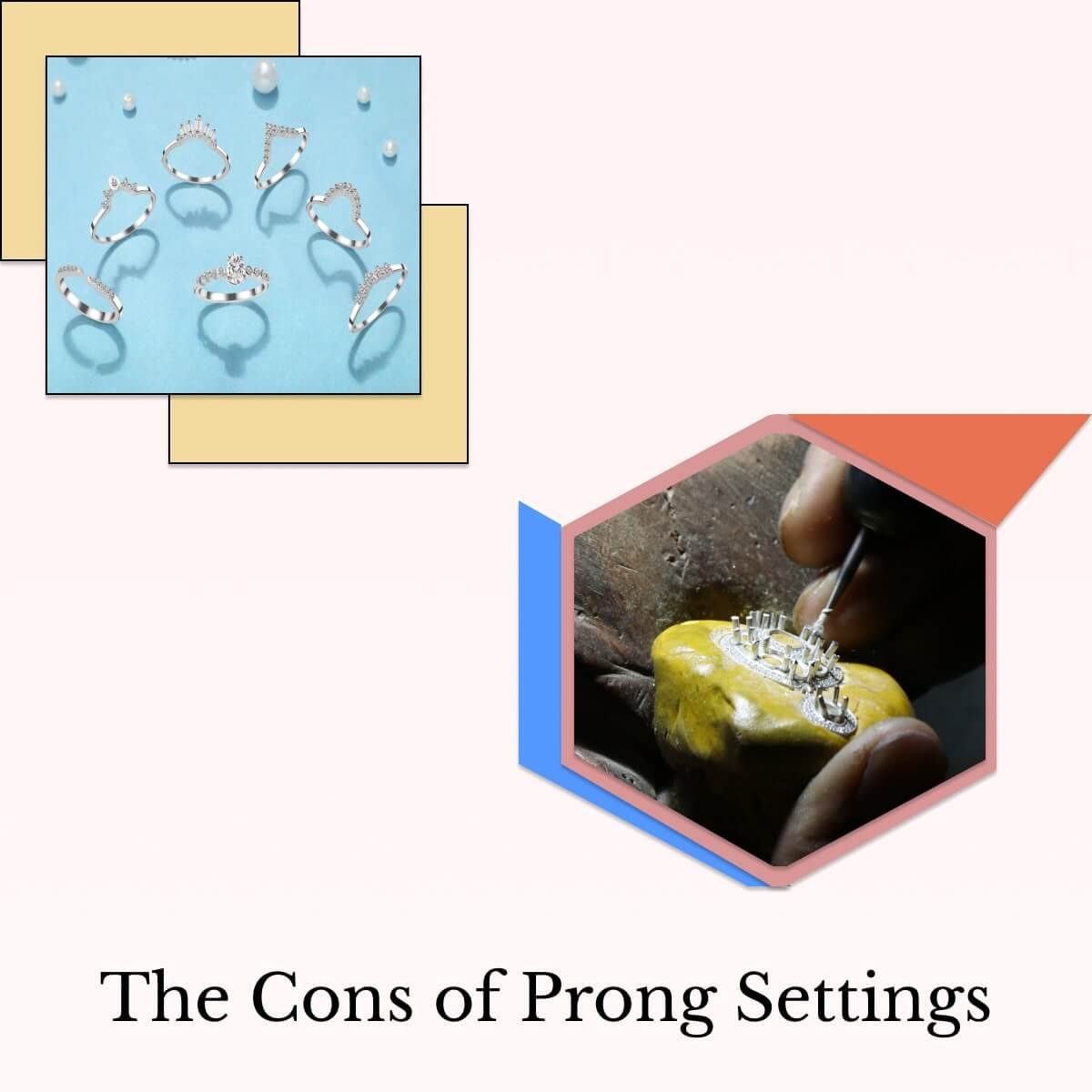 Along with these advantages, there are some disadvantages of the prong setting the readers must go through:
The prong-setting jewelry sometimes gets caught in fabrics, hair, clothes, and other materials that make it easily breakable.
It makes us avoid doing some work, such as shifting or carrying heavy loads, as it leads to damaging and chipping of gemstone and metal carving.
It is less safe than bazel and other settings as the stone or diamonds are not entirely covered or engraved in the metal carving.
This setting with fewer prongs will make it loose over continuous use, and once it loosens and isn't maintained correctly, it will make you lose your diamond and gemstone.
From Where To Get Prong Setting Jewelry?
The only and only answer to this question is Rananjay Exports. If you are not aware of this company, I will tell you that Rananjay Exports is the trending wholesale gemstone jewelry manufacturer and supplier. You can find Gemstone Jewelry in the Prong Setting curated in Sterling Silver at this place. One can also have options to get Custom Jewelry, Casting Jewelry, Sterling Silver Jewelry, Handmade Jewelry, and Designer Jewelry, all at Rananjay Exports at lower and wholesale prices. One must go through the website to get a clear picture of the wide range of gemstone jewelry available here. Get your favorite jewelry at a low cost only at Rananjay Exports, with many offers. So why miss the chance? Go and Grab it!