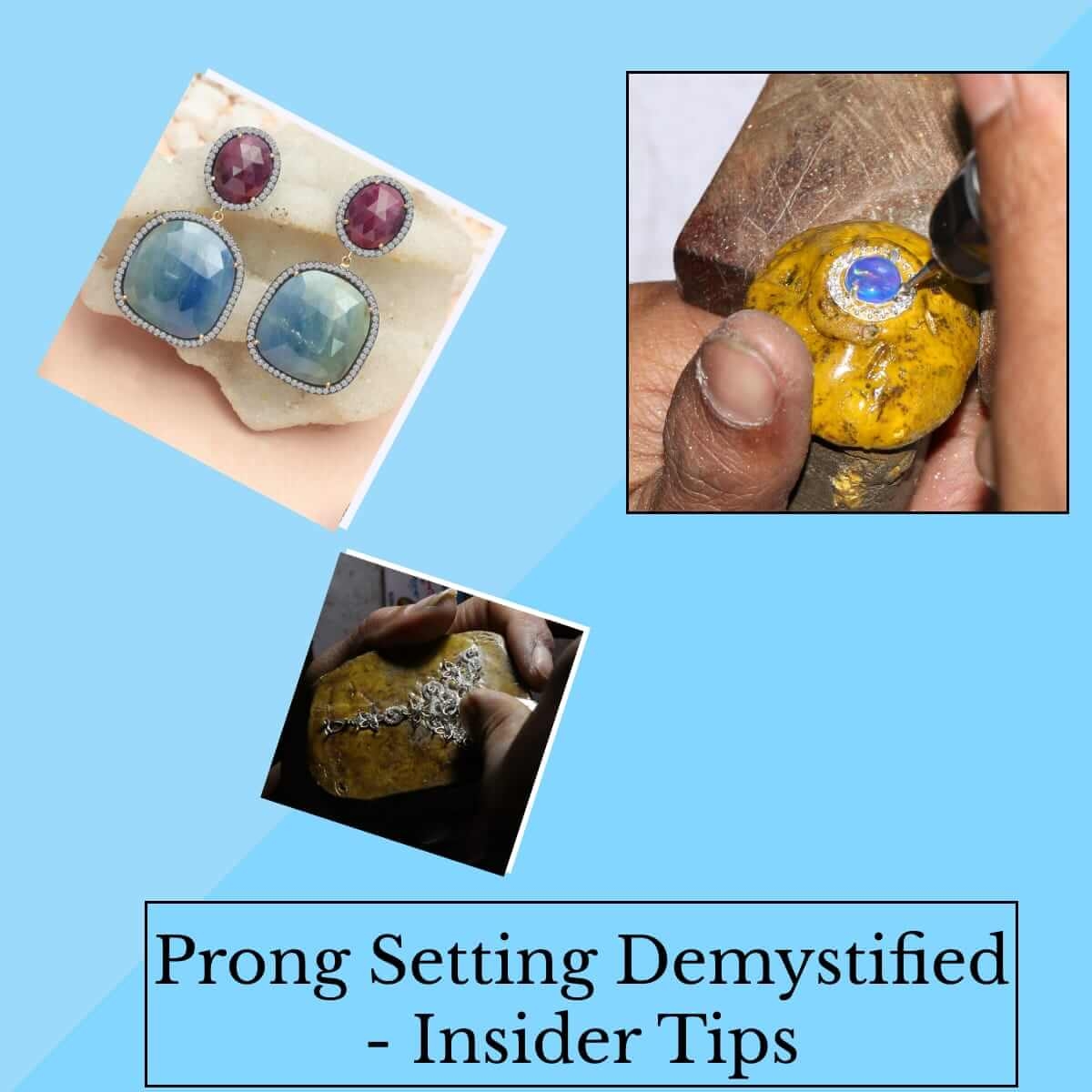 Introduction
If you go to any retail jewelry store or browse jewelry on e-commerce websites, you will get a wide variety of fine jewelry. We all are aware of the fact that fine jewelry, such as sterling silver jewelry, comes in a wide variety of gemstones. Browsing gemstone jewelry in gemstones such as opal, moonstone, amethyst, etc. is fun. However, it is a time-consuming process as well. With numerous designs, endless possibilities of gemstones, and a variety of vermeils and metals to choose from, exploring the jewelry that is the right fit for you is very complicated. And although, jewelry purchase on the surface looks simple and easy, however, in reality, this task is very complex.
For the general public, the thing that catches their attention is the cut, carat, and quality of the stone. Do you know what's wrong with it? Well, they never pay attention to the stone's setting. Although it may look something not so significant, the stone's setting plays a major role in the design, durability, and wearability of the gemstone jewelry. One of the most famous settings is the prong setting. In this blog post, we will discuss everything you need to know about prong setting. To enquire more about this setting, let's get started.
What is Prong Setting?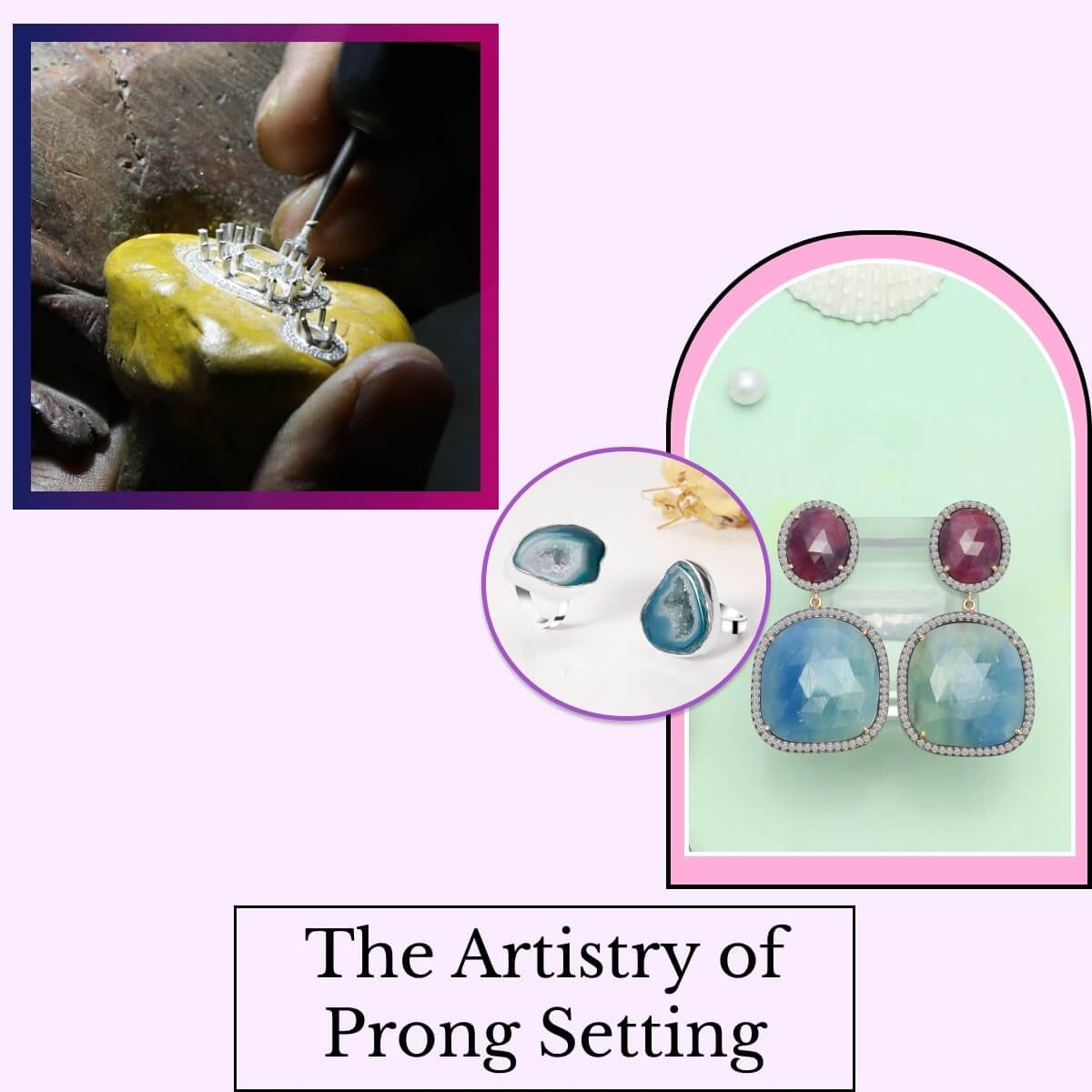 The Prong setting is a type of stone setting. As the word "prong" in the name "prong setting" hints, the mounting of the jewelry consists of two or more 'spikes' for holding the gemstone in place. In the lingo of jewelers, 'spikes' is what is known as 'prongs'. Have you ever wondered, what is the perfect prong setting?
The perfect prong setting is a setting that does not cover the table facets of the gemstone and secures it just around the crown. Not only is this setting the cheapest and most versatile, but it is also considered the most secure setting. And the best part is, you don't have to limit yourself to just one classic style – you will be able to explore a variety of prong settings when you look in jewelry stores. All you have to do is make the choice of the prong setting that suits your style, fulfills the functionality, and adds a unique touch to your jewelry.
Although prong setting is generally not employed in Handmade Jewelry, yet, it is widely used in the jewelry industry. Within Custom Jewelry, Casting Jewelry, and Designer Jewelry, you will find numerous gemstones that are set using the prong setting.
How is Prong Setting Made?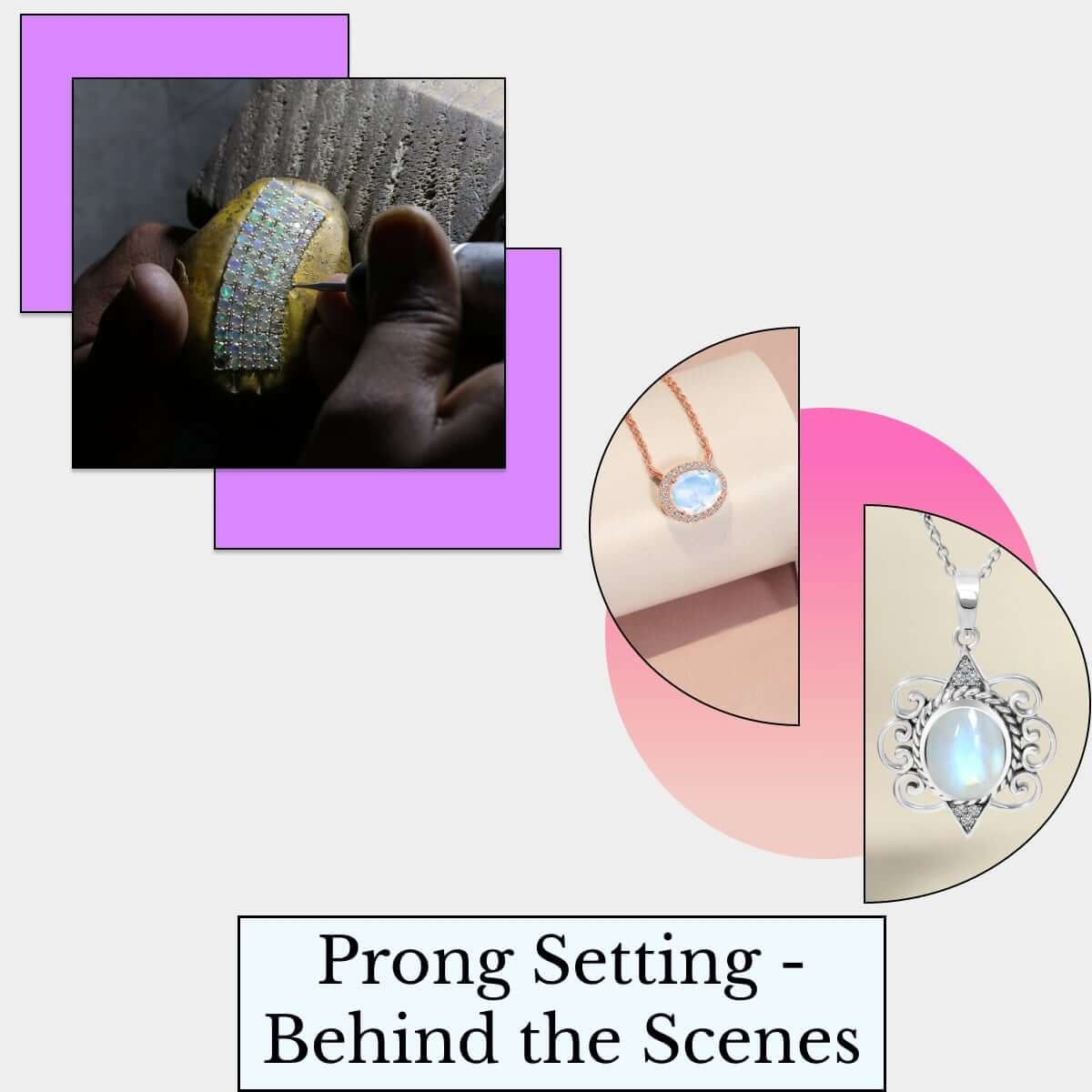 Let us take the example of a six-prong setting of a ring. One thing you need to remember is, that you can fix your stone and adjust the stone setting with as many prongs as you feel are required. This is the beauty of prong settings – they can be of any shape you like. It is totally up to you, whether you will create a six-prong setting or an eight-prong setting. Below are the steps for creating a six-prong setting:
Step 1
The first step is to place the stone on a uniform and levelled surface. Then, you have to wrap the wire in a circle around the area where the stone is widest. Then, you need to remove the wire after you are satisfied with the shape, and then carefully solder the ends together. One thing you need to keep in mind is, that the wire is going to give support to the prongs and stones. This is why, it is crucial that you measure your wire around the stone's widest point.
Step 2
In order for you to cut and remove the wire for your prongs having an appropriate height, start out by measuring the gemstone's height, and add a small amount to that measurement. For instance, if the height of the stone is 5mm, then you need to make sure that your prongs are around 9mm tall. As a result of this practice, you will have more than enough space to bend your prongs and fasten your stone.
Step 3
It is now necessary to solder your prongs to the jump ring you have. You probably have soldered your jump ring and closed it. If that is not the case, you can use the gap as the starting point for the first prong you solder.
Also, while soldering, remember to file your prong ends flat so they have a suitable surface for soldering. You can use a soldering pick if the solder moves after you have added your flux and gently soldered the prongs. Try using a harder solder for prongs, and ensure that the heat produced during soldering does not end up melting the wire. Pickle once this process is finished.
Step 4
It is now important to bend the prongs. Put your gemstone onto the jump ring and use a felt tip pen to mark the edges of each prong. Start grabbing each prong with your jewelry plier and press the setting against the anvil. Then, bend each prong upwards at a 90-degree angle.
Step 5
In case you're adding your prong stone setting to the ring you had just prepared right away, ensure that you file a small flat section on the surface of the ring and solder it carefully. Remember that while doing all this, you have to remove your stone beforehand, as the solder could cause unwanted damage to the gemstone you are using.
Step 6
Now, you have to set the stone. Start this by placing your beautiful gemstone inside the 90-degree prongs you soldered. You should use a prong pusher to push the prongs against the stone. Do this slowly, with little force, as no one wants to snap his prongs accidentally as you push. In order to prevent placing too much pressure on one side of the stone, it is recommended that you push the prongs in the direction of north, south, east, and west. This will help you keep the stone in its place.
Step 7
Congratulations! We are at the last and final step! In this step, all you need to do is trim the prongs. Basically, you trim the prongs from where they meet in the middle of the stone. You should use cutters for this. Take advantage of the backside of your cutters so that you can create a pointy form. If you feel the necessity of adding more shape to the prong ends, you can always slightly file the prongs.
Now, polish your six-prong ring, and take a moment to enjoy what you just created. Although creating a prong setting can be challenging, yet, by following these seven simple steps, you will definitely produce a stunning prong stone setting for your personal collection.
It does not matter whether you are creating an opal ring, moonstone ring, turquoise ring, or amethyst ring, the steps will be the same for setting the stone in a prong setting. And prong setting is not just limited to gemstone rings – you can observe prong setting in other types of gemstone jewelry as well, such as a pendant, a necklace, or an earring. Prong setting is generally found in stones that are faceted, but you will also find them in stones that are in cabochon form as well as in rough form. Some examples of gemstone jewelry that employ prong settings include amethyst jewelry, citrine jewelry, lapis lazuli jewelry, and blue topaz jewelry.
Consider This Before You Opt for Prong Setting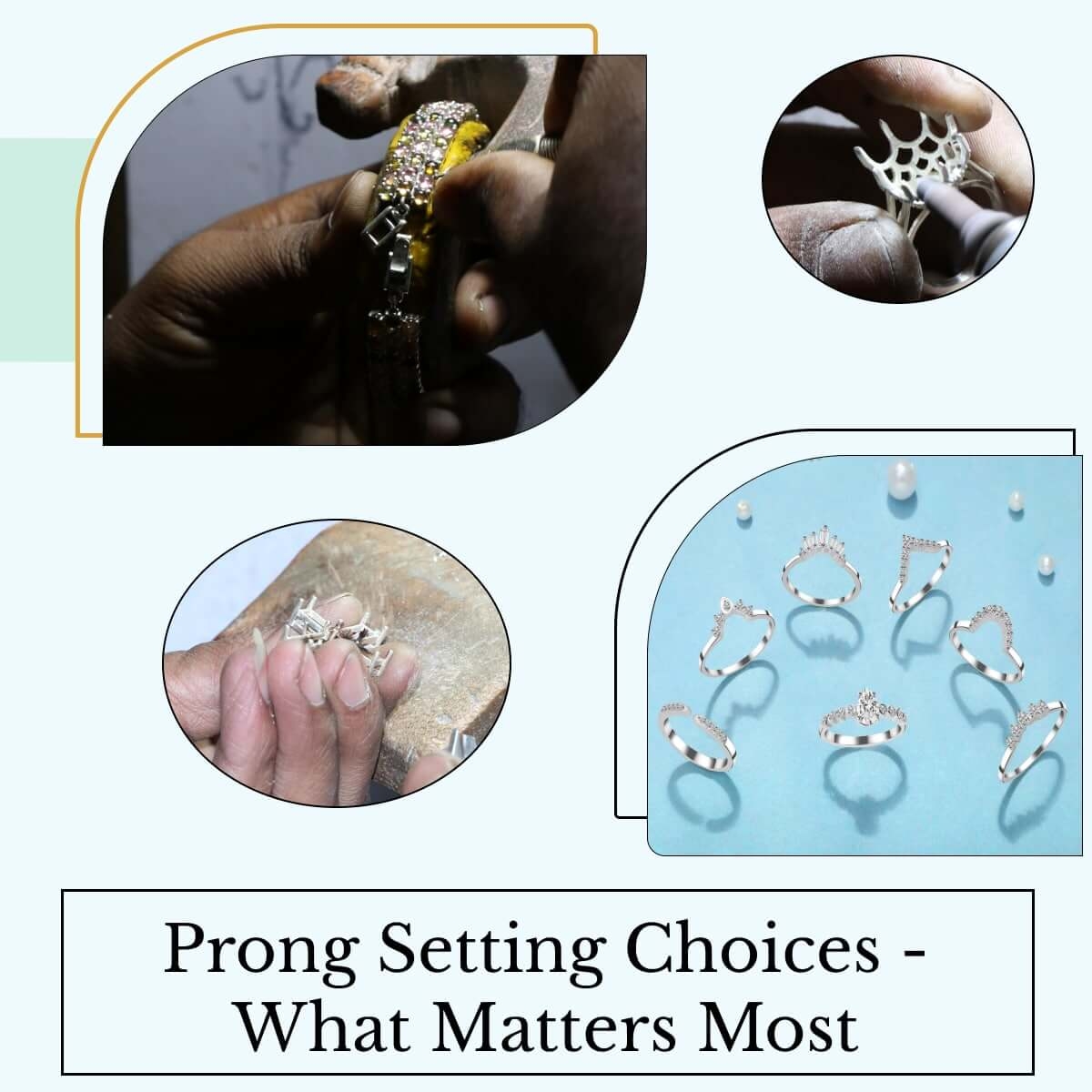 The prong setting makes up for an excellent choice when it comes to gemstone rings and gemstone pendants, especially when it comes to engagement rings. However, as with all jewelry styles, you do need to make some small considerations in order to ensure that prong setting is the best and safest bet for you. Here they are:
The prong setting that is high can entrap within your clothing, and snag through your plastic gloves. It can be solved by lowering the gemstone in your setting. You need to consider the height of the setting from the perspective of the lifestyle you live if you have hands-on careers or if your duties involve a lot of use of your hand.
It is possible that after some time, the prongs leave the girdle of the gemstone exposed. In the worst-case scenario, this can result in chipping off the gemstone. To avoid this, always make sure to remove your ring in activities that may cause heavy wear or in strenuous activities where you use a lot of physical labor.
There are certain prong styles that can scratch your gemstones. Which are they? Well, they are those styles in particular where the prong style is designed to sit higher than the gemstone. This is why the wearer needs to remove the ring before they continue their activities. This is especially true for new mothers and nursery workers, who should get their ring off their fingers so they don't end up accidentally scratching their children. It is rare, but it is worth considering.
Conclusion
As you can see, the prong setting has its distinct charm, and the best part is, that it allows you to cherish the beauty of your gemstone set in the jewelry. If you browse the jewelry market, you will find various different types of prong settings and designs to choose from – so choose the one that suits your requirements. You can browse through the creations of Rananjay Exports – India's top wholesale gemstone jewelry manufacturer and supplier. At Rananjay Exports, every gemstone jewelry piece is perfect in its own unique way.
And we have a huge collection of jewelry as well. Within our wholesale gemstone jewelry range, you can find 250+ different gemstones such as larimar, citrine, jasper, agate, Libyan desert glass, moldavite, etc. using which we craft our mesmerizing jewelry. Our artisans are highly skilled and our executives are always there to help and support you so you may find the perfect 925 sterling silver jewelry and gemstone jewelry for your retail store.
As a jeweler, shopping wholesale gemstone jewelry for your retail store can be tricky, which is why we are here to fulfill all your requirements and answer all your doubts. Browse through Rananjay Export's website today and order what you want!