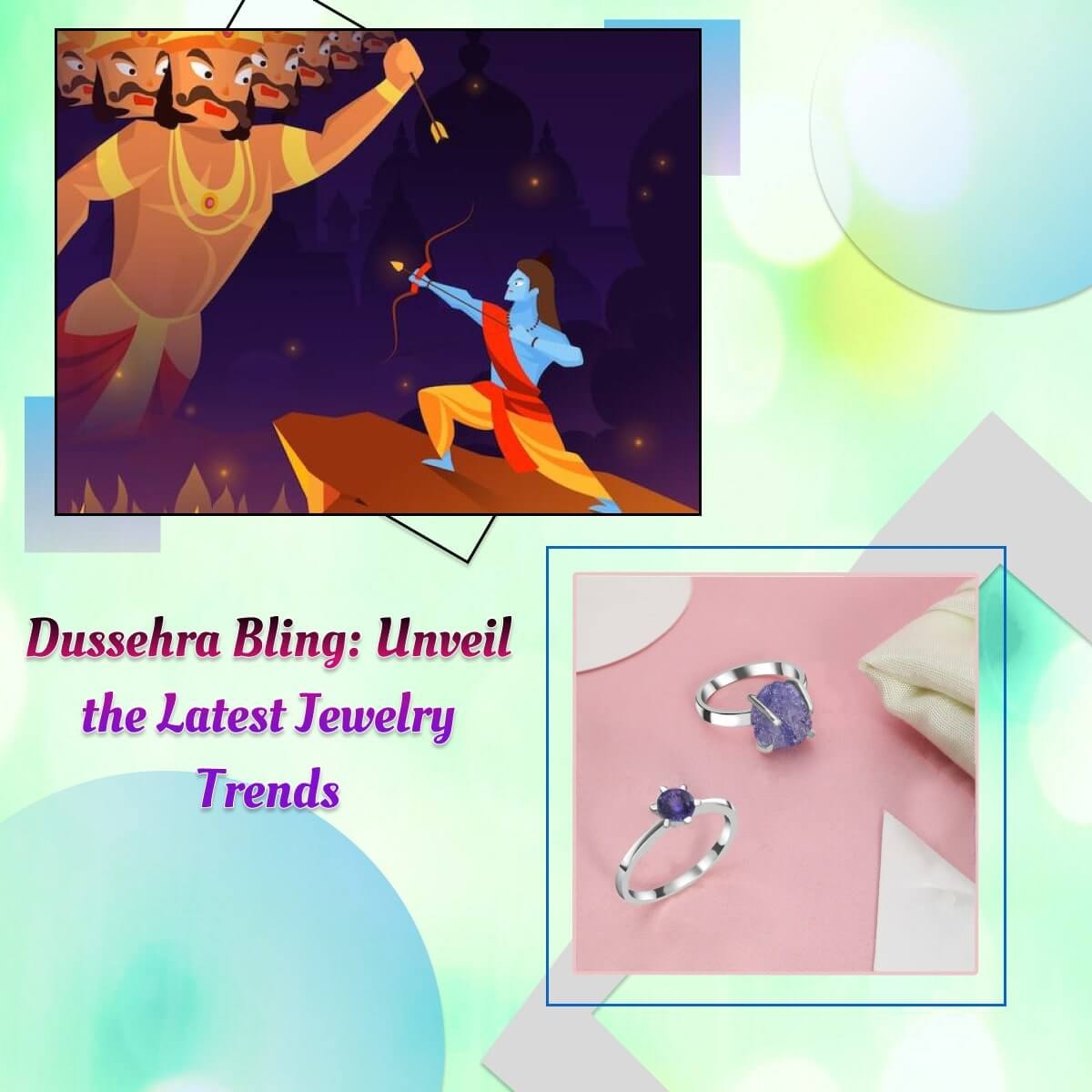 India is a country of diverse cultures, heritage, beliefs, religions, languages, castes, tribes, traditions, food, and festivals. Every community has beliefs and practices of their own. Due to India's history, the Indian culture is in a state of continuous transition. And as we all know, October month has started, which means the countdown for festivals has also begun. From Ganesh Chaturthi to New Year, the list is never-ending. Everyone from every age group is very excited about these upcoming festivals. Individually, the festival has its way of carnival. Now, Dussehra is coming near. Let us discuss the significance of celebrating Dussehra.
Dussehra, also known as "Vijayadashami" and "Dasara," celebrates Lord Rama's (an incarnation of Lord Vishnu) victory over the Rakshasa king Ravana, who had abducted and hostage Rama's wife, Sita. The Ravana is the king of Lanka, a city made of gold, who abducted Sita, the wife of lord Ram. This festival depicts the victory of goodness over evilness and light over darkness. Every community has their way of celebrating Dussehra. Many festivities occur every year on the occasion of Dussehra, followed by other festivals.
People start the preparations for the festivals one or two months earlier. The festival is a time of celebration and looking good, and everyone starts shopping for their outfit to look fabulous. Generally, everyone prefers to wear ethnic during the festive season. To give your ethnic outfit a glamorous and attractive look, you must add gemstone jewelry to your jewelry collection. When we become desperate to replace or renew our old things, why not upgrade our jewelry collection, which is in trend? In this blog, we will discuss the ethnic and modern trends of jewelry this Dussehra one must opt for.
Points to Recall while Buying Gemstone Jewelry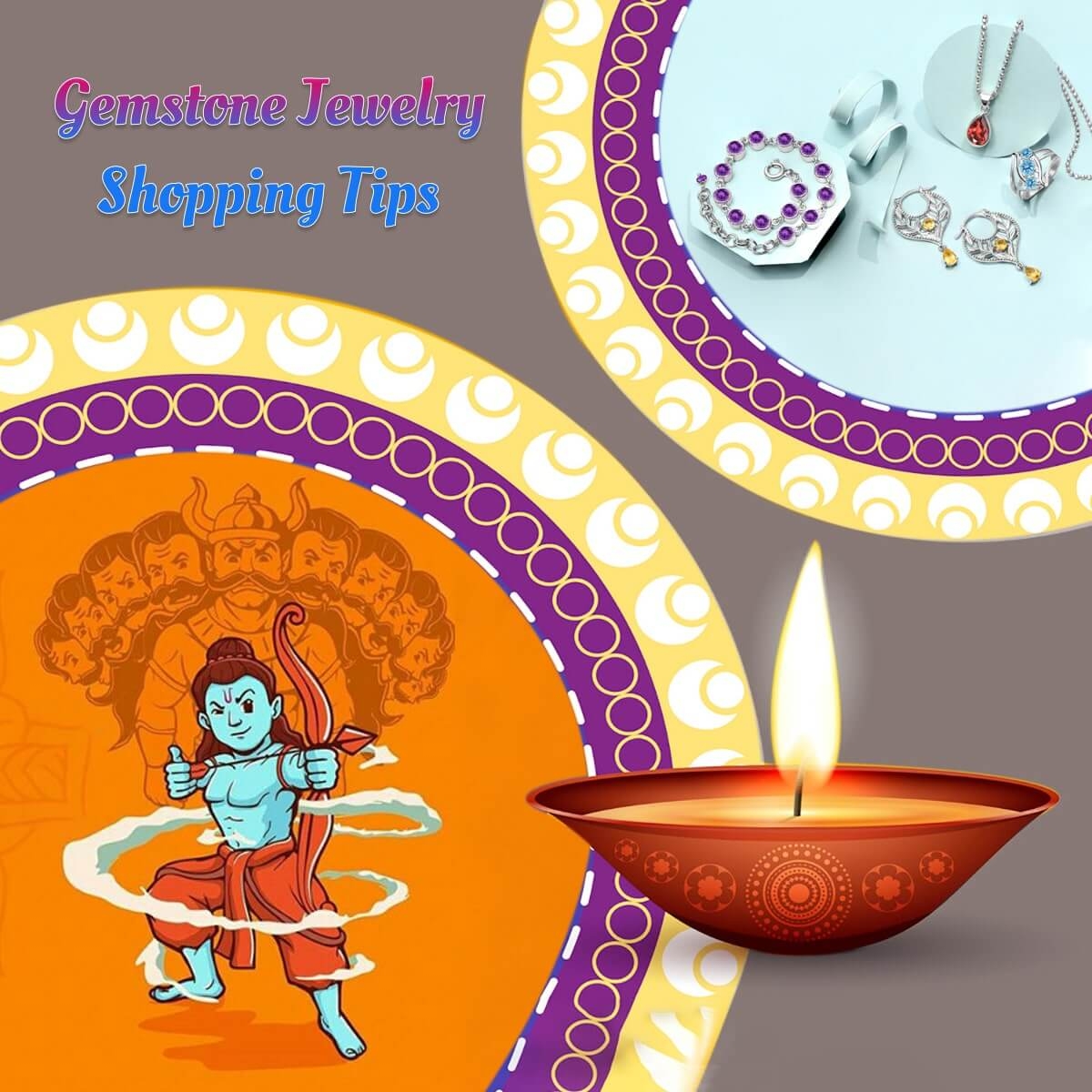 Before knowing about the gemstone jewelry that you can add to your collection, we must go through the points we must remember while purchasing gemstone jewelry. Everyone likes to look perfect on this special occasion, but you will look boring or incomplete without suitable jewelry. So, here are the points to know while adding gemstone jewelry to your collection:
Typical gold jewelry is now out of trend, and you must endeavor something extraordinary and captivating, such as Sterling Silver Gemstone Jewelry. You can peek into diverse designs and types from which you can choose.
You can choose any online or offline mode to purchase gemstone jewelry. Rananjay Exports offers you both options with 100% authenticity in your product. They have a comprehensive range of 200+ gemstone jewelry made with sterling silver.
Check out Rananjay Export's Alphabet Jewelry, Custom Jewelry, Handmade Jewelry, and Designer Jewelry collection to stand out and make a remark with your jewelry. With a vast choice, every piece is handmade, making it unique and distinctive.
Explore the most exquisite display of trendy jewelry you have ever seen. You can try something untried, from the smallest to the amplest pieces. Many weird and modern jewelry pieces are available at Rananjay Exports, and you can pair them with your festive getups to form a striking gaze.
You can now purchase reasonable, handmade jewelry that matches your budget from the leading wholesale gemstone jewelry manufacturer and supplier Rananjay Exports. The products available here are budget-friendly as they trade at wholesale prices.
So, these are some points one should remember while shopping for handmade gemstone jewelry.
Categories of Jewelry You Should Opt for This Dussehra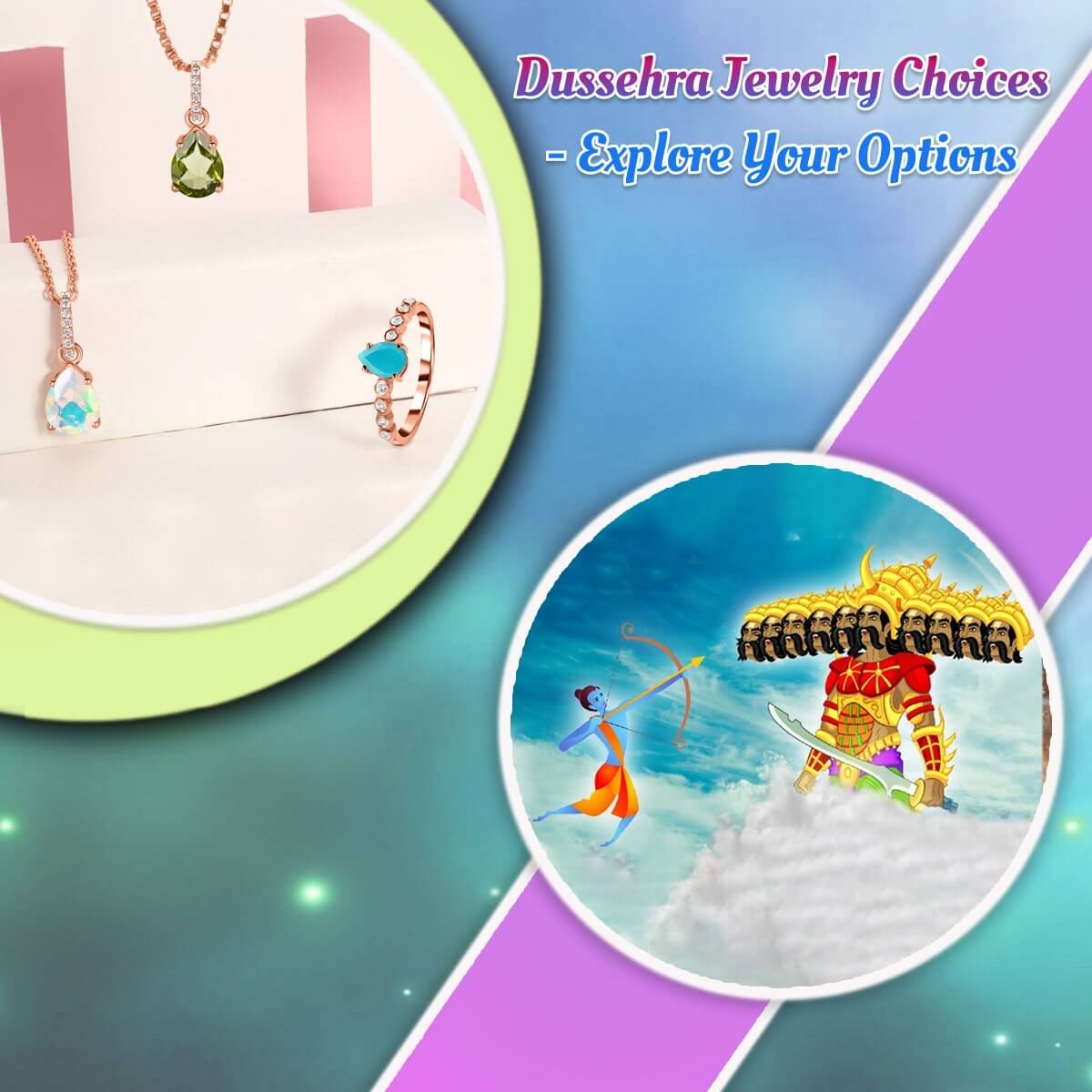 Dussehra is a traditional festival where individuals wear ethnic attire and beautify themselves with gorgeous handmade gemstone jewelry. To upgrade your festive look, selecting a suitable style of jewelry is necessary. Here is the list of what kind of jewelry one should opt for on special occasions, such as festivals, are as follows:
Rings:-
Add a touch of elegance to your Dussehra look by embellishing your fingers with stunning Gemstone Rings. You can opt for rings with complex designs or adorned with gemstones to give a hint of glamour. Rananjay Exports offers stylish Gemstone Rings perfect for ongoing trendy looks.
Earrings:-
Gemstone Earrings can add a stylish wrench to your outfit and provide a flawless finishing touch. They deliver a remarkable touch and are universally adequate to be worn at particular events or during a normal day. The numerous gemstones provide a multicolored, eye-catching array that completes outfits and upgrades your general style.
Bracelets:-
Upgrade your style with the good-looking, fantastic variety of Gemstone Bracelets available at Rananjay Exports. These bracelets add a sparkling glimmer and a brilliant style to your attire, creating them excellent for any occasion. Pick from miscellaneous kinds and find the one that serves your taste.
Necklaces:-
Make your outfit more attractive and eye-catching by adding Gemstone Necklaces. The delicate details of the necklaces you get at Rananjay Exports will fill your spirit with delight and the endless wish to attain one more. Those who like to represent their valiant class can find necklaces according to their desire that enhances their confidence.
Pendants:-
If anyone doesn't like to wear heavy necklaces but wants to wear something in the neck to upgrade their outfit, they should go for pendants. Gemstone Pendants available at Rananjay Exports will be an excellent option for those who love to wear minimal jewelry pieces. These designs are uncomplicated and easy to maintain with any outfit at any event.
So shop now and finalize your look with a piece of gemstone jewelry that releases pure classiness.
Gemstones to Wear on Dussehra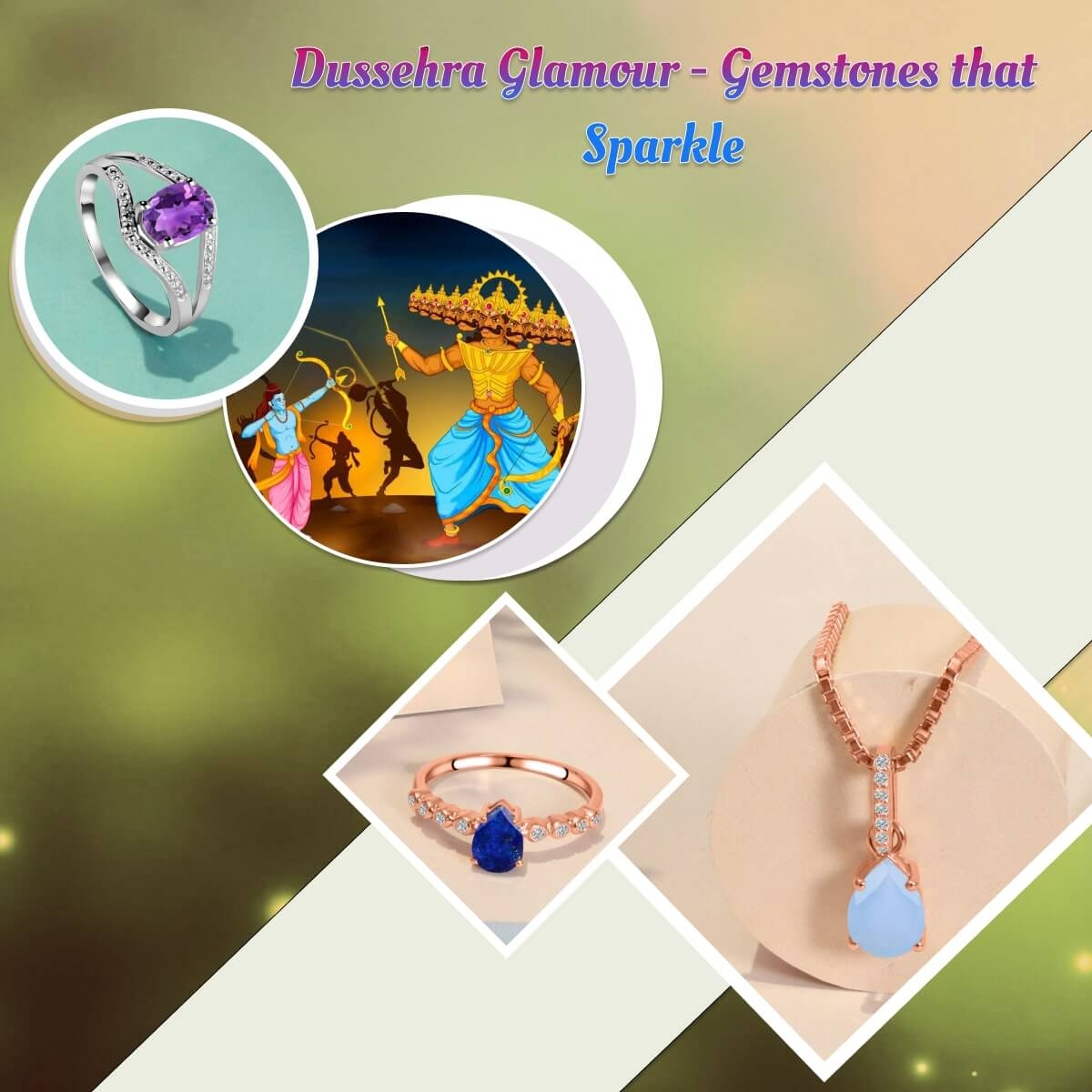 Several gemstones that can be a pleasing option to carry on Dussehra are Ruby, Emerald, Pearl, Amethyst, Tanzanite, Lepidolite, Pyrite, etc., are defined below:
The cost-effectiveness of a ruby depends upon its cut, clarity, and carat. Ruby is a positively sought-after gemstone because of its deep red color. The phrase "ruby" derives from the Latin word "ruber," which signifies red. In Sanskrit, ruby is known as "Ratnaraj," meaning "the king of all precious gemstones." People with Capricorn as a zodiac sign and July birth month can wear rubies associated with Root Chakra. You will get various Ruby Jewelry at Rananjay Exports, like Ruby Pendants, Ruby Rings, etc.
Emerald is one of the most precious green-colored gemstones from the Beryl family. Emerald is a gemstone that represents immortality and undying love. It describes expansion and fortune and is believed to maintain soothing properties due to its flawless green color. It has outstanding metaphysical properties that can deliver a profound feeling of comfort and relaxation. The stone is associated with spring, fetching pleasure to the heart and restoring fuel to the soul; that is why Emerald is associated with Heart Chakra.
Pearl is a gemstone that is not mined but found within an aquatic creature. They are formed inside mollusk shells as a natural defense mechanism. Pearls are among the world's oldest, most beneficial, and most exquisite jewels. Pearls have been known to encourage a feeling of tranquility and peace, enabling one to handle pressure, mood swings, and anxiety while also removing negative thoughts. Pearl is very beneficial for the Gemini zodiac, a June birthstone. It is associated with the Sacral Chakra, Heart Chakra, and Crown Chakra.
Amethyst is considered the ideal birthstone for those born in February. This gemstone offers various benefits to its users, including relaxing and nurturing the mind, encouraging insight, serenity, harmony, fearlessness, majesty, healthy relationships, and spiritual healing. Moreover, studies suggest that Amethyst can help reduce health problems related to circulatory issues, insomnia, arthritis, and pain. Additionally, it is associated with the Third Eye Chakra and Crown Chakra.
The stone's fetching hue has specified a color named after it, i.e., Turquoise color. It is accepted that wearing this stone can produce optimistic energy, upgrade inner tranquility, and offer guardians against the evil eye. The beautiful blue color is associated with happiness and safeness, and it is often worn as a charm due to its protective properties that can ward off troubles and bring positivity into one's life. Turquoise is the birthstone for those born in December and the zodiac sign Sagittarius. It is associated with the Throat Chakra.
In Hindi and Sanskrit, the garnet is known as Raktamani, meaning "blood-red stunning gem." It also advances prosperity, spirituality, enthusiasm, and imagination. Earlier, garnet was thought to be a divine gemstone that can sense the danger approaching the wearer. It was believed earlier that it indicates the negativity coming to the wearer by turning slightly yellow. It is also associated with the Chakras- Root Chakra and Crown Chakra. Garnet is the birthstone for January, and it is best suited for the Capricorn zodiac.
Ending Note
Rananjay Exports is India's most trusted online wholesale jewelry manufacturer and supplier. It has served the jewelry industry since 2013 and has maintained happy clients worldwide. The company has a wide range of Ruby Rings, Ruby Pendants, Emerald Necklaces, Emerald Bracelets, Pearl Rings, other Pearl Jewelry, Turquoise Rings, Turquoise Pendants, Garnet Rings, and other Garnet Jewelry. Rananjay Exports proposes gemstone jewelry that is ethically and sustainably sourced. Their commitment to sustainability and grade has made them a respectable and renowned name in the jewelry manufacturing enterprise.