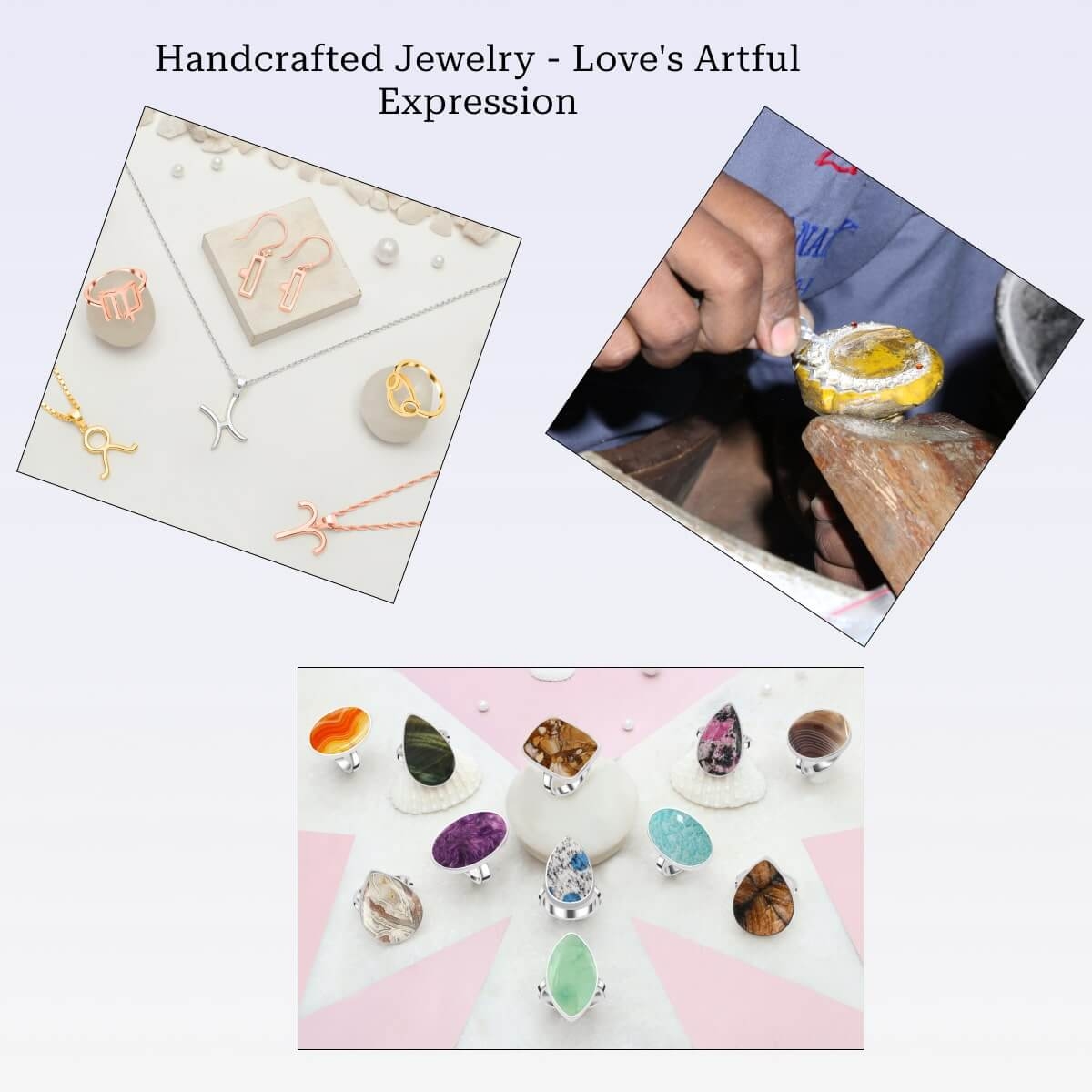 Do you want to gift something special to your special ones but not get an idea? Also, are you tired of gifting someone a watch, decorative items, books, etc.,. Every time we get confused about gifting someone special on special occasions. But one day, I thought of gifting someone a handmade item. And the idea struck in my mind to give handmade jewelry. Talking about my personal experience, whenever I gift my loved ones handmade jewelry, I feel overwhelmed as they like my gift so much. I am not saying to gift everyone handmade jewelry; it will surely loosen your pocket. But giving a handcrafted piece of jewelry can be a grand gesture of love. In this blog, we will discuss handmade jewelry and why handmade jewelry is considered a unique gesture of love.
Jewelry is an important part of our daily lives. It enhances your beauty and is considered the expression of love and affection. And there is something special in handmade jewelry. Not for gifting purposes, but if you are a jewelry lover, handmade jewelry will be the best option to add uniqueness to your piece. Most people still don't understand the importance of handmade jewelry compared to readymade and mass-produced jewelry items. Several reasons explain why handcrafted jewelry is more of an asset than elements made in abundant amounts. Let us know more about handmade jewelry.
Types of Handmade Jewelry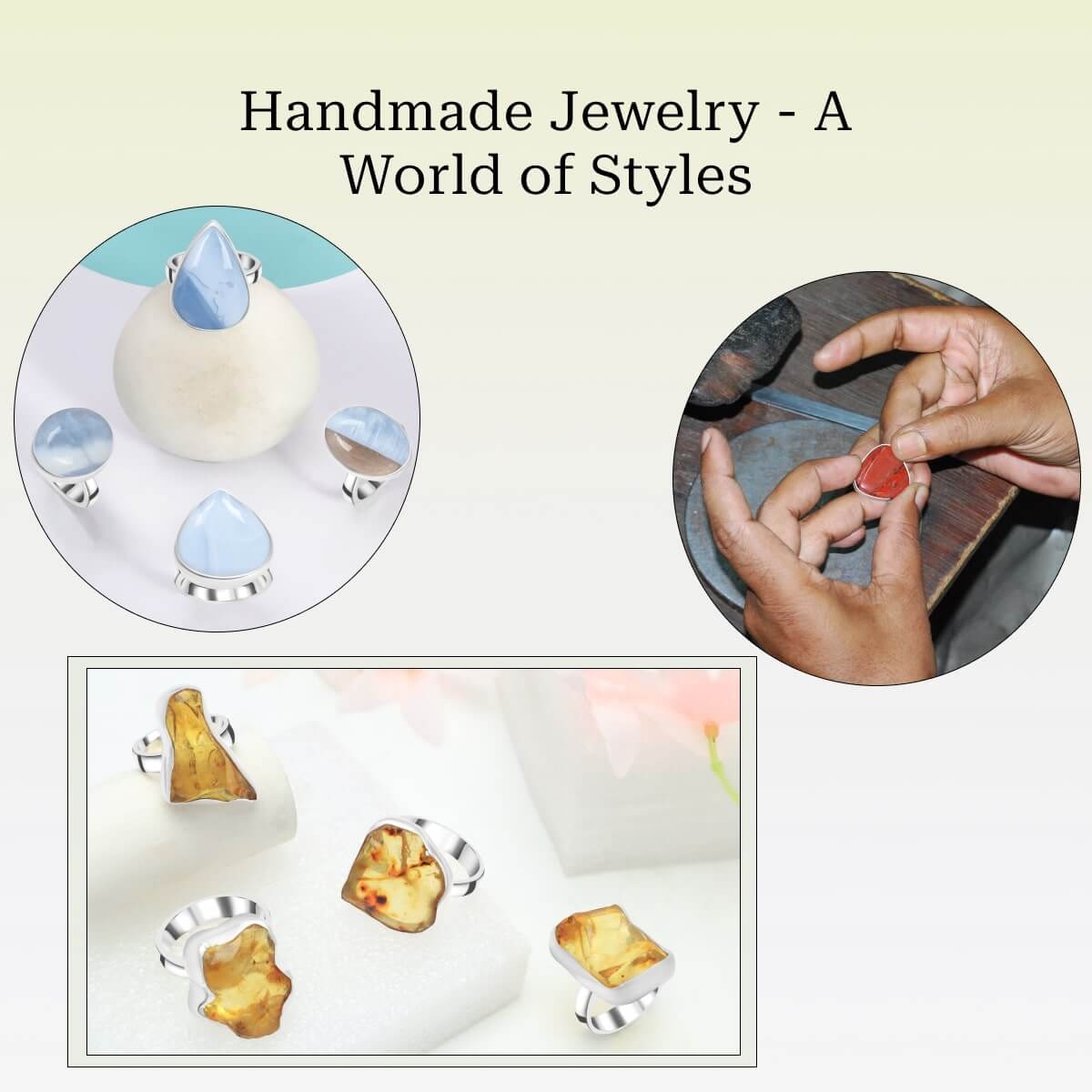 Let us first know how many types of handmade jewelry are there or available in the markets. Handmade jewelry is a component of civilization in many parts of the world. Handmade jewelry can be created using unique materials and procedures, especially done manually. There are several types of jewelry are mentioned as follows. Some of the below-mentioned handmade jewels are pretty widespread throughout the world.
Gold jewelry
Silver jewelry
Metallic jewelry
Polymer clay jewelry
Wax Jewelry
Fabricated jewelry
Wood Jewelry
Enameled jewelry
Paper jewelry
Terracotta jewelry
Crochet jewelry
Carved jewelry
Wire-wrapped jewelry
History of Handmade Jewelry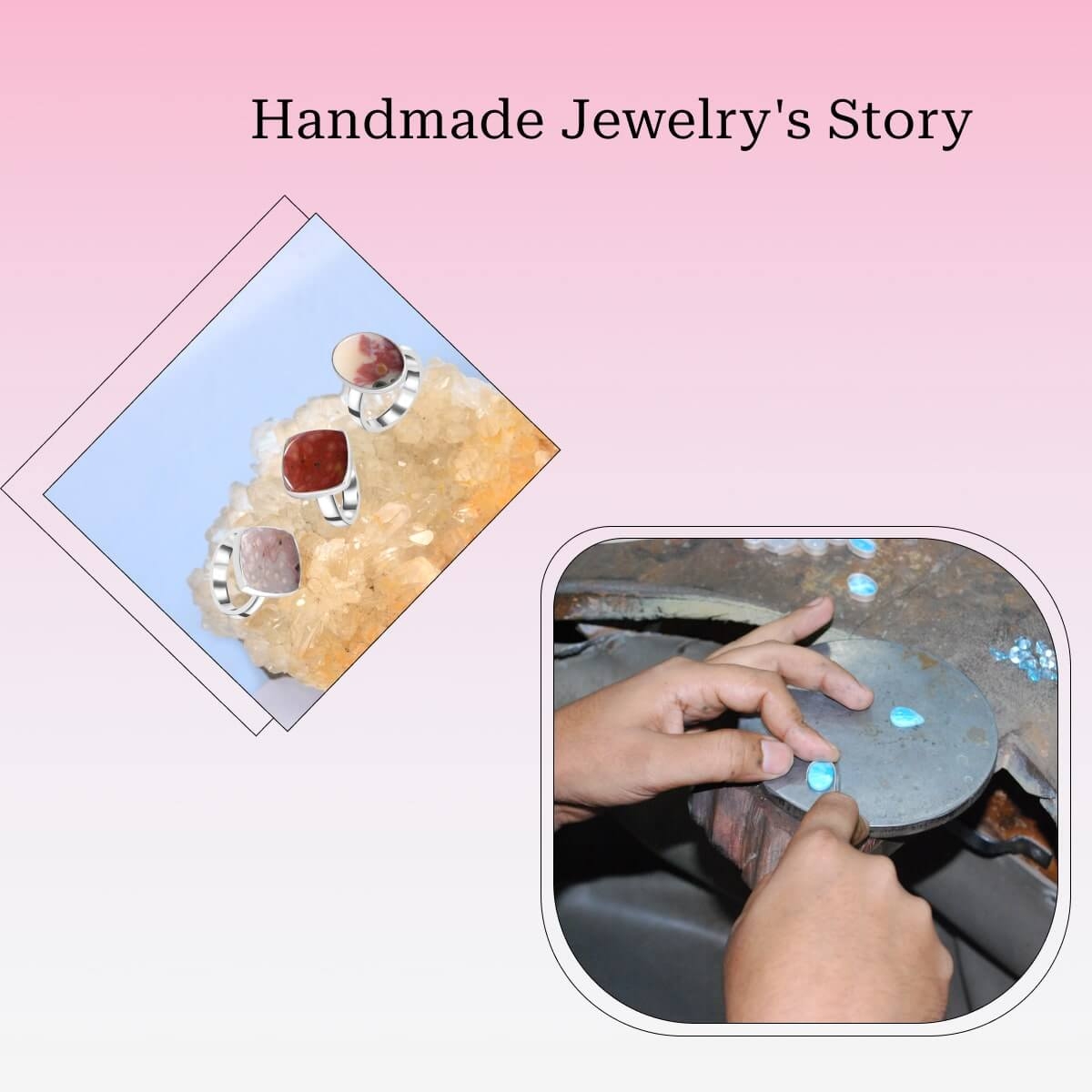 Handmade jewelry has been a popular form of art for a long time. It has been around for thousands of years. Neanderthals in Europe have an ancient record of making handmade jewelry. 115,000 years ago, sea shells and small stones were used to make Pierced Beads in Cueva de los Aviones cave situated on the southeast coast of Spain. After that, humans started using tusks, teeth, and bones to make different types of jewelry pieces. The copper metal started being used for making handmade jewelry about 7,000 years ago. Ancient Egyptians were among the foremost to produce prominent handmade jewelry 3,000-5,000 years ago. Wearing jewelry at that time symbolized religious beliefs, political power, and wealth.
Greeks were also similar to Egyptians in using gemstones, but they preferably used gold for metal engraving. Over time, during the Middle Ages, pieces of jewelry were made and used for barter systems. The Indian history of handmade jewelry from the Indus Valley civilization continued for 5,000 years. In 1500 BC, the ancient individuals began creating handmade jewelry of different metals and gemstones. The most vast jewelry trade was of beads earlier to 2100 BC. Then, the beliefs and popularity of handmade jewelry increased during the Vedic and Mughal periods. And Indian Jewelry from the 19th and 20th centuries till the 21st century serves worldwide.
The tradition of handmade jewelry-making has endured for centuries and still continues today. From simple and twisted wire designs to more detailed pieces embellished with glass beads, minerals, gems, and pearls, this craftwork continues to develop as life goes on. It is a never-ending trade throughout the world and keeps evolving according to time and demand.
Difference Between Handmade and Mass-made Jewelry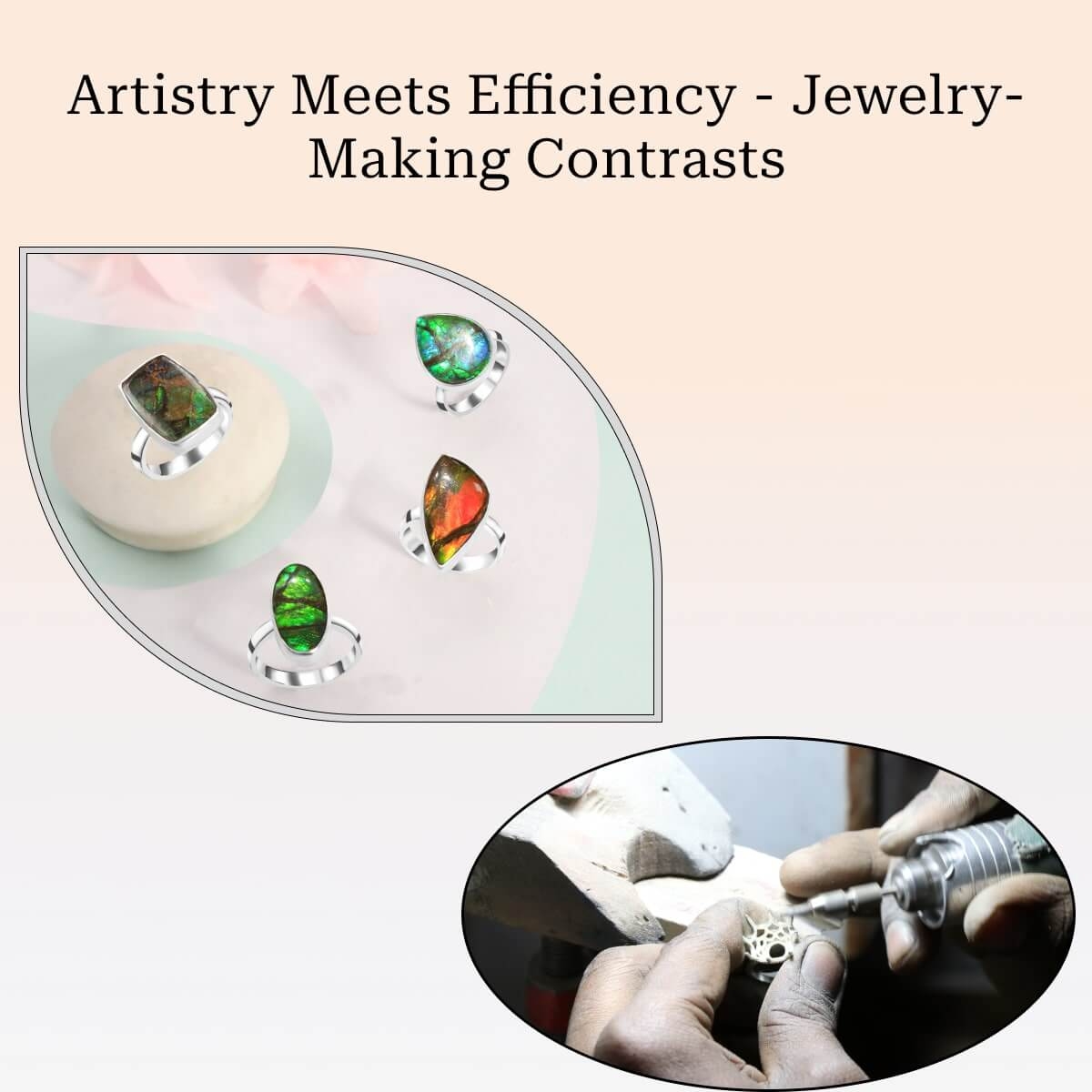 Let us differentiate between Handmade and mass-made jewelry pieces.
Handmade Jewelry:-
These are the jewelry handcrafted by skilled and talented artisans. These jewelry pieces are in a class by themselves and unique, so you will never find a similar item again. It requires complete concentration and attention while giving details to the jewelry. The handmade jewelry is made with the best quality items. But on the other hand, it is a very time-consuming and expensive process with limited designs. So, one can go for customized handmade jewelry with every detail engraved according to your choice, making it more unique.
Mass-made (machine-made) Jewelry:-
Mass-made (machine-made) jewelry is produced using machines, as resisted to being prepared by hand. It varies from the traditional method of jewelry-making. It is more affordable and available in the market in a large variety. The designs and quality are consistent. This type of jewelry is produced at a faster rate. On the contrary, these types of jewelry will have no individuality and uniqueness. Mass production will compromise the quality, jewelry-making ethics, and purity. It will lack art and creativity.
Reasons Why One Should Try Handmade Jewelry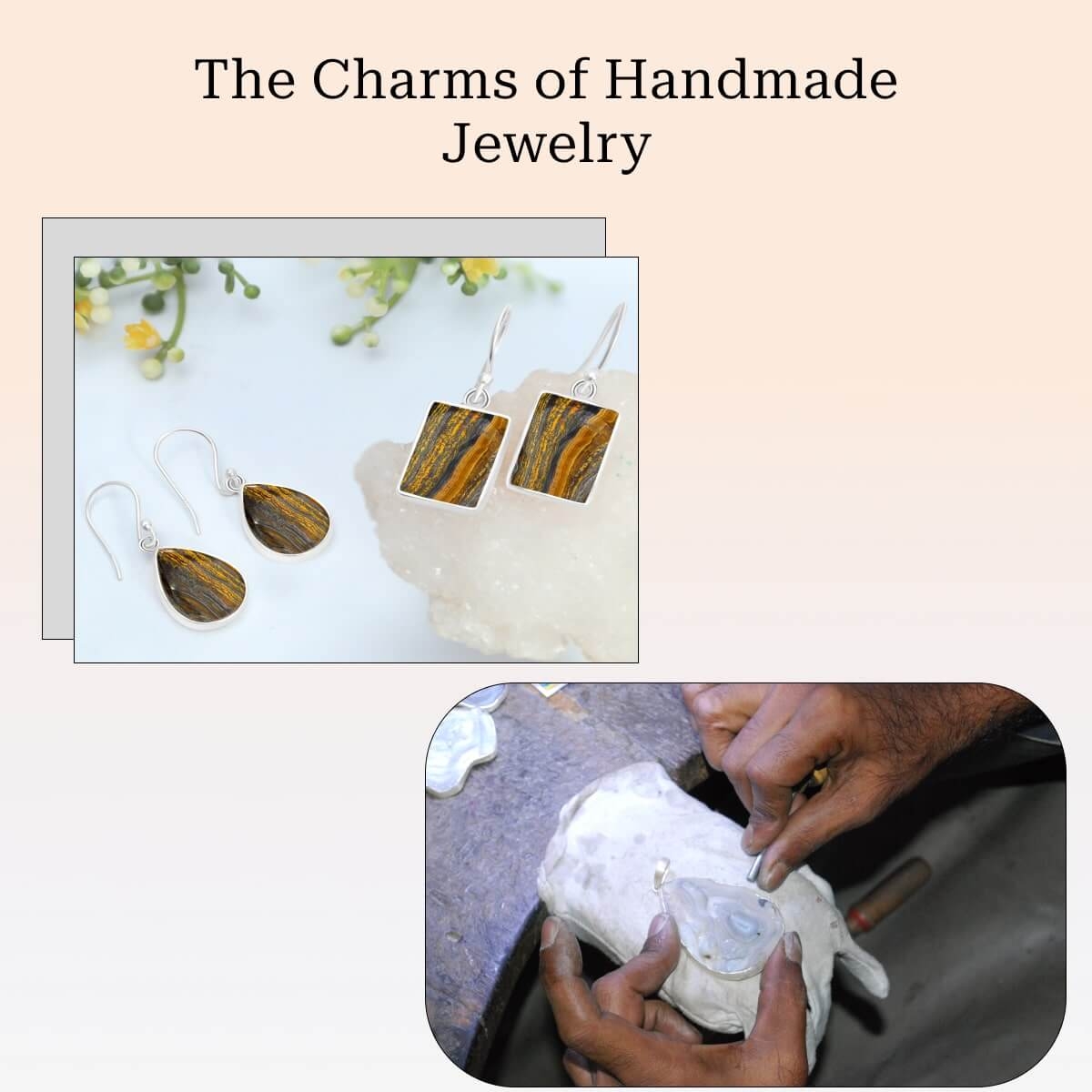 Handmade jewelry is the best option, as one can add personal preferences to their piece of jewelry. Find the perfect piece made with love from beautiful handcrafted jewelry, such as rings, earrings, pendants, bracelets, etc. Jewelry is not just an accessory that you wear to enhance your beauty. You can find limitless options of beautifully handcrafted jewelry at Rananjay Exports. Handmade jewelry can be a way to express oneself and style. Through handmade jewelry, you can reflect individual and personal choices. So, take a glance at the reasons why one should try or opt for handmade jewelry.
More Personalized
Owning handmade jewelry offers a sense of personalization instead of settling for mass-produced, factory-made items. Whether it's an engagement ring or a simple pendant, the custom-made design and transparency are thoroughly curated according to your preference, starting from the first step. Jewelers are sincere about their work. They put their heart and soul into each jewelry piece. They take time and create something unique and of excellent quality. At Rananjay Exports, jewelers are dedicated to everything from starting to finishing steps.
Quality
The main plus point of preferring handmade jewelry is that the artisans use the best quality products. Ensuring and supporting high quality is something that is more manageable and crucial in small-scale production due to the amenity of observing the procedure and promptly taking curative action. Moreover, artisans meticulously source high-quality materials, closely watch their work, and ensure the production of a high-end product. They will not produce anything with low quality as these artisans are prominently famous for the quality they produce.
Best Gifting Option
Expressing love is the most beautiful thing in the world, and expressing it by gifting handmade jewelry pieces, such as pendants, bracelets, rings, earrings, etc., is the best option. It will show your love, care, and affection towards that person. When you opt for handmade jewelry for gisting, it is clear how connected you are to that person; also, it shows your emotions for that person. Handmade gemstone jewelry is the best thing to present to someone. You can also use gemstone jewelry as an engagement ring, which is less costly than diamonds.
Sustainability
Jewelry makers prioritizing sustainability and ethical sourcing often face higher costs than those choosing cheaper, unethical sourcing. Handcrafted jewelry is made using materials that have been ethically sourced. While this may increase the price compared to mass-produced products, which usually use low-quality materials and cut costs by sourcing from refiners or agents, ethical sourcing gives handmade jewelry a distinct advantage in terms of unique design elements and superior quality. At Rananjay Exports, all handmade jewelry is crafted using ethically sourced metals and gemstones.
Environmental Factors
These handmade pieces show excellent craftsmanship and eco-friendliness. Shopping for handcrafted jewelry locally and from local artisans is a great way to ensure quality, but it also helps lower the environmental effect of the products. By decreasing the space between sourcing raw materials to sales, local makers cause less pollution and waste. We must ensure that we purchase and support local jewelers. Contributing to something meaningful is truly rewarding. The money they earn can be their daily bread and butter. We must help small artisans.
Where to buy?
We probably wear the types of clothes that represent our personality. Similarly, we love to wear jewelry that suits and represents our personality by enhancing it. Rananjay Exports is a leading gemstone jewelry manufacturer and supplier, offering a wide range of beautiful handmade jewelry that will mesmerize you. The vivid colors of these gemstones make them highly versatile, and they are available in various styles, including rings, earrings, ear studs, pendants, necklaces, and more, all made of 925 sterling silver.
At Rananjay Exports, you can find a carefully curated selection of wholesale sterling silver gemstone jewelry, as well as many special offers. Whether you're looking for custom jewelry, casting jewelry, handmade jewelry, or designer jewelry, you can find it all in one place. So, why wait more? Go and explore the limitless range of gemstone jewelry at Rananjay Exports today!