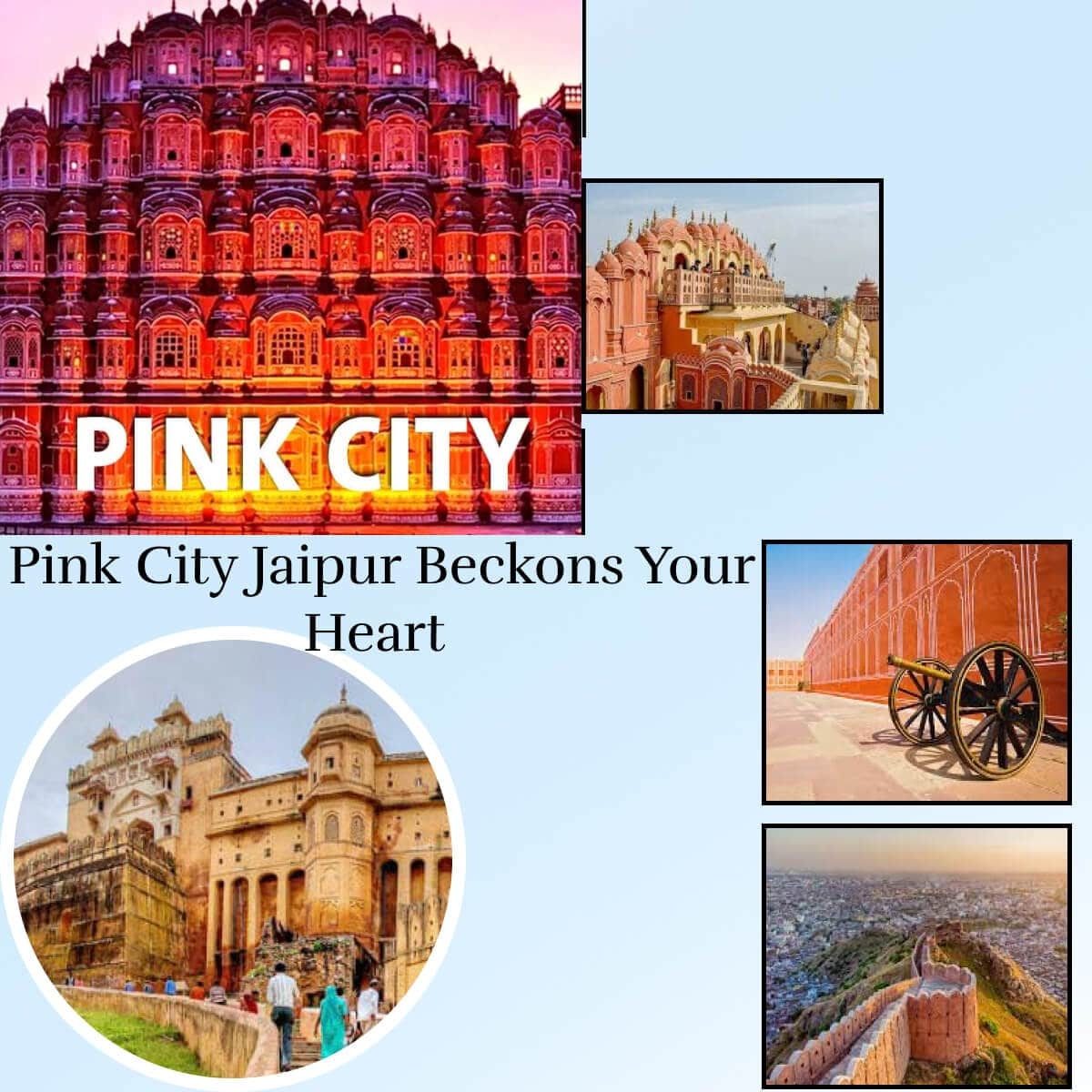 Jaipur, known as the Pink City, is the largest city in Rajasthan. It was founded in AD 1727 by Maharaja Sawai Jai Singh II and is renowned for being the first city to be planned by Vidhyadhar Bhattacharya. In 1876, when the Prince of Wales visited India, Maharaja Ram Singh of Jaipur painted the entire city pink, giving it a unique and vibrant appearance and a symbol of hospitality. In 2019, Jaipur, popularly known as the Pink City of India, was added to India's World Heritage Sites by the UNESCO World Heritage Committee. Additionally, the city is connected to two UNESCO World Heritage Sites - Amer Fort & Palace and Jantar Mantar Royal Observatory. Jaipur is among the best tourist places in India and South Asia, by many famous consortiums. It is also known as the "Paris of India."
Visitors to Jaipur are immediately captivated by the city's charm. Known as the Pink City, it is steeped in tradition, history, and culture, boasting stunning architecture and picturesque lakes, and surrounded by the beautiful Aravali ranges. The city's rich offerings, including its delicious cuisine and friendly locals, will undoubtedly entice you to return again and again. One visit is enough to make you fall in love with the city. You may be surprised that this city offers much more than you initially thought. As someone who has spent considerable time in Jaipur, I must say that the Pink City is genuinely mesmerizing, and one can't help but fall in love with it.
Apart from the characteristics mentioned earlier of Jaipur City, below we will discuss the countless magical pleasures of this city. After experiencing all of this, you won't be able to resist falling in love with the Pink City.
Locus, Palaces and Forts:-
Jaipur is a city with many tourist attraction spots, palaces, and Forts. Over the years, the architectural vividness of these spots from many centuries ago has infatuated people from all over the world. The places include Amer Fort and Palace, Jaigarh Fort, Nahargarh Fort, Jal Mahal, Diggi Palace, Hawa Mahal, City Palace, Rambagh Palace, and Sisodia Rani Fort and Palace. Some gardens and temples are Garh Ganesh Temple, Govind Dev Ji Temple, Sri Sri Krishna Balram Temple, Moti Dungri Ganesh Temple, and Kanak Ghati. Famous shopping spots are Nehru Bazar, Bari Chaupar, Choti Chaupar, Bapu Bazar, Chaura Rasta, Johri Bazar etc. There are still many other places to add to the list that haven't been mentioned yet.
Cultural and Rich Heritage:-
The phrase refers to the customs, beliefs, art, music, and other aspects of the social behavior of a particular place, group, or society. The culture and rich heritage of a place make it unique and worth exploring. It is a pride for us that, as mentioned earlier, Jaipur is India's World Heritage Site by the UNESCO World Heritage Committee. The culture of Jaipur holds handicrafts like blue pottery, handmade mojris, gems and jewelry, and lifestyle. Also, it is famous for arts and crafts, food, fairs, festivals, performing arts, language and love of people. Old Rajasthani touch can be felt when it comes to the culture and heritage of Jaipur.
Keeping Traditions Along with Modernity:-
It is essential to balance preserving traditions while embracing modernity in today's world. Jaipur is a city where traditional values coexist with Western influences, creating a unique fusion of cultures. Jaipur offers various means of transportation, from old-school camel and elephant rides to modern air flights and from Forts to shopping complexes; it comes a long way. The people are rooted in their traditions along with globalization and modernization. They adhere to their rituals, culture, practices, and values and take great pride in them. We can see both men and women wearing vibrant Rajasthani attire in the 21st century.
Authenticity in food:-
Authenticity is an essential aspect of food as it provides a unique sensory experience that processed or artificial foods cannot replicate. Jaipur is famous for delicious and inviting Rajasthani food, including Daal Bati Choorma, Ker Sangeri, Bajre, or Makke ki Ghat, Gatte ki Sabji, Missi Roti, authentic Laal Maans, and the most mouth-watering sweet dishes Ghewar and Mawa Kachori. Every bite of these foods tastes like the charm of Rajasthan, prepared with love and affection. These Rajasthani dishes are genuinely delicious and packed with flavor. Jaipur has a wide range of food options available throughout the day, from breakfast to late-night snacks, so you will never feel underfed.
Fairs and Festivities:-
Fairs and festivals offer a unique opportunity to learn about a city's traditions, lifestyles, and diverse cultures. These events support local businesses and generate revenue for the community. Jaipur has several festivities, including the Elephant Festival, Teej Festival, Gangour Festival, Kite Festival, Holi, Diwali, Chakshu and Sheetla Mata Fair, etc. Typically, these events are organized by local communities, authorities, or private organizations and serve as a platform for people to socialize in numerous activities. Jaipur is known for its vibrant festivals, with Gangour Festival and Elephant Festival being two of the most popular.
Shopping Series:-
One cannot resist going on a shopping spree in Jaipur when you have major shopping destinations. Jaipur has many famous shopping areas that attract you to purchase something to remember your trip. The traditional markets include Sireh Deori Bazaar, Mirza Ismail Road (MI Road), Anokhi, Purohit Ji Ka Katla, Kishanpole Bazaar, Chandpole Bazar, Tibetan Market, Johari Bazaar, Tripolia Bazaar, Kripal Kumbh, Nehru Bazaar, Bapu Bazaar, and Gaurav Tower, where you can buy authentic rajathani cultural heritage items. It also has some shopping malls, such as Pink Square Mall, Triton Mall, MGF Metropolitan Mall, City Mall, World Trade Park Mall, GT Central Mall, Crystal Palm, Elements Mall, and Matrix Commercial Mall.
Jaipur is best for those who love exquisite jewelry. The city is famous for its Jewelry market, apart from food and heritage. Jadau Jewelry, Thewa Jewelry, Kundan Jewelry, and Meenakari Jewelry are the most prominent types of jewelry found in Jaipur. Jewelers use gemstones such as Sapphire, Amethyst, Emerald, Ruby, Pearl, Opal, Labradorite, Turquoise, Moonstone, Larimar, Moldavite, and many more to make gemstone jewelry in gold and silver.
You can find the best jewelry, such as Zodiac Sign Jewelry, Chakra Jewelry, Birthstone Jewelry, Alphabetic Jewelry, and many others, at Rananjay Exports, apart from these markets. They make jewelry in 925 sterling silver with the purest percentage at wholesale rates.
After discovering these beautiful things, is there still any doubt about falling in love with Jaipur? The city truly lives up to its reputation and is a destination you should take advantage of. You must call the Pink City at least once and experience the magic.