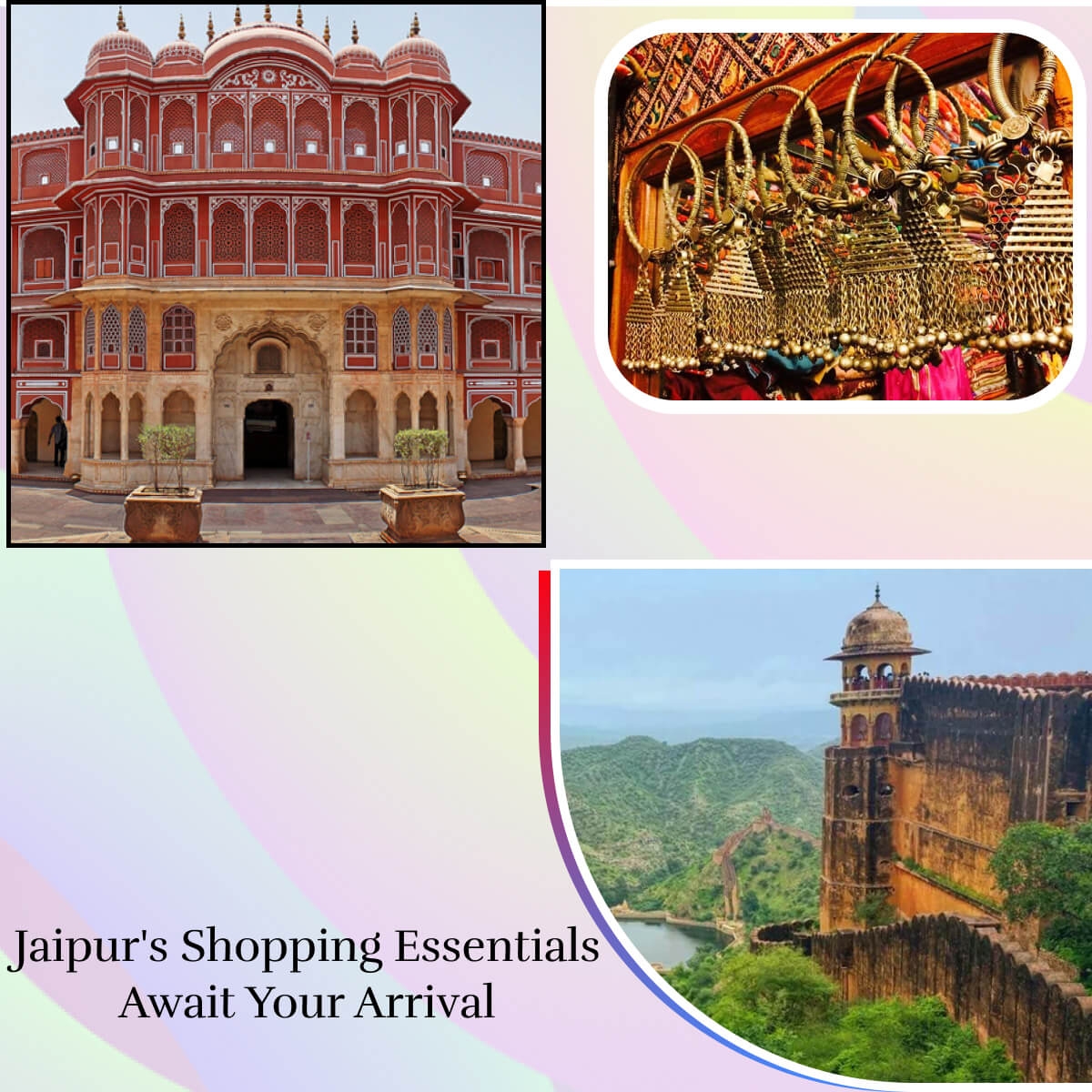 Jaipur City is located in the Indian state of Rajasthan, also known as the "Pink City." Its buildings are predominantly pink, earning it the nickname "Pink City." It is often called the "Paris of India" and was once announced as the Island of Glory by C.V. Raman. It is a famous tourist harbor and a commercial trade and commerce center with rail, massive roads, and air links. The city is renowned for its beauty and unique beeline planning. The city is also notorious for its art and culture, architecture, food, climate, festivals, education, and, apart from that, tourist attractions. The forts and monuments, such as City Palace, Hawa Mahal, Nahargarh Fort, Jaigarh Fort, Jal Mahal, Rambagh Palace, and Amber Fort, are remarkable worldwide. This list also includes some gardens and temples such as the Garh Ganesh Temple, Govind Dev Ji Temple, Moti Dungri Ganesh Temple, Sri Sri Krishna Balram Temple, Central Park, Sisodia Ranj Garden and Palace, and Kanak Ghati. Due to this, Jaipur tourism has contributed so much to the economy's direction.
Many people from or out of the country come here for long vacations. As we all know, holidays are only considered complete with some shopping. And when you are in Jaipur, there are so many things to fill your shopping bags. In Jaipur, there are famous markets like the Bapu Bazar, Bari Chaupar, Choti Chaupar, Nehru Bazar, Chaura Rasta, and Johri Bazar, and the list is extensive and seems to be never-ending. There are many extraordinary things in Jaipur that you will never find anywhere else.
So, if you're planning a trip to Jaipur, there are some must-have items you should take advantage of buying. Here are some of the best things to buy from Jaipur.
Meenakari Art Items:-
Jaipur is known for its exquisite Meenakari items and showpieces, a significant attraction for visitors. It is a well-known art of adorning metal surfaces with beautiful colors that enhance the design aesthetics. The prominent colors used for this traditional artwork are red and green, but also beautified in other colors. These designs are unique and lightweight and look outstanding when especially done on jewelry pieces. These art pieces are decked with beautiful and vibrant colors, making them a perfect gift for friends and family.
Where To Buy - Johri Bazar.
Mojris:-
Mojris are the traditional footwear of Rajasthan and are widely found in Jaipur. The variety of Mojris available will captivate and make you fall in love with them. The Mojris are traditionally handwoven juttis dressed with cow shells, beads, mirrors, and brass nails. Renowned designers like Manish Malhotra and Ritu Kumar and have paired mojris with their outfits. It is sometimes difficult to choose one as it is embroidered in many beautiful designs and colors. Juttis and Mojris are traditional Indian footwear worn to demonstrate royalty.
Where To Buy - Nehru Bazar.
Blue Pottery:-
Blue pottery is a conventional traditional art skill of Jaipur, which appeared in the 17th century. It is made without clay, which differentiates it from traditional ones. Powdered glass, gum, quartz stone powder, Multani mitti (fuller's earth), borax, and water are combined to create the mixture. Soda bicarbonate is sometimes added to the amalgamation. Add pots, jars, plates, vessels, containers, ashtrays, etc., to the blue pottery collection. Blue pottery is a type of ceramic that is characterized by its extensive use of cobalt-based blue dye.
Where To Buy - Bapu Bazaar, Civil Lines.
Lac Bangles:-
Civilization's most traditional and oldest form of jewelry is bangles. Lac bangles are produced in Jaipur and are considered divine. In Jaipur, it is mandatory for newly married women to wear lac bangles. The bangles come in various styles, adorned with beautiful colors, stones, and alloy inflection. You will feel astonished to see the wide range of lac bangles. Customized lac bangles can be made at the time of purchase in Jaipur's markets in addition to pre-made options.
Where To Buy - Johri Bazar, Bapu Bazar.
Ghewar:-
Not just decorative traditional items, Jaipur is also famous for appetizing and flavorsome Ghewars". Ghewar is a sweet dish traditionally prepared during the "Teej and Gangour" festival, which occurs at the commencement of the monsoon season. Women in Rajasthan often consume it to break their fast during these festivals. Ghewar is a famous sweet in Jaipur known for its crunchy texture and delightful taste. It can be available anytime without season at any sweet shop in Jaipur. Don't miss out on this particular dish unique to Jaipur.
Where To Buy - You can at any sweet shop.
Traditional Prevalent Textiles:-
The traditional 'Tie and Dye' technique is famous for creating exquisite clothing in the city. Some of the prevalent textiles of Jaipur that you should shop for include Lahariya Chunnis and Lahariya sarees, traditional turbans, Bagru, Bermeri, Kota Doria, Sanganeri suits and kurtis, Bandhani and Bandhej Dupattas. These textiles are very famous in Jaipur markets. The creation of layers or layering inspires the Lahariya design. Bandhani and Bandhej are traditional Indian textile arts where the use of red color represents a new Hindu bride, while yellow signifies maternity. It is also used to make traditional turbans. All these conventional textiles define the heritage of Rajasthan.
Where To Buy - Johri Bazar, Bapu Bazar
Embroidered Fabrics, Handbags, and Bedsheets:-
The wide varieties of embroidered handbags, bedsheets, and fabrics attract tourists to Jaipur. When visiting Jaipur, be sure to check out these items that are not only affordable but also of the highest quality. The embroidered bedsheets will provide an aesthetic look to your bedroom. Whereas fabric transformed into suits or kurtis, according to you, will make you look different and unique. Handbags have a beautiful color combination that will go with any modern or traditional outfit. These bedsheets, fabrics, and handbags are hand-woven and called Handicrafts.
Where To Buy - Johri Bazar, Bapu Bazar
Gems And Jewelry:-
Jaipur is known as the center of the jewelry industry, making it a popular destination for tourists to purchase various types of jewelry. When visiting Jaipur, purchasing handmade necklaces and jewelry with precious gemstones is a must-do activity. If you are looking for jewelry, Jaipur has a variety of options available, such as silver, kundan, gold, and more. Besides jewelry, you can also find every type of gemstone according to your birth month, zodiac, or even liking.
Where to Buy - Rananjay Exports. One of the best wholesale gemstone jewelry manufacturers and suppliers. They offer a wide range of birthstone, chakra, and zodiac sign jewelry curated in 925 sterling silver with flawless finishing and various styles that cater to customers' demands. They provide authentic products at a wholesale price.
Miniature Paintings:-
Miniature paintings are typically small in size but require a tremendous amount of skill and precision to create. These paintings are often highly detailed and intricate and can be made using various techniques such as watercolor, gouache, and oil. Despite their small size, miniature paintings can be precious and are highly sought after by collectors and art enthusiasts. These artistic creations are some of the most popular souvenirs tourists and visitors purchase in Jaipur. The paintings portray captivating scenes of palaces and forests from the artist's imagination, showcasing their creativity and skill.
I want to end my words by adding Jaipur is known as the ultimate shopping destination. The city offers a wide range of products that will entice you to purchase. Jaipur's rich cultural heritage is reflected in the beauty of every item found in the city. If you're wondering what to buy in Jaipur, check out these items that will elevate your city shopping experience.
The list ends with these items and includes Antiques, Puppets, Metalwork, Jaipuri Rajai (quilt), and many other things you will find on the streets of Jaipur. After knowing the top things to buy from Jaipur, plan a visit to the city and enjoy shopping.