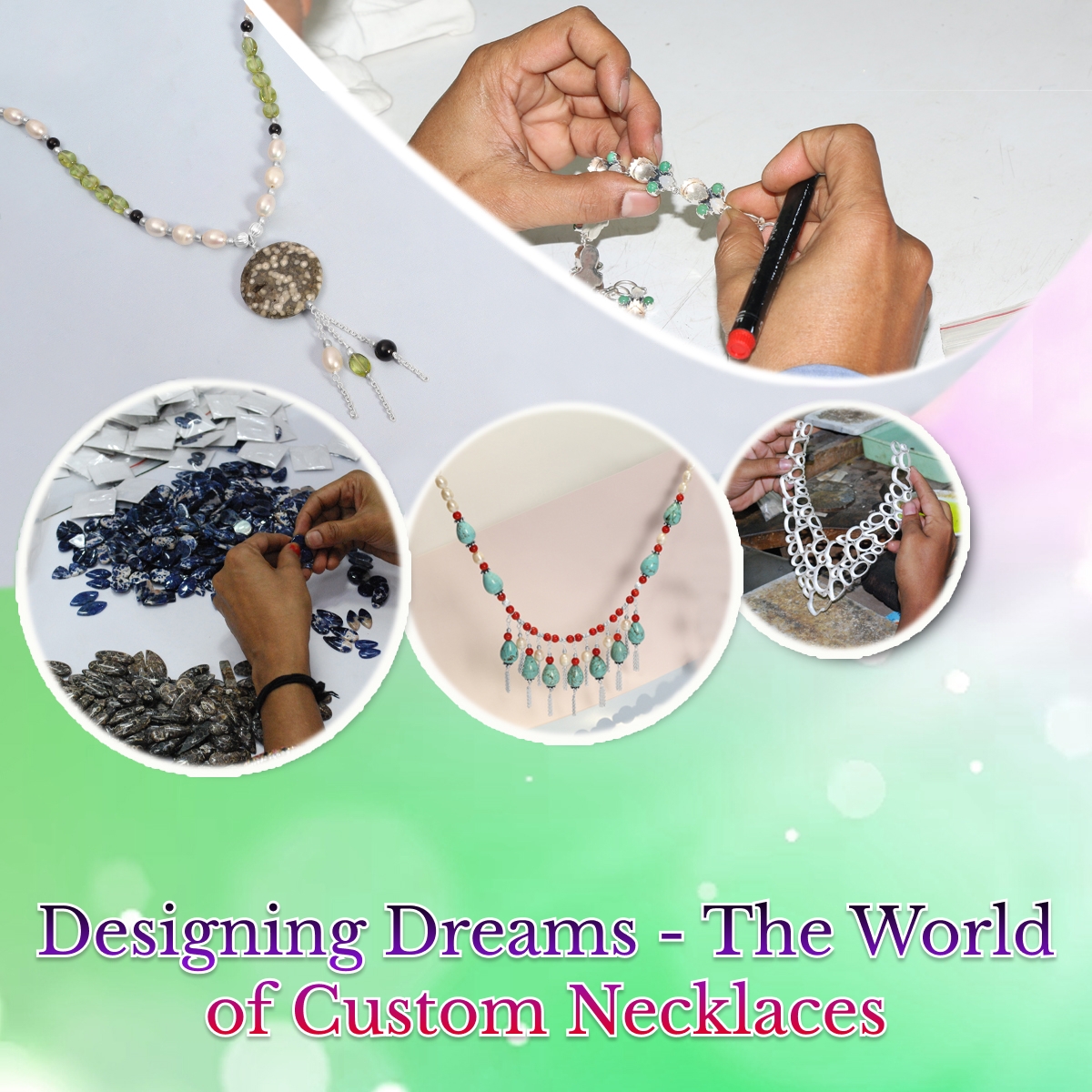 Introduction
Out of all the jewelry designed for our clientele by our expert jewelry designers and artisans, the custom necklaces make the boldest statement. Perhaps it is so because the gemstone necklaces are the most eye-catching, and there is no piece of jewelry more noticed than the one worn at the neck. No wonder a beautiful, customized necklace can add unique beauty to your personality and set the tone for the occasion. It does not matter whether your style is casual or formal, it does not matter whether you want to portray yourself as conservative or adventurous, our designers can create custom necklaces that capture the mood and character that you want to showcase.
We know, that even the thought of designing a customized necklace overwhelms you and puts you into a state of stress. Don't worry, for designing your custom necklace, the only ability you need is the quirk of separating the elements of style that appeal to you from the ones that you dislike. If you have this quirk, you can get the customized necklace of your dreams made by us. We will discuss the topic of customization, but first, let us get familiar with the different types of necklaces.
5 Different Types of Necklaces That Never Go Out of Fashion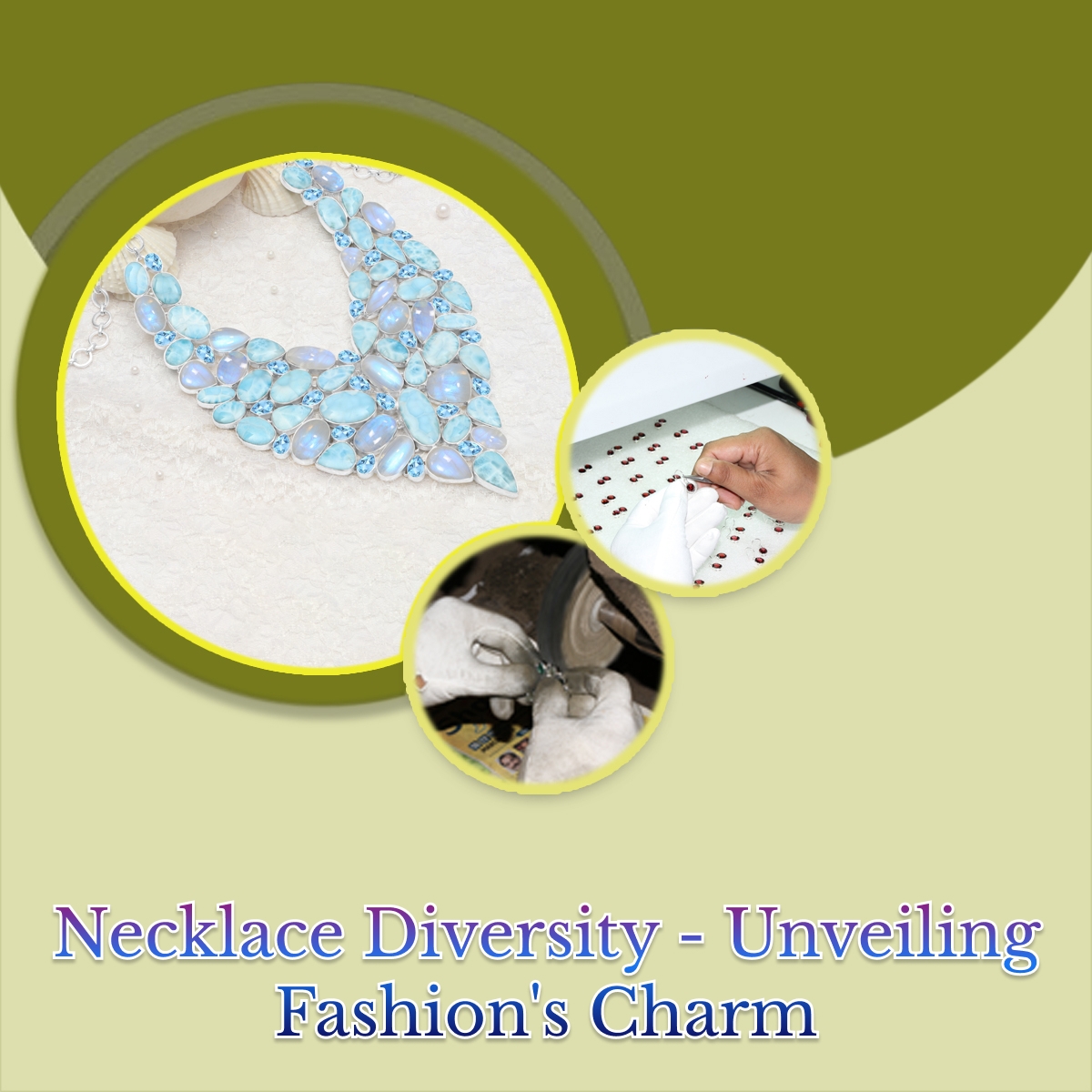 Choker Necklaces
Have you seen the necklaces that are worn at the base of the neck? If yes, then most probably, you have seen a choker. The classic length of the choker is anywhere between 15 inches to 17 inches, which is represented by its name. The choker is not just any type of necklace – it gained popularity during the 1790s, at the time of the French Revolution. During that time, the wives of those who lost their lives began wearing red ribbons as a way to commemorate their loved ones. During the late 20th century, chokers became prominent in the alternative subcultures such as goth and punk – because they were a symbol of rebellion. In the jewelry market, you will find chokers made of a wide variety of materials, such as leather, velvet, lace, metal, and even beads or gemstones. They are available in various styles, ranging from minimalist bands to ornate, multi-strand designs.
Chain Necklaces
All of us have seen famous singers, especially rappers, wearing metallic chains crafted from precious or semi-precious material – these are known as chain necklaces. The chains that are trending nowadays are the classic cable chains. But you will find other chains as well, including rope, Figaro, curb, mesh, bead, and box. Chain necklaces never feature any kind of pendant or charms. Why? Well, because they are worn either on their own, individually, or they are layered with other pieces, such as charm necklaces, lariat necklaces, or pendants.
Tennis Necklaces
The tennis necklace shows a seamless strand of diamonds or other precious gemstones that surround the whole neckline. When we say diamonds, it does not always need to be the pricy shimmering natural diamonds – you can go for other alternative gemstones as well that are found at a lower price point – such as cubic zirconia. You can fashion these necklaces with either large or dainty statement diamond stones.
Festoon Necklaces
Festoon necklaces are necklaces that feature numerous rows of beads or drapes, metallic chains, or extensions in an intricate design. When you closely observe festoon necklaces, you will adore their highly ornate design. These necklaces were extremely popular during the late 18th century and the beginning of the 19th century, and they were often worn by royalty. The name "festoon" stems from the Italian word "festone" and the Late Latin word "festo" which means "festive garland" or "garland of flowers".
Beaded Necklaces
Beaded necklaces are extremely important across various cultures and religions, besides which they are utilized for fashion-related purposes. You must have heard of the term "mala", "rosary" or "Subha" beads. These are the types of necklaces that are used in meditation and prayer rituals. Even the term "bead" has its roots in the Anglo-Saxon words "bede" and "bidden," which translates to "prayer" and "to pray." Generally, beaded necklaces employ the use of symbols and colors that have specific cultural meanings. Also, sometimes beaded necklaces are made of various gemstones, and these gemstones determine the healing properties and metaphysical attributes of the necklace.
3 Reasons Why You Should Always Choose Customized Necklaces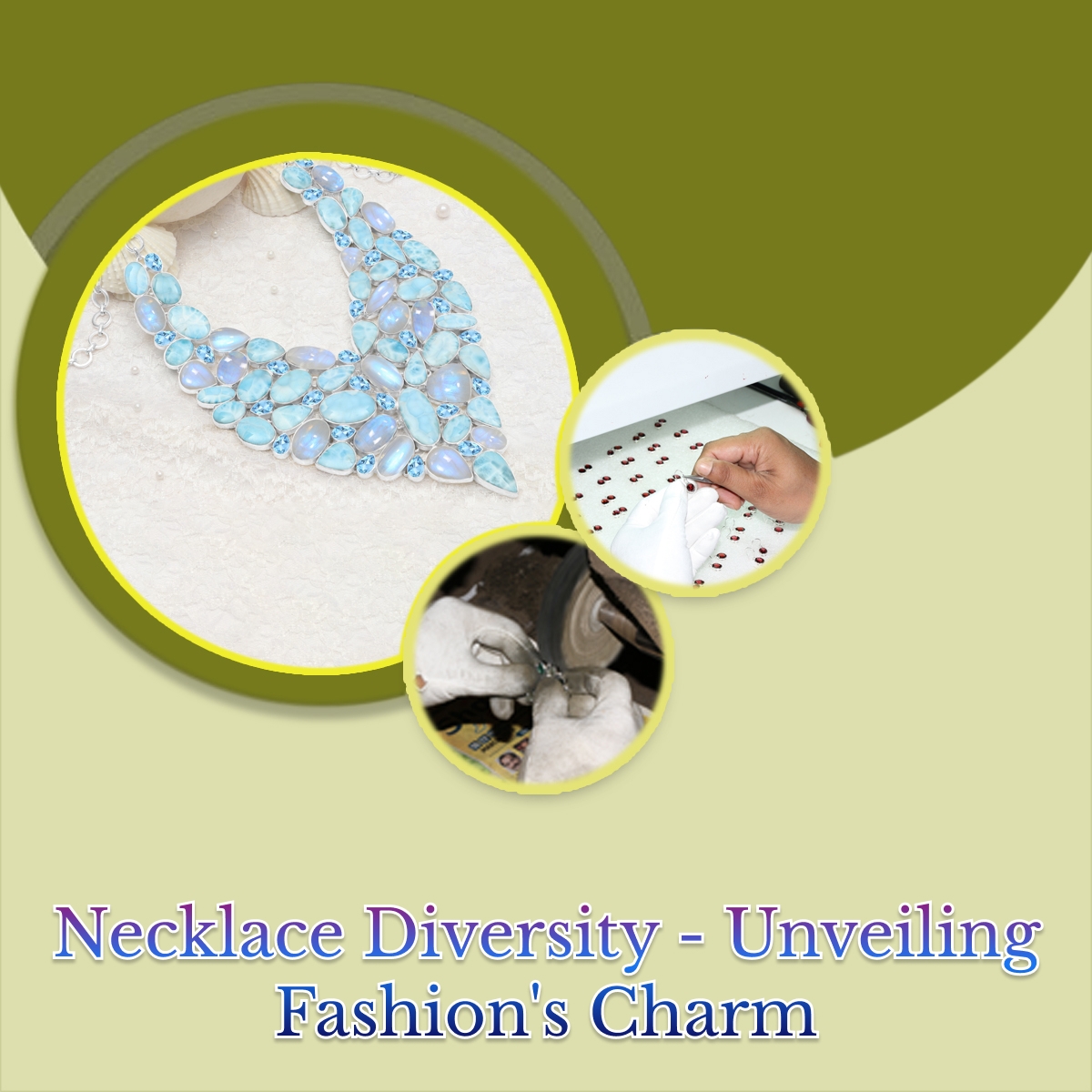 Unique and One-of-a-kind:
When you go for a customized necklace, you can be sure that you are the only person in the whole world who has that specific necklace. The custom necklaces are one of a kind and this is what makes them extremely popular. Almost all types of custom jewelry are unique.
You Can Control The Quality:
The problem with all types of ready-made gemstone necklaces is that you can never be sure of their quality, and this is especially the case when you have purchased the gemstone jewelry from a seller who works at a smaller scale. But, when you are ordering a custom necklace for yourself, the jeweler involves you in every step of the customization process, and you have control over which products to choose from and which products are a no-go. This is why, you can ensure that your jeweler uses things of the best quality. For instance, you can ask the jeweler to not use stones of A-grade and explain that you want gemstones of a higher grade, like AAA.
The Cost of the Jewelry Is Determined by You
The thing that you need to know about the gemstone jewelry and 925 sterling silver jewelry available in retail stores, and all off-the-shelf jewelry is that they have fixed prices. But, when it comes to custom jewelry, such as a custom necklace, not only do you control what gemstone is set on it and what base metal is used in making it, but you also determine its final price. This is because of the fact that most gemstone jewelry manufacturers as well as gemstone jewelry suppliers offer significant discounts on the sales of customized necklaces.
Also, the basic cost of the custom necklaces, which is the cost of the jewelry deduced by adding the price of gemstones and metal used in it, adds up to the total things that you want to add to your customized necklaces. Meaning, you never pay for things you do not desire in your custom necklaces. Also, the total price of the customized necklaces, which is the basic cost plus making charges gives you the ability to negotiate – you can tell your jeweler that his making charges are more as compared to his competitors.
Conclusion
We hope that the above blog post provided you with a lot of helpful insights regarding the different types of customized necklaces and the reasons why you should opt for custom necklaces. If you have gone to a jewelry manufacturer for wholesale gemstone jewelry that is customized, then don't hesitate to ask the jewelry consultant a lot of different questions. Remember that asking questions and explaining everything in detail allows jewelry designers to isolate the features that you like the most and separate them from those that you do not need. We hope that you will have fun customizing your customized necklace. Goodbye!